The youngest of NASA's space shuttles has made its last landing.
Space shuttle Endeavour touched down in Florida early on Wednesday morning, making its 25th and final landing to successfully complete a 16 day mission that delivered the last U.S. components for the International Space Station (ISS).
STS-134 commander Mark Kelly piloted Endeavour to an safe arrival at 1:34:51 a.m. CDT (0634 GMT) on Runway 15 at NASA's Kennedy Space Center's (KSC) Shuttle Landing Facility in Florida.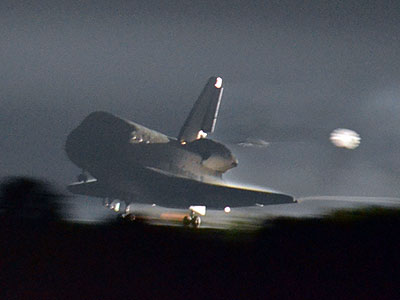 Endeavour touches down on Earth for a final time. Credit: collectSPACE
"Houston, Endeavour, wheels stop," announced Kelly.
Endeavour's main gear touched down at 1:34:51 a.m. CDT, followed by the nose gear at 1:35:04 and wheels stop at 1:35:36 a.m.
"One hundred and twenty two million miles flown during 25 challenging space flights, your landing ends a vibrant legacy for this amazing vehicle that will long be remembered. Welcome home Endeavour," said capcom Barry "Butch" Wilmore from Mission Control.
"Thank you, Houston," Kelly replied. "You know, the space shuttle is an amazing vehicle, to fly through the atmosphere, hit it at Mach 25, steer through the atmosphere like an airplane, land on a runway, it is really, really an incredible ship."
"On behalf of my entire crew, I want to thank every person who's worked to get this mission going and every person who's worked on Endeavour. It's sad to see her land for the last time, but she really has a great legacy," said Kelly.
Landing with Kelly were pilot Greg Johnson and mission specialists Mike Fincke, Andrew Feustel, Greg Chamitoff, and Roberto Vittori representing the European Space Agency (ESA).
Their return saw the culmination of Endeavour's STS-134 mission, which added the Alpha Magnetic Spectrometer (AMS) and ExPRESS Logistics Carrier-3 (ELC3) to the station. During four spacewalks — the last to be conducted by space shuttle astronauts — Feustel, Fincke and Chamitoff installed Endeavour's robotic arm inspection boom on the exterior of the station to extend the reach of its own robotic arm. The astronauts also refilled the station's ammonia coolant system and greased one of the two wagon wheel-like gears that rotate the station's solar arrays.
"We are very proud of Endeavour's legacy, and this penultimate flight of the space shuttle program once again demonstrated the amazing skill and dedication of our astronauts and the entire workforce," said NASA Administrator Charles Bolden in a statement. "As we begin the transition from the shuttle program to the commercial transportation of our crews and cargo, our ability to tackle big challenges remains steadfast and will ensure that NASA reaches even more destinations farther in the solar system."
STS-134 completed 248 trips around the Earth in the course of 15 days, 17 hours, 38 minutes and 55 seconds while logging 6,510,221 miles.
This was the 77th shuttle landing at Kennedy Space Center and the 18th to land there during the night.
STS-134 marked the final flight for Endeavour, also known by its orbiter designation OV-105. The fifth of NASA's five space shuttle orbiters to fly, Endeavour has logged 299 days in space over the course of 4,671 orbits travelling 122,883,151 miles.