advertisements





The Source for Space History and Artifacts

December 12, 2013 / 2:25 p.m. CT (2025 GMT)


To go or not to go to the station: An issue with a valve located inside a pump mounted externally on the International Space Station may delay the launch of a commercial cargo ship to the orbiting outpost. Orbital Sciences is still marching toward a Wednesday (Dec. 18) liftoff of its Cygnus freighter, but the need to return the space station's cooling system to its working order has deferred the flight's go/no go decision until Monday, NASA officials said.

December 11, 2013 / 10:40 p.m. CT (0440 GMT Dec 12)


ISS loses coolant loop: The pump module on one of the space station's critical cooling loops shut down Wednesday (Dec. 11) after detecting lower temperatures than its pre-set limits. Though at no time was the Expedition 38 crew or the station itself in any danger, the loss of Loop A resulted in the power down of non-critical systems in the Harmony Node 2, as well as inside the Columbus and Kibo laboratories. Ground controllers suspect that a flow control valve inside the pump module is at fault for the shutdown.

December 9, 2013 / 8:00 a.m. CT (1400 GMT)


Spaceship C.Gordon Fullerton: Continuing its tradition, Orbital Sciences has named its next space station-bound cargo freighter for a contributor to the company's success. Set to liftoff NET Dec. 18, Spaceship C. Gordon Fullerton will be the second Cygnus spacecraft to fly to the orbiting outpost and the first of eight under the Commercial Resupply Services contract for NASA. Fullerton, who died in August at 76, flew twice to space but also piloted the B-52 jet that carried Orbital's Pegasus air-launched rockets.



advertisement


Winco International presents... an official NASA limited edition set

December 6, 2013 / 2:15 p.m. CT (2015 GMT)


Gifts for the space geek: 'Tis the season to be spacey, so collectSPACE offers a list of five stellar gifts for space geeks. Whether it is spending the year in space, growing your rocket garden or accumulating dragons (and falcons), these gift ideas are decidedly out of this world.

December 3, 2013 / 3:15 p.m. CT (2115 GMT)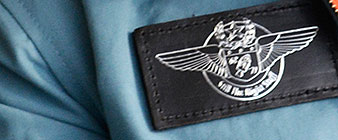 Apollo couture: Apollo astronaut Al Worden and attorney Steve Pidcock have introduced Still The Right Stuff, a company focused on replicating authentic aerospace garments for space history enthusiasts. Their first project is a faithful reproduction of the blue Apollo flight jacket, as was worn by Worden and his fellow astronauts while flying NASA's T-38 jets and training to voyage to the moon.

December 1, 2013 / 11:40 a.m. CT (1740 GMT)


China's Chang'e-3 moon-bound: China on Sunday (Dec. 1) launched its first mission to land a robotic rover on the moon. Should the Chang'e-3 lander and six-wheel Yutu ("Jade Rabbit") rover safely touch down in the Bay of Rainbows (Sinus Iridum), China will be the third country to land a craft on the moon, and the first to do so since the former Soviet Union's Luna 24 mission in 1976. Chang'e-3 marks the second 'step' in China's robotic lunar exploration plans, leading to returning samples of the moon to Earth.



special feature


Updates | Photo Galleries | Timeline | Shuttle Tracker | Discussions

November 29, 2013 / 12:05 a.m. CT (0605 GMT)


Spacelab at 30 Before Columbus, Harmony and Tranquility, before Spacehab, there was Spacelab, the $1 billion science module built by Europe and flown by NASA on the space shuttle. The first Spacelab mission launched 30 years ago Thursday (Nov. 28) on a ten-day flight that at the time signaled "the culmination of history's largest and most comprehensive multinational space project" between NASA and the European Space Agency (ESA). Spacelab's legacy can be seen today in the design of a number of the modules comprising the International Space Station.

November 27, 2013 / 4:15 p.m. CT (2215 GMT)


Space shuttle replica vandalized: A space shuttle mockup was defaced on Wednesday (Nov. 27) at Space Center Houston. Vandals spray painted the replica orbiter with political and racial graffiti. The center, which serves as the visitor attraction for NASA's Johnson Space Center, quickly covered up the offending markings. Christened the "Independence," the shuttle mockup is to become part of a new $12 million, six-story educational attraction in 2015.

November 25, 2013 / 9:00 p.m. CT (0300 GMT Nov 26)


Astronaut's guide to "Astronaut's Guide": Although it hit bookshops' shelves less than six months after Chris Hadfield landed from the space station, "An Astronaut's Guide to Life on Earth" was not written in orbit. Now a bestselling author, Hadfield recounted the story behind his first book in a recent interview with collectSPACE.com.

November 21, 2013 / 10:40 a.m. CT (1640 GMT)


Sally Ride bestowed highest honor: Sally Ride, America's first woman in space and an advocate for STEM education, especially for young girls, was posthumously awarded the United States' highest honor on Wednesday (Nov. 20), the Presidential Medal of Freedom. Only the 9th NASA astronaut to be awarded the medal, Ride was hailed by President Obama for "blasting through the stratospheric glass ceiling" and for championing scientific literacy.

November 20, 2013 / 5:35 p.m. CT (2335 GMT)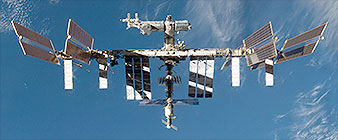 ISS at 15: Nov. 20, 1998 was a day to mark in history. Russia launched a Proton rocket carrying a pressurized module called Zarya, or "sunrise," into orbit. This launch would be the dawn of the largest international effort in space to ever come to light. Zarya became the first piece of the International Space Station. collectSPACE presents a countdown of 15 facts for 15 years of the ISS in orbit.

November 18, 2013 / 12:55 p.m. CT (1855 GMT)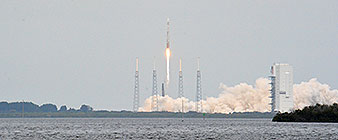 MAVEN to Mars: NASA's tenth Mars-bound orbiter, MAVEN (short for Mars Atmosphere and Volatile EvolutioN), lifted off for the Red Planet on Monday (Nov. 18) atop an Atlas V rocket from Launch Complex 41 at the Cape Canaveral Air Force Station in Florida. Set to arrive in orbit around Mars in September 2014, MAVEN is the first probe dedicated to studying Mars' thinning upper atmosphere.

November 14, 2013 / 9:55 p.m. CT (0355 GMT Nov 15)


Alexander Serebrov, 1944-2013: Soviet-era cosmonaut Alexander Serebrov, who flew to space four times and performed what was at one time a world record 10 spacewalks, died on Tuesday (Nov. 12) at age 69 in Moscow. Serebrov launched twice to the Salyut 7 space station and twice to Mir, survived a collision with the latter, and tested Russia's SPK jetpack, dubbed the "space motorcycle."

November 10, 2013 / 9:35 p.m. CT (0335 GMT Nov 11)


Soyuz TMA-09M lands: Fyodor Yurchihkin, Karen Nyberg and Luca Parimitano returned to Earth Sunday night (Nov. 10), bringing an end to their 166 days serving as Expedition 37 crewmembers on the International Space Station. Landing with the trio aboard Soyuz TMA-09M was the torch that will be used to light the Olympic flame at the opening ceremonies of the Sochi 2014 Winter Games.

November 10, 2013 / 9:15 a.m. CT (1515 GMT)


Olympic torch gets surprise space patch: When spacewalkers Oleg Kotov and Sergey Ryazanskiy emerged from the space station Saturday (Nov. 9) carrying an Olympic torch for the Winter Games, they did so in proper space style. Attached to the shoulder of both cosmonauts' spacesuits was an Olympic torch space mission patch, as designed by artist Luc van den Abeelen and approved by the Organizing Committee for the Sochi 2014 Olympics.

November 9, 2013 / 9:05 a.m. CT (1505 GMT)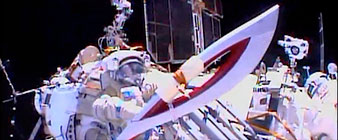 Olympic torch taken on a spacewalk: Two Russian cosmonauts carried the Sochi 2014 Olympic torch during a spacewalk outside of the International Space Station on Saturday (Nov. 9). A high-flying extension of the relay that began in Greece in October, the space-flown torch will be returned to Earth to light the Olympic flame at the Feb. 7 opening ceremonies of the 22nd Winter Games in Sochi, Russia. Spacewalkers Oleg Kotov and Sergey Ryazanskiy each took turns holding the torch as they posed for photos and were filmed set against the Earth and space station.



[ browse earlier updates ]




© 1999-2013 collectSPACE.com contact@collectspace.com