Spacewalking astronauts working outside the International Space Station early Wednesday morning ran power cables and installed an attach point for the station's robotic arm on the Russian
Zarya
functional cargo block (FGB), the sprawling complex's first component.
STS-134 spacewalkers Drew Feustel and Mike Fincke also finished work that began on the mission's first excursion, connecting power cables to a wireless network antenna, and then collected infrared video of a new form of multi-layer insulation that uses Aerogel and installed a cover on a high pressure gas tank outside the
Quest
airlock.
Accomplishing everything they set out to do, the two astronauts entered the airlock and began its repressurization at 7:37 a.m. CDT, marking the end of their extravehicular activity, the third of four planned during shuttle Endeavour's final mission.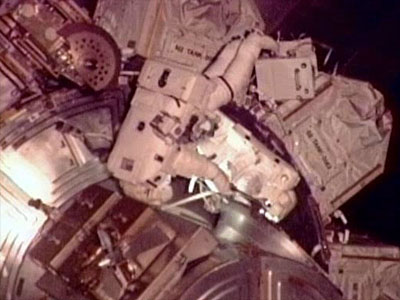 The two ran into only a couple of brief snags during their 6 hours and 54 minutes outside. Fincke lost track of his safety tether, needing Feustel's help to get it untethered and then Feustel got something in his eye.
"My right eye is stinging like crazy right now," Feustel said. "It's watering a lot. Must have gotten something [in it]."
On Earth or even inside the station, he could just rub his eye, but with a helmet in the way, Feustel had little recourse.
"If I keep my right eye closed, I'm fine," he said.
"But if it happens to your left eye, you won't be able to see at all," replied Greg Chamitoff, the spacewalk's choreographer.
Even Feustel's own natural bodily responses were not helping.
"The problem with tears in space is that they do not fall off of your eye," he observed.
"I hate that," replied Fincke. "They just kind of stay there. A little surface tension action."
Finally, Feustel found relief from a small piece of molded rubber intended to help pinch his nose to clear changes in pressure.
"I just rubbed my eye against the valsalva, that helped a bit," he said.
A minute or so later Feustel added, "The rubbing helped a lot. I've got my eyes open now."
Able to resume work, Feustel recalled another astronaut who experienced something similar.
"I remember my good buddy Chris Hadfield talking to me about that once happening to him," said Feustel.
"Yeah, like on his first EVA," replied Fincke.
"He was blind for a while. I was only blind in one eye for a while," Feustel said.
This spacewalk was the 247th by U.S. astronauts and, since 1998, the 158th supporting International Space Station assembly and maintenance, increasing the total time spent working outside the ISS to 995 hours and 13 minutes.
This was the eighth spacewalk for Fincke, who with Chamitoff will return outside for the mission's fourth spacewalk on Thursday evening.
Today's excursion was the sixth for Feustel, who now has a total time of 42 hours and 18 minutes spacewalking, ranking him 14th among the 201 astronauts, cosmonauts and taikonauts who have worked in the vacuum of space on extravehicular activities (EVAs).
"This isn't our last EVA, but it is my last EVA for a while, so thanks to the whole team for getting us trained, getting us prepared and for all the support from Houston we got today," said Feustel. "It was a great day."
"Drew, you're an awesome spacewalker and it has been a pleasure being on two spacewalks with you. Congratulations bud," said Fincke.