Mission specialists Andrew Feustel and Greg Chamitoff began the first of four spacewalks planned for space shuttle Endeavour's STS-134 mission at 2:10 a.m. CDT on Friday.
The 245th spacewalk made by U.S. astronauts and the 156th in support of space station assembly and maintenance, this is the fourth for Feustel and the first for Chamitoff.
"Drew, I just wanted to say welcome back to open space," radioed Mike Fincke, who as the intravehicular officer is choreographing the activities and coordinating communications between the spacewalkers and Mission Control in Houston.
"And Taz, congratulations on being the 201st human being to be in outer space. I waited a long time to say those words to you." said Fincke.
"Thanks Spanky," responded Chamitoff. "As you know it's a dream come true for me. It would be for anybody, the first or the 201st."
"Welcome to space, buddy," added Feustel.
Once outside the space station's
Quest
airlock, Feustel and Chamitoff set about completing their first task: retrieving two suitcase-sized test beds, the Materials International Space Station Experiments, or MISSEs, 7A and 7B, for their return to Earth in Endeavour's payload bay.
To remove the experiments, each spacewalker disconnected one power cable, closed the experiment, removed two pins holding it in place, and carried it back to the shuttle for return home. Chamitoff retrieved MISSE 7B, and Feustel moved MISSE 7A.
"It is good to know that MISSE 7A and B are safe in the payload bay," said Chamitoff. "They have been out here for a year and a half. They are good experiments so I am very, very glad that they are safely back in the payload bay."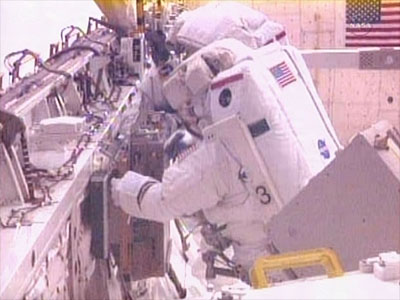 Chamitoff and Feustel stored the two MISSEs opposite from each other on the side of Endeavour's cargo bay, securing them using two latches.
Feustel then retrieved MISSE 8, which was launched on Endeavour, and carried it back to the ExPRESS Logistics Carrier 2 for installation in the place 7A had been. He installed two pins to hold the experiment in place, opened the experiment and connected two power cables.
"Good work with the MISSEs," Fincke told the spacewalkers. "I am sure the Materials on ISS Experiments team is really happy today."
"Glad we could be of service," said Drew.
"That is also another major mission milestone for us, so congratulations boys," said Fincke.
With the MISSEs in place, the spacewalkers separated to complete other tasks.
Chamitoff installed a crew equipment and translation aid (CETA) cart light on the starboard 3 (S3) segment of the station's truss. He used one bolt to secure the light to the cart, and hooked up one power cable.
Meanwhile Feustel tightened six bolts holding a cover on one face of the S3 solar alpha rotary joint. It was removed during a 2007 spacewalk.
About two-and-a-half hours into the spacewalk, Chamitoff returned to the airlock to recharge his spacesuit's oxygen supply while Feustel set-up for their next objective, preparing for the work that he and Fincke will perform on the mission's second spacewalk to top off the ammonia coolant in the station's P6 photovoltaic thermal control system loop.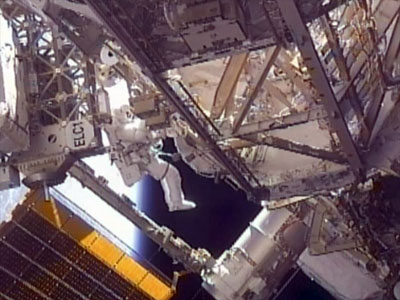 The spacewalkers and their space shuttle crewmates began their day at 9:30 p.m. on Thursday with the song "We All Do What We Can Do."
The song, which was played for Fincke, was written by thermal protection system engineer Dan Keenan and Kenny McLaughlin, a Kennedy Space Center launch pad engineer. The two shuttle workers created the song to honor those who have helped make the space program a success.
In a note to Fincke they wrote, "Together as dedicated individuals we did what we could do to help."