The spacecraft that installed the first and last of the U.S. components for the International Space Station (ISS), space shuttle Endeavour departed the orbiting laboratory for a 12th and final time today.
STS-134 pilot Greg Johnson was at Endeavour's aft flight deck controls as the shuttle separated from the Pressurized Mating Adapter-2 (PMA-2) located on the forward port of the station's
Harmony
node.
"We have physical separation," radioed STS-134 commander Mark Kelly.
"Endeavour departing," announced ISS Expedition 28 flight engineer Ron Garan, as he rung the station's ship bell, continuing a tradition borrowed from the Navy. "Fair winds and following seas, guys."
"Thanks Ron, appreciate all the help," replied Kelly.
"It was a pleasure serving with you boys," said Garan.
The shuttle undocked on schedule at 10:55 p.m. CDT Sunday, after 11 days, 17 hours and 41 minutes attached to the station.
Endeavour and the station were flying 215 miles above and over La Paz, Bolivia when they parted ways.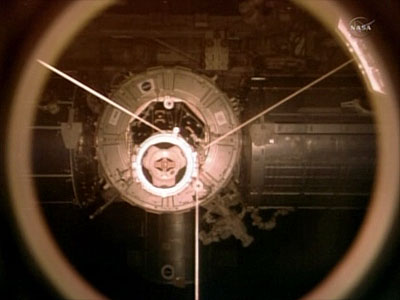 Johnson will fire Endeavour's jets to separate the shuttle from the station to a distance of about 400 feet where he'll begin a 360-degree flyaround of the orbiting laboratory.
Following the fly around, commander Mark Kelly will pilot Endeavour on a re-rendezvous maneuver that will return the shuttle within 600 feet of the station as part of a first-of-its-kind flight test, the Sensor Test for Orion Relative-navigation Risk Mitigation, or STORRM.
Endeavour's first mission to the space station, STS-88, its 13th mission, was the first of the shuttle program's space station assembly missions. Over the 11-day, December 1988 mission, Endeavour's astronauts joined the first U.S. and Russian pieces of the budding orbital laboratory,
Unity
and
Zarya
.
On its 11 subsequent visits to the station, Endeavour lifted components of the solar power system, Japan's Kibo module, supplies, research gear and astronauts assigned to live and work on the station. On this mission, its final flight, Endeavour brought the Alpha Magnetic Spectrometer and ExPRESS Logistics Carrier-3, the last of the United States' contributions to the orbiting outpost.