Mission managers and engineers have been able to clear one, if not two, of their "areas of concern" on space shuttle Endeavour's heatshield but a third damaged tile may require the STS-134 astronauts perform "focused inspections" on Saturday.
Photos taken of Endeavour's tile-covered underbelly as it approached the International Space Station on Tuesday revealed seven areas of damage running in a rough line from the right-side main landing gear door to an aft elevon. Four of those seven dinged tiles were earlier cleared as safe for reentry.
Of the remaining three damaged sites, one was cleared on Thursday, and a second located on Endeavour's right-side inboard elevon was expected to be ruled not a concern by Friday morning.
The third, a 3.22 by 2.49 inch gouge found between the right main landing gear door and an external tank feed line port, may require better imagery before managers can decide a course of action.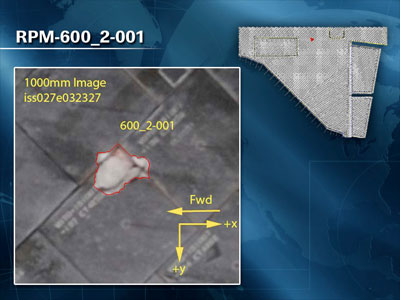 "The team has not completed our assessments on this site, but the work we've done so far, we believe we may need to do a focused inspection in order to get some fidelity," said mission management team chair LeRoy Cain. The existing pictures of that area, he said, "are kind of fuzzy."
If managers do decide they need the additional images, it will be only the fifth time focused inspections have been conducted in the 21 flights that have followed the loss of space shuttle Columbia in 2003.
One of those previous inspections was conducted in 2007 for a gouge on Endeavour's belly that was similar in size and location to the one now a concern. The focused inspections conducted by the STS-118 astronauts provided engineers on the ground the information needed to clear the tile for a safe reentry.
Cain said he expected the outcome this time to be similar.
"I feel pretty confident if, in fact, we're not able to clear it by the morning, when we get focused inspection data we will be able to clear this problem and not have to do anything," he said.
"I'm not concerned about the damage that we're seeing here, it's certainly not alarming," Cain said. "My confidence is largely derived from the fact that we have a very good process for dispositioning these things, we know exactly how to go assess them. We've gotten better and better at it and we know that our models are doing nothing but improving as time goes on and we get more experience."