2015 | 2014 | 2013 | 2012 | 2011 | 2010 | 2009
2008 | 2007 | 2006 | 2005 | 2004 | 2003 | 2002

Jan | Feb | Mar | Apr | May | Jun
Jul | Aug | Sep | Oct | Nov | Dec
October 1, 2002 / 2:48 p.m. ET
Thirty Five (not so) New Guys: With the 111th mission of the space shuttle scheduled to launch this Friday, it is sometimes easy to overlook that there was once a time when the vehicle needed a new breed of astronauts to fly it. As collector Bob McLeod recalls, NASA answered that call with 35 candidates selected as Group 8 in Jan. 1978. October 4, 2002 / 11:59 a.m. ET
An eye on Dave Scott: Francis French files an interview with Gemini and Apollo astronaut David Scott. Catching up with Scott at the last Aurora auction, French gets the veteran moonwalker to comment about memorabilia, but misses all mention of the Apollo 15 Sieger cover scandal. October 5, 2002 / 1:53 p.m. ET
All good things: Novaspace Galleries' Astro-Auction is closing. Though founder Kim Poor says it will return next year, sans consignments, it's disappointing that this safe harbor for space memorabilia sales is coming to an end.
October 7, 2002 / 8:23 p.m. ET
Trusses, models and souvenirs: Space shuttle Atlantis launched this afternooon to deliver the crew of STS-112 to the International Space Station. On-board the orbiter is the Official Flight Kit with nearly 4,000 souvenirs stowed for post-flight presentation to VIPs and others of merit (as usual). Also riding along is a scale replica of the payload, the S1 truss made by expert space modeler Nick Proach.
October 8, 2002 / 12:21 a.m. ET
Burning the midnight oil: Next to last day! Continuing our tour of author Andrew Chaikin's new book, Space: A History of Space Exploration in Photographs, he shares more of his favorite images. You can order the book, too. October 8, 2002 / 11:04 a.m. ET
Take home some Air and Space: Code 3 Collectibles, known for their diecast fire and rescue vehicles, is now producing an authorized series of models for the National Air and Space Museum in Washington, DC. This month, they will offer an astronaut, lunar module and lunar rover. October 8, 2002 / 7:35 p.m. ET
Lick a Canadian astronaut: In Oct. 2003, the Canadian Post will issue an eight stamp set commemorating Marc Garneau, Chris Hadfield, Julie Payette and the Canadian Space Agency's other astronauts. As for the U.S. Postal Service, their 2003 stamps will again lack space themes. October 8, 2002 / 8:00 p.m. ET
We've been blogged! For those not familiar, a blog — short for "web log" — is a cross between a "what's new" page and a journal. We will be using this format to deliver the same great news stories you've come to expect from cS, as well as shorter "breaking news" updates. What do you think of our new look? October 9, 2002 / 12:00 a.m. ET
Billions and billions of stars: The final photo: Andrew Chaikin shares his favorite snaps captured over the past five decades of space flight. Meet him as he signs your copy of his book Space: A History of Space Exploration in Photographs at cS's World Space Congress booth on October 15, 2002, from 2:00 to 4:00 p.m. in Houston, TX. October 9, 2002 / 10:10 a.m. ET
Oh, the tangled web: It started rather simply, an ad on eBay for a patch allegedly removed from Edgar Mitchell's space suit. Noticing that this emblem was not printed on beta cloth, collectors e-mailed the seller and learned of a dubious visit with Mitchell's daughter as the source. The auction was brought to the moonwalker's attention on his own website and now Mitchell is considering legal action. October 9, 2002 / 1:10 p.m. ET
A few good artifacts: On our readers' suggestion, we are looking to give your memorabilia a chance to be featured here on cS. We've posted a few guidelines, but in general if you have an item others may enjoy seeing, let us know. October 9, 2002 / 7:53 p.m. ET
One small leap for lunar samples: Citing concerns that included a heist from Johnson Space Center, NASA has moved part of its moon rock archive from a vault located at Brooks Air Force Base — where they have been since 1975 — to a new repository at White Sands Test Facility. Involving NASA, Lockheed Martin and Air Force staff, as well as JPL-loaned accelerometers, the lunar specimens were monitored during the trip from Texas to New Mexico.
October 10, 2002 / 5:11 a.m. ET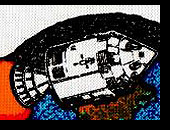 The real (flown) McCoy: With all the talk about fake patches, we thought it was only appropriate that our first reader artifact be the real deal: a flown Apollo 7 beta cloth patch. As owner Richard Jurek describes, "Occasionally people do see flown Apollo 7 items, but this is a bit more rare and a very important relic of this mission given that beta cloth was developed by Corning as a direct result of the Apollo 1 fire." Jurek obtained the patch from Walt Cunningham.
October 10, 2002 / 11:05 a.m. ET -- UPDATED 7:04 p.m. ET
Get your paddles ready: Aurora Galleries International will be hosting their second space memorabilia auction during the last weekend in October. Today, they named their astronaut guests, but where is the catalog? Aurora says it will ship next week, while an online version will debut on October 21. Last-minute, must-have astronaut consignments are attributed to the delay, Aurora reports.
October 12, 2002 / 12:39 p.m. ET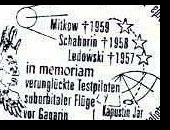 Canceled cosmonauts: A postal cancellation issued in your memory is a honor, therefore it's a shame that Ledovsky, Shiborin, and Mitkov never lived to see their own German cancel. Literally — the three never existed. First reported as sub-orbital fatalities in 1959 by an Italian tabloid, the trio of alleged cosmonauts have since been woven into the urban legend of pre-Gagarin flyers. This cancellation was shared by Peter Haslinger and Rocketmail's Paul Roales.
October 14, 2002 / 5:52 a.m. ET
Have spacesuit, will sell: Our first photo report from the World Space Congress provides a look of booth no. 442, home to cS and Countdown Creations for the next week. Galleries will be added each day of the decadal congress.

October 15, 2002 / 2:32 p.m. ET
Congressional report: The first day of the World Space Congress Trade Exhibition has come and gone, but what a busy day it was! Astronaut appearances, giveaways, and an encounter with the first man on Mars: see it all in our latest photo report. October 16, 2002 / 12:11 p.m. ET
Orville, Wilbur, Andy and Buzz: Our third photo report from the World Space Congress captures the guests at our booth and elsewhere around the Houston exhibit hall. October 17, 2002 / 12:32 p.m. ET
A few more familiar faces: So, we walk away from our World Space Congress booth for just a few minutes and upon returning, we find a note waiting: "Walt was here..." October 18, 2002 / 11:47 p.m. ET
Two for one: The previous two days at the World Space Congress kept us so busy, that we didn't have a chance to post yesterday's photo report until now. Seeing as we have the opportunity, we've posted today's report as well.
October 19, 2002 / 8:07 a.m. ET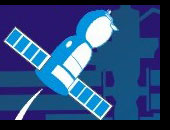 Bass patch revisited: It appears that pop star and underfunded space tourist Lance Bass was not the only aspect of the Soyuz TMA-1 mission replaced: so was his mission patch. Jacques van Oene shared the revised design, which swaps Bass' name with that of crewman Yuri Lonchakov.
October 20, 2002 / 8:53 p.m. ET
The perfect ending: Gen. Thomas Stafford capped off an amazing week at the World Space Congress, signing copies of his new autobiography We Have Capture. Our final photo report from booth 442 is now available to view. October 21, 2002 / 3:58 p.m. ET
In memory: Nikolay Rukavishnikov, 70, died on October 18 of an apparent heart attack. A veteran of three flights, Soyuz 10, 16, and 33, Rukavishnikov was selected as a cosmonaut to train for the USSR's manned lunar program.

October 21, 2002 / 5:58 p.m. ET
Auction updates: Aurora Galleries reports that catalogs are in the mail and on their website for the next auction, set to begin this Saturday. Look for some of the featured lots to be posted here soon, in addition to how to access our live audiocast. Novaspace Galleries' Astro-Auction is to go out with a bang, with nearly 300 lots currently open and more being added daily. The free auction site, which may return next year in some form, is closing on Oct. 31.


October 22, 2002 / 9:34 p.m. ET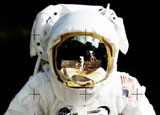 The 'Buck' stops here: Space collectors have been clamoring for Buck, the rare Apollo astronaut figure from Dragon Models. Now that it has arrived, was Buck worth the bucks? Karl Tate shows what is right and wrong (and how to fix the latter). Don't have a Buck? Order one now.
October 22, 2002 / 9:36 p.m. ET
Auction updates updated: A massive server failure has unfortunately taken Astro-Auction offline only a few days short of its planned October 31 curtain call. Based on the responses received so far, the website will be missed. In other news, Aurora Galleries has provided details for the featured lots in the upcoming auction. We have posted a preview, as well as how to listen to our auction audiocast.
October 26, 2002 / 10:23 a.m. ET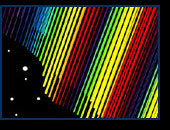 Can you hear us now? Listen to our live audiocast of Aurora Galleries' second annual space memorabilia auction, broadcasting from the Santa Monica Museum of Flying in California.
October 27, 2002 / 4:09 a.m. ET
One down, one to go: The first day of bidding at Aurora Galleries' auction is over and the prices realized are now available. Did you bid? What do you think of the results? October 28, 2002 / 1:17 a.m. ET
Going, going, gone: Two days and more than 1400 lots later, Aurora Galleries fall space & aviation memorabilia auction has come to a close. Preliminary prices realized for the second day of bidding are now online to reference.