October 7, 2002
— A model of the next component of the International Space Station (ISS) was launched today on board the space shuttle Atlantis as a training-aid for the astronauts installing the real thing.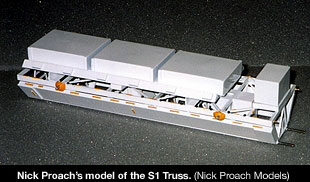 Built by Nick Proach Models of British Columbia, Canada, the model is a high-fidelity replica of the S1 ("S-One") Truss. The actual hardware, which is about 40 feet long, is accompanying the model to the station to be installed by the STS-112 crew.

"[The model] has to be very detailed, accurate, yet durable enough to fly in space and be handled numerous times," said Proach in a statement posted to his website. "We're pleased to be working with NASA on this very worthwhile project."

Proach's S1 model is almost a foot long, and is designed to help astronauts plan their extravehicular activities (EVA) — spacewalks — when connecting the truss to another section installed earlier this year. The replica is scheduled to be used during an in-flight press conference as the crew explains mission details to the media. It may also be used to assist briefings prior to installation of the actual truss to the ISS.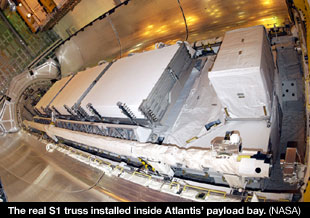 Equipped with the same EVA aids found on the actual hardware, including handholds, antennae and connection gear, the model will enable the astronauts to know where vital components are located when working with the truss section in space.

"I'll make sure we return the model with a few million miles on it," STS-112 commander Jeff Ashby said before today's launch.

Proach has been building space models since he was 11 years old. Finishing his first professional spacecraft model at the age of 17, Proach's hobby has grown to become his full-time business.

Today, Nick Proach Models specializes in providing highly detailed museum-quality replicas and training models of spacecraft, rockets, missiles, and robotic probes for their international clientele, which include NASA, the Canadian Armed Forces, the United States Air Force, museums, space and science centers, aerospace corporations and private collectors worldwide.