advertisements





The Source for Space History and Artifacts

October 1, 2014 / 6:25 p.m. CT (2325 GMT)


Final countdown: NASA's countdown clock at the Kennedy Space Center in Florida may have already ticked down to its final launch. In use since Apollo 12 in 1969, the clock will soon be replaced by a more modern display, capable of showing not just the countdown but also NASA TV programming. NASA hopes for the new screen to be in place by December in time for the Orion EFT-1 launch.

September 30, 2014 / 3:05 p.m. CT (2005 GMT)


Canadian Space Agency's silver coin: The hologram on the Royal Canadian Mint's new coin commemorating the 25th anniversary of the Canadian Space Agency adds depth and movement to its design: the astronaut on its reverse seems to float above the Earth. The limited-edition silver collector coin, which features the Canadarm2 robotic arm, was revealed Tuesday (Sep. 30) with the help of CSA astronauts Jeremy Hansen and David Saint-Jacques.

September 29, 2014 / 4:45 p.m. CT (2145 GMT)


First Man at the movies: The life of the late Neil Armstrong, the first man to walk on the moon, is now the focus of both a feature film and television miniseries in the early stages of development. Director Damien Chazelle is reported to be in talks with Universal Studios to helm "First Man," based on historian James Hansen's bio by the same title. Meanwhile, TNT has dusted off its almost decade-old plans for "One Giant Leap" as a four-hour TV miniseries.



advertisement


Winco International presents... an official NASA limited edition set

September 26, 2014 / 4:55 p.m. CT (2155 GMT)


Trade you a Dragon? Fans of NASA's new commercial crew spacecraft can now collect Boeing's CST-100 and SpaceX's Dragon as trading cards. The agency is offering the set of three collectible cards as a free download from its website. Like sports cards, stats about the private space capsules are printed on the back side of the cards.

September 25, 2014 / 4:45 p.m. CT (2145 GMT)


TMA-14M to space station: Russia's Soyuz TMA-14M crew launched to the International Space Station on Thursday (Sept. 25), lifting off from the Baikonur Cosmodrome on a six-hour flight to the orbiting laboratory. Flying to the station were cosmonauts Alexander Samokutyaev and Elena Serova, together with NASA astronaut Barry "Butch" Wilmore. Serova is the first Russian woman to fly in space in nearly 20 years and only the fourth female cosmonaut.

September 24, 2014 / 2:25 p.m. CT (1925 GMT)


Don't Panic: Samantha Cristoforetti, a self-described science fiction fan, was thrilled to learn she would be onboard the International Space Station during Expedition 42. Drawing the connection between the "Answer to the Ultimate Question of Life, the Universe, and Everything" in "The Hitchhiker's Guide to the Galaxy" and her expedition's numerical designation, Cristoforetti and her crew embraced the Douglas Adams franchise for their poster and a patch.

September 24, 2014 / 1:45 a.m. CT (0645 GMT)


Mangalyaan in orbit: India made history on Tuesday (Sept. 23) with the arrival of its first interplanetary probe in Mars' orbit. The Mars Orbiter Mission (MOM) spacecraft performed a 24-minute orbital insertion burn to become only the 13th probe in history to circle the Red Planet. The Indian Space Research Organization designed the mission as a technology demonstration, but the Mangalyaan ("Mars Craft") carries four science instruments and a camera.



special feature


Updates | Photo Galleries | Timeline | Shuttle Tracker | Discussions

September 22, 2014 / 10:45 a.m. CT (1545 GMT)


MAVEN in orbit: NASA's Mars Atmosphere and Volatile Evolution or MAVEN spacecraft successfully entered Mars' orbit on Sunday (Sept. 21), where it will now prepare to study the Red Planet's upper atmosphere as never done before. MAVEN, which is the twelfth probe in history to circle Mars, is the first spacecraft dedicated to exploring the tenuous upper atmosphere of Mars.

September 21, 2014 / 1:50 a.m. CT (0650 GMT)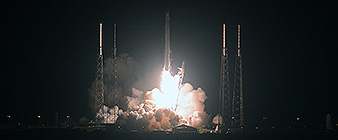 First came the cheese: Four years and five flights after SpaceX sent a cheese wheel in to space with its first Dragon cargo capsule, the company's sixth Dragon launched with a "crew" of 20 mice to the International Space Station on Sunday (Sept. 21). Set to be the first residents of NASA's rodent research habitat, the mice were among a number of experiments to fly on Dragon's CRS-4 mission.

September 20, 2014 / 3:50 p.m. CT (2050 GMT)


Anatoly Berezovoy (1942-2014): Soviet-era cosmonaut Anatoly Berezovoy, who in 1982 logged 211 days in space, died on Saturday (Sept. 20). He was 72. Berezovoy's first and only spaceflight was as the first commander of Russia's last Salyut space station. During his and flight engineer Valentin Lebedev's record stay, they performed a 2.5-hour spacewalk and hand-deployed a small satellite.

September 19, 2014 / 5:25 a.m. CT (1025 GMT)


Made In Space: The first 3D printer built for use in space will soon to be installed on the International Space Station, marking the first time that a machine will be used off-world to make parts and tools. But what to print first? "It needed to be significant, but functional," hinted Made In Space's lead engineer, noting it is also "incredibly secret."

September 16, 2014 / 8:40 p.m. CT (0140 GMT Sep 17)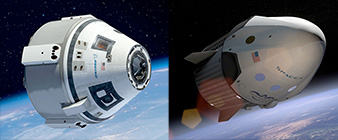 Commercial crew: "We do not know who is going to get to command the first mission to carry humans into low-Earth orbit on board a spacecraft built by a U.S. private company, but we know it will be a seminal moment in NASA history and a major achievement for our nation. We now know, however, who will build it." NASA Administrator Charles Bolden announced Tuesday (Sep. 16) that Boeing and SpaceX were selected to taxi NASA astronauts to the space station using their CST-100 and Dragon spacecraft.

September 15, 2014 / 6:45 p.m. CT (2345 GMT)


NASA 911 lands on display: More than two years after its final flight, the second of two modified Boeing 747 jets that ferried NASA's space shuttle orbiters completed its final leg Friday (Sep. 12): a less-than-a-mile tow from the Armstrong Flight Research Center's aircraft operations facility in Palmdale, California, to the Joe Davies Heritage Airpark. Known by its tail number, "NASA 911," the Shuttle Carrier Aircraft has landed on permanent public display.

September 15, 2014 / 12:00 a.m. CT (0500 GMT)


Apply to fly: Spaceship Earth Grants (SEG) has launched a new program to send private citizens to space, holding a contest to crowd fund an open number of space flight awards. Led by former astronauts Leland Melvin and Ron Garan, SEG will award one sub-orbital spaceflight for every 50,000 applications, but as the number of applicants increase, so will the rate of SEG awards (to as high as one in 25,000). SEG's focus however, is not in the spaceflights themselves, but how the winners apply the experience.

September 12, 2014 / 3:00 a.m. CT (0800 GMT)


Achieve through excellence: In 1972, flight director Gene Kranz asked respected space artist Robert McCall to design an emblem for the team that staffed Mission Control. Forty years and five revisions later, the latest take on McCall's patch symbolizes the changes to the missions and directorates that comprise NASA's Flight Operations.

September 10, 2014 / 11:20 p.m. CT (0420 GMT)


Soyuz TMA-12M returns (with whiskey): A trio of spacemen returned safely to Earth on Wednesday (Sep. 10), landing on the steppe of Kazakhstan after five and a half months living and working on the International Space Station. NASA astronaut Steve Swanson and cosmonauts Alexander Skvortsov and Oleg Artemyev landed on board the Soyuz TMA-12M spacecraft, toting 20 vials of whiskey molecules as part of a commercial science experiment.



[ browse earlier updates ]




© 1999-2014 collectSPACE.com contact@collectspace.com