October 21, 2002
— Nikolai Rukavishnikov, 70, an engineer-cosmonaut whose three attempts to complete a flight aboard a Salyut space station all failed, passed away October 18, of an apparent heart attack, according to reports published by the Russian media.

Born September 18, 1932, in the city of Tomsk, Rukavishnikov graduated from the Moscow Institute of Engineering and Physics in 1957, and immediately went to work in Korolev's spacecraft design bureau.

He was selected for cosmonaut training in May 1966, as a member of the Soviet manned lunar program and then as back-up researcher for Soyuz 7 before being assigned to the Salyut cosmonaut group.

His first flight came aboard Soyuz 10, launched April 23, 1971, for a planned 30-day mission aboard Salyut 1. It would have the been world's first space station mission, had technical problems not forced the crew to make an emergency return to Earth.

Rukavishnikov's second encounter with Salyut was even more dangerous. On April 10, 1979, he and Bulgarian cosmonaut Georgy Ivanov were launch aboard Soyuz 33 for an eight-day stay aboard Salyut 6. During their final approach to the station, their main maneuvering engines failed, threatening to strand them in space. The cosmonauts were forced to use back-up equipment to get home, landing in darkness after enduring unusually high G-loads during reentry.

By October 1982, when Rukavishnikov began training as part of a USSR-India Salyut 7 flight, the other cosmonauts were joking that each Salyut was equipped with an "anti-Rukavishnikov" device (he had also been assigned to a Salyut crew in 1973, but Salyut itself failed to reach orbit). Sure enough, in March 1984, just weeks before launch, Rukavishnikov caught a bad cold which forced him off the flight crew.

He did make one very successful flight aboard Soyuz 16 in December 1974. This six-day mission was a full-scale dress rehearsal for the Apollo-Soyuz mission in 1975.

Rukavishnikov is survived by a wife and son.

Biographical information used in this article was adapted and excerpted with permission from "Who's Who in Space: The First 25 Years" by Michael Cassutt.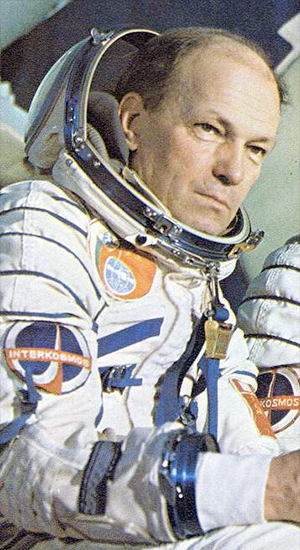 Soviet-era cosmonaut Nikolai Rukavishnikov, whose three attempts to complete a flight aboard a Salyut space station all failed, died on Oct. 18, 2002 at the age of 70. (Roscosmos/Spacefacts.de)