collectSPACE with our partners at Countdown Creations are proud to be the official merchandise partners for...

World Space Congress
International Trade Exhibition
October 14 - 19, 2002
G.R.Brown Convention Center
Houston, Texas
---
Photos: 10/13 | 10/14 | 10/15 | 10/16 | 10/17 | 10/18 | 10/19
---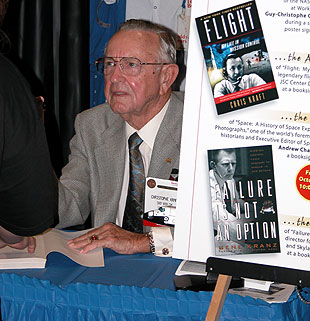 Former Flight Director Chris Kraft signs his book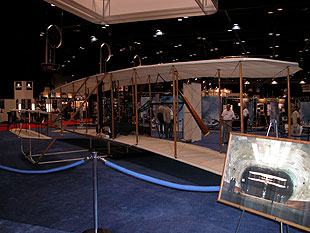 A replica Wright Flyer, touring the country for the 100th anniversary of manned flight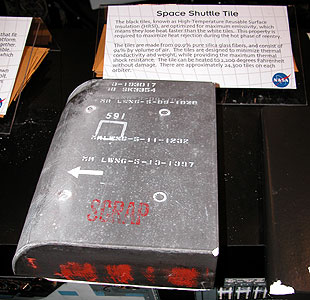 A flown shuttle tile, removed after 13 flights, on display in NASA's booth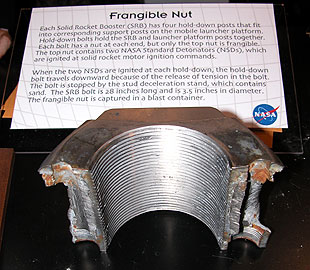 A frangible nut, part of the posts used to hold-down the Space Shuttle Solid Rocket Boosters prior to launch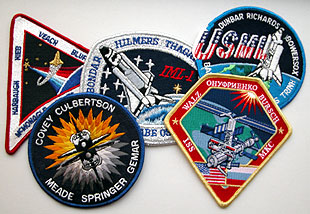 Possibly-flown: representatives manning NASA's booth were split as to whether the patches they were distributing were flown or were from "flown missions." As collectors know, even if they did fly, without any writing to that affect they might as well have never taken the trip.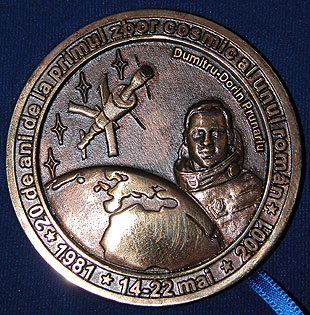 As noted earlier, cosmonaut Dimitru Prunariu visited our booth. He returned today to deliver a stack of his signed portraits and provide us with a few of these commemorative medallions issued by the Romanian Space Agency. Look for these to appear soon on buySPACE.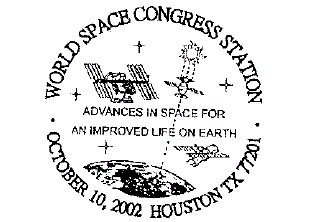 The World Space Congress postal cancellation issued by the Johnson Space Center Stamp Club (Window Unit 401 Franklin Street, Houston TX 77201-9998).
back to Booth 442

© 2018 collectSPACE.com All rights reserved.
Questions? E-mail contact@collectspace.com