Space omitted from 2002 U.S. stamps

November 15, 2001 — A colorful set of postage stamps bearing greetings from each of the 50 states and designs honoring poets, entertainers and journalists are among the 117 new stamps slated to be issued next year by the U.S. Postal Service (USPS).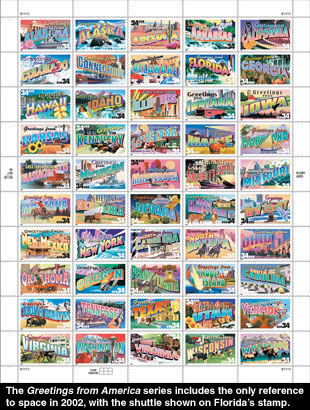 Missing in 2002, at least to space-topical collectors, will be a commemorative honoring the achievements of the country in space exploration or astronomical discoveries.

In fact, the only space-related image to appear on a U.S. stamp next year will be as part of the Greetings From America series.

Based on "large letter" postcards popular in the 1930s and 1940s, the Greetings From America stamps will be released in April. According to the USPS, the stamps "hint at the romance of travel and discovery and convey a nostalgia for all aspects of popular American culture."

The design for Florida's stamp includes the depiction of a space shuttle launching.

The most recent USPS space-topical release was in 2000, with the introduction of the "Space Achievement and Exploration" series. A collection of 15 stamps, the set focused on four themes: Escaping the Gravity of Earth, Landing on the Moon, Exploring the Solar System and Probing the Vastness of Space.

Also issued that same year was a stamp pane paying tribute to the work and contributions of Edwin P. Hubble and the Hubble Space Telescope, which was named in his honor. The five stamp images — Eagle Nebula, Ring Nebula, Lagoon Nebula, Egg Nebula and Galaxy NGC 1316 — were captured by the HST.


back to News



© 2018 collectSPACE.com All rights reserved.
Questions? E-mail contact@collectspace.com