April 2, 2000
— American astronomer Edwin P. Hubble will be honored April 10 when five postage stamps are issued by the U.S. Postal Service. The stamps are being released in conjunction with NASA's 10th anniversary celebration of the launch of the Hubble Space Telescope.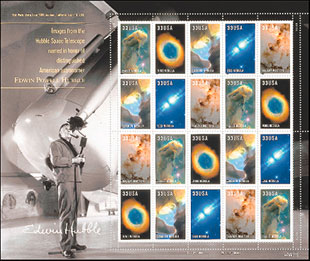 "[The Hubble stamps] bring the farthest reaches of the universe to our fingertips," said U.S. Postmaster General William Henderson. "We will forever be indebted to this great astronomer for his groundbreaking work in opening up the wonder and majesty of the heavens."

Hubble determined that galaxies exist outside of and are receding from our own galaxy. His observations exhibited that the universe is expanding.

On April 25, 1990, NASA launched the Hubble Space Telescope, named for the eminent astronomer, that was capable of seeing the universe more clearly than any other Earth-based observatory. During its 10 years of operation, the telescope has provided some of the most stunning photographs ever taken.




Five of these images were selected for the stamps: "Eagle Nebula", "Ring Nebula", "Lagoon Nebula", "Egg Nebula" and "Galaxy NGC 1316".

A 1949 black-and-white photo of the astronomer Hubble, posing with the 48-inch Schmidt Telescope at Palomar Observatory serves as the selvage image. Phil Jordan of Falls Church, Va. designed the stamps and their pane.

A first day of issue ceremony will be held as part of the Hubble celebration at the Goddard Space Flight Center in Greenbelt, Maryland. The event is by invitation only.

Collectors are invited to visit the Goddard Visitor Center where the first day of issue ceremony will be broadcast live on monitors. Ceremony programs, stamp sales and first day of issue cancellations will also be available.

The stamps' release will also be marked at a public event in Pasadena, California.

The April 10th West Coast event will be held at Carnegie Observatories. Steve Hawley, one of the five astronauts who deployed the Hubble Space Telescope, is scheduled to appear. Also planning to attend is Allan Sandage, the only student of Edwin Hubble. Cacheted covers designed by Carnegie astronomers will be available for purchase.

The space stamp theme will continue at the World Stamp Expo 2000 with the issue of the Space Achievement and Exploration stamps and four youth-inspired Stampin' The Future stamps. The Hubble pane includes an invitation to the public for the Expo to be held July 7-16, 2000 in Calif.