The world's most often flown spacecraft is back on Earth to stay.
Space shuttle Discovery touched down in Florida on Wednesday, making its 39th and final landing to successfully complete a 14-day mission that delivered the last U.S.-segment pressurized module to the International Space Station (ISS).
Commander Steven Lindsey piloted Discovery and his five STS-133 crew mates to an arrival at 10:57:17 a.m. CST (1657 GMT) on Runway 15 at the Kennedy Space Center's (KSC) Shuttle Landing Facility in Florida.
Photo Gallery:
Discovery lands for a final time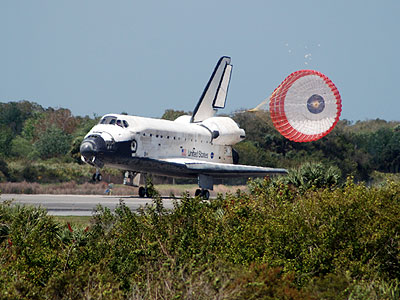 Credit: collectSPACE.com / Robert Pearlman
"Houston, Discovery, for the final time, wheels stop," announced Lindsey as Discovery came to rest 12 days, 19 hours, 4 minutes and 50 seconds after launching on Feb. 24. The main gear first touched down 57 seconds earlier.
"That was a great landing in a tough condition," radioed capcom Charles Hobaugh to Lindsey from Mission Control. The "tough condition" was in reference to a strong headwind that slowed Discovery's final approach.
"It was an awesome docked mission that you all had," Hobaugh said. "You were able to take Discovery up to a full 365 days of actual time on orbit. I think you would call that a fleet leader and a leader of any manned vehicle for a time in orbit. So job well done."
Landing with Lindsey were pilot Eric Boe and mission specialists Michael Barratt, Nicole Stott, Steve Bowen, Alvin Drew and Stephen Bowen.
"We believe, if we did our math right, which we may not have, this is 365 days on orbit for Discovery. An entire year in space," said Lindsey after exiting the shuttle and taking the customary walk-around of his ship.
In the course of that time, Discovery made 5,830 orbits of Earth, logging 148,221,675 miles.

Credit: NASA TV
"Discovery launched and came back on this flight just like my previous two flights on Discovery, with absolutely no leans against her, no single system with any problems whatsoever," said Lindsey. "If you think about a vehicle that is 26, 27 years old that has been flying for that long, to come back perfect, I have never seen an airplane be able to do that."
"It is a pretty bittersweet moment for all of us. As the minutes pass, I am actually getting sadder and sadder about this being the last flight. I know all the folks involved in the shuttle program feel the same way," admitted Lindsey.
NASA's third orbiter to be built and enter service, Discovery's first flight, STS-41D, launched in August 1984. It flew a total of 39 times, including both of NASA's "return to flight" missions following the loss of Challenger and Columbia. Discovery deployed the Hubble Space Telescope and the Ulysses solar probe and was the first ever to recover satellites from orbit. It was the first shuttle to visit the ISS and delivered its largest laboratory, Japan's Kibo pressurized module.