Running about 30 minutes ahead of schedule, astronauts Stephen Bowen and Alvin Drew switched their spacesuits to internal battery power at 9:46 a.m. CST, marking the official start to the first spacewalk of the STS-133 mission.
Bowen, starting his sixth career extravehicular activity (EVA), exited the International Space Station's
Quest
airlock first. As lead spacewalker, he is wearing the spacesuit with red stripes.
Drew, wearing an all-white spacesuit, is making his first spacewalk. He is the 200th person in history to work in the vacuum of space.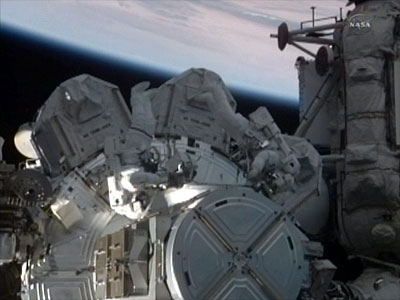 Credit: NASA TV
The spacewalkers first task is to run an extension cable, which will clear the way for the installation of the Permanent Multipurpose Module (PMM) delivered by space shuttle Discovery.
The J612 cable, which provides power to secondary airlock heaters, will be inaccessible after the PMM is installed. The extension cabe will make any future replacements of the system easier.
Installing the cable will take Bowen and Drew about 30 minutes. To do so, Bowen will remove dust caps from the cable and release some wire ties currently holding the J612 cable in place. Then, he will disconnect the original cable from the
Unity
node and connect the extension cable in its place, before tying down the extension cable.
Drew, meanwhile, will connect the extension cable to the original cable, which runs to the
Quest
airlock. He will also work to secure the cables in place.
Just before the spacewalk began, Bowen and Drew spoke with astronaut Tim Kopra, who originally was to have led today's EVA. Injured in a bike accident last month, Kopra was replaced by Bowen on Discovery's crew. Kopra helped re-plan the spacewalk for Bowen and is in Mission Control to lend his experience as needed.
"I'm really looking forward to working with you guys," radioed Kopra. "I'm sitting side saddle with [capcom Stan Love] and helping out where I can."
"Thanks Tim!" replied Bowen, while still inside the
Quest
airlock.
"Good to hear your voice Steve," said Kopra.
"It should be the other way around though," responded Bowen.
"You're a good man for the job," Kopra answered.
"All your good work coming to fruition here Tim," added Drew.