The first spacecraft to dock with the International Space Station (ISS) in 1999, space shuttle Discovery departed the orbiting laboratory for a 13th and final time today.
STS-133 pilot Eric Boe took control of Discovery as it separated from the Pressurized Mating Adapter-2 (PMA-2) located on the forward port of the station's
Harmony
node. The spacecraft undocked at 6:00 a.m. CST on Monday, after eight days, 16 hours and 46 minutes being connected.
"Houston and Station, physical separation," radioed STS-133 commander Steven Lindsey.
"Discovery departing," announced Expedition 26 commander Scott Kelly, as he rung the station's ship bell, continuing a tradition borrowed from the Navy.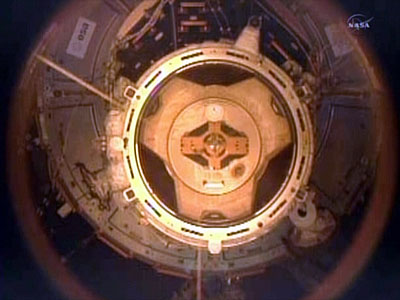 Credit: NASA TV
Discovery and the station were flying 220 miles over the Pacific Ocean, just to east of Indonesia and the north of Australia, at the time the orbiter unberthed.
Boe will fire Discovery's jets to separate the shuttle from the station to a distance of about 400 feet where he will begin a 360-degree flyaround of the orbiting laboratory.
Discovery has served a major role in the assembly of the space station. In addition to being the first spacecraft to dock to the burgeoning outpost, Discovery delivered Japan's
Kibo
pressurized module, the U.S.
Harmony
node, the first and several follow-on truss structures, and now on its final mission, the Permanent Multipurpose Module (PMM)
Leonardo
.