Space shuttle Discovery, NASA's oldest-flying orbiter and the most flown spacecraft in history, launched on its 39th and final space flight Thursday from the Kennedy Space Center's Pad 39A in Cape Canaveral, Fla.
"The final liftoff of Discovery!" exclaimed NASA commentator Mike Curie as the shuttle lept off the pad. "A tribute to the dedication, hard work and pride of America's space shuttle team."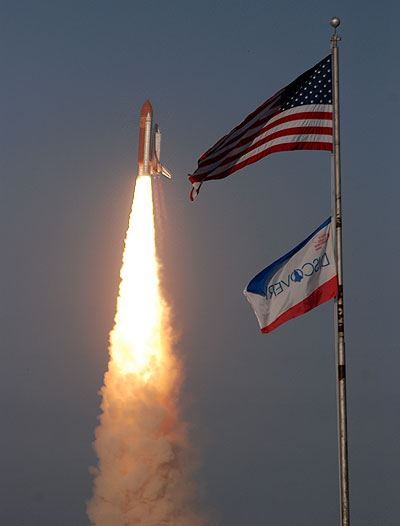 Discovery flies past its flag on its final trip to space. Credit: collectSPACE
Discovery lifted off for the International Space Station (ISS) at 4:53 p.m. EST (2153 GMT), three minutes later than originally scheduled. The brief delay was the result of a problem with an Air Force range safety system computer, which was resolved with just two seconds remaining to make the end of the launch window.
Cleared for flight, Discovery's commander readied those waiting for what was to come next.
"For those watching, get ready to witness the majesty and the power of the shuttle Discovery as she lifts off one more time," Steve Lindsey said from the crew cabin minutes before launch.
Discovery is heading for the station carrying a modified "storage closet," spare equipment pallet, and the first humanoid robot to be flown in space.

Credit: NASA TV
Led by Lindsey, Discovery's STS-133 crew includes pilot Eric Boe and mission specialists Michael Barratt, Nicole Stott, Alvin Drew and Stephen Bowen.
Bowen is the first U.S. astronaut to fly on consecutive missions. Having flown onboard Atlantis' STS-132 mission last May, Bowen was added to Discovery's STS-133 crew after astronaut Timothy Kopra was injured in a bike accident less than six weeks before launch.
Discovery's crew will add to the ISS the Permanent Multipurpose Module (PMM), the modified multi-purpose logistics module (MPLM)
Leonardo
. The PMM will provide additional storage space for the station crew, and experiments may be conducted inside it, such as fluid physics, materials science, biology and biotechnology.
Packed inside the PMM to be transferred to the station is Robonaut 2, or R2, the first human-like robot in space. Controlled either from the ground or by its fellow ISS crew members, R2 is designed to assist the station's residents inside, and eventually outside, the orbiting laboratory.
Discovery is also carrying spare components — including a radiator, the largest spare component for the station ever launched on the shuttle — and the ExPRESS Logistics Carrier 4 (ELC4) to the station. ExPRESS, which stands for Expedite the Processing of Experiments to the Space Station, is an external platform that holds large equipment that can only be transported using the shuttle.
STS-133 crew members Drew and Bowen will perform two spacewalks to install new components and do maintenance outside the station.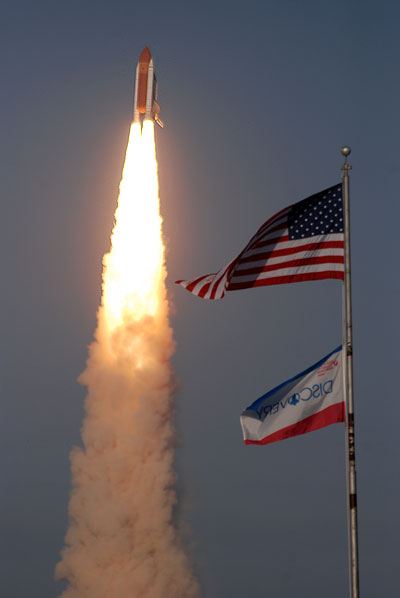 Credit: collectSPACE/Robert Z. Pearlman
Planned as an 11-day mission, STS-133 may gain one more day on-orbit should managers approve a plan to undock a Russian Soyuz spacecraft and fly it away from the station to photograph the complex together with Discovery and the other international vehicles attached to the ISS.
The STS-133 mission was delayed several months after a hydrogen gas leak scrubbed its first launch attempt on Nov. 5. Shuttle technicians then discovered cracks in Discovery's external tank, which led to tests and an unprecedented but fairly-straightforward repair plan.
Discovery, which flew its maiden voyage on Aug. 30, 1984, is the first of NASA's three remaining orbiters to reach its final flight. Following a safe return from space, Discovery will be prepared for transfer to a museum. It is expected, but not yet confirmed by NASA, that Discovery will be given to the Smithsonian for display at the National Air and Space Museum's Steven F. Udvar-Hazy Center in Chantilly, Va.