The final spacewalk to enter space shuttle Discovery's cargo bay and the second of two extravehicular activities during the STS-133 mission came to a close six hours and 14 minutes after it began.
Spacewalkers Stephen Bowen and Alvin Drew reentered the International Space Station's
Quest
airlock and began its repressurization at 3:56 p.m. CST, marking the official end of their EVA.
"Super job today, you guys were very impressive. We're all very proud of you here in Houston," radioed Mission Control.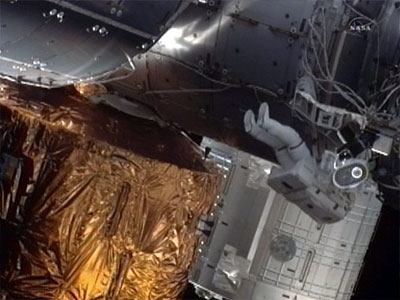 Credit: NASA TV
Working separately for most of the spacewalk, the two accomplished all the tasks set out for them and then some.
Bowen, riding the station's Canadarm2 robotic arm, removed a lightweight adapter plate assembly from the
Columbus
lab and stowed it for its return to Earth in Discovery's payload bay. He then installed a second camera on the special purpose dexterous manipulator, or Dextre, and removed an insulation blanket from the Canadian robot's side.
Bowen then got off the arm and installed a lens cap to protect its elbow joint camera from the thruster plume given off by spacecraft arriving and departing the station. He added a similar lens cap to a camera on Dextre and another to the payload attachment on the mobile transporter.
Bowen then performed an extra "get-ahead" task, relocating a robotic arm adapter to the Russian Zarya module.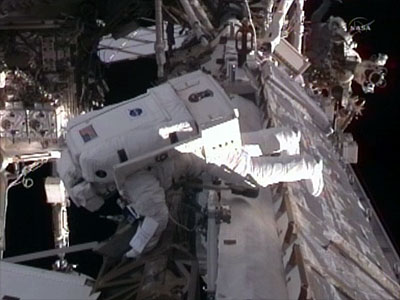 Credit: NASA TV
Drew began the spacewalk venting a failed pump module of its remaining ammonia before moving over to the newly-installed ExPRESS Logistics Carrier-4, where he removed protective thermal blankets. Drew then fixed the sunshade on a camera wedge that Bowen and he had installed during the first STS-133 spacewalk on Monday.
Drew next added a light to a crew equipment translation aid cart and then successfully tightened the bolts holding down a couple of radiator grapple fixture stowage beams that an earlier mission's spacewalkers couldn't do. He then moved over to the
Tranquility
node to remove some insulation.
It was then that the lights on top of Drew's spacesuit helmet came loose. Bowen, coming to Drew's aid, was unable to reattach the lights and Drew returned to the airlock, followed a few minutes later by Bowen.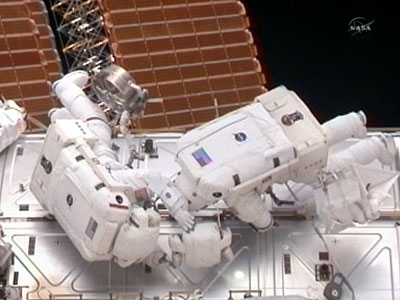 Credit: NASA TV
This was Bowen's seventh career spacewalk, raising his total time spent working outside in space to 47 hours and 18 minutes. He now ranks sixth among all worldwide astronauts and cosmonauts for time spacewalking.
Drew, completing his second spacewalk, now has a total of 12 hours and 48 minutes, the same as the total time for both STS-133 spacewalks.
Today's excursion was the 155th spacewalk devoted to station assembly and maintenance, bringing that total to 973 hours and 53 minutes. It was also the 244th spacewalk by U.S. astronauts.