The International Space Station gained a new storage closet today as the crew of space shuttle Discovery used the station's robotic arm to attach the Permanent Multipurpose Module (PMM)
Leonardo
to the Earth-facing port of the
Unity
module.
Beginning at 7:26 a.m. CST, mission specialists Mike Barratt and Nicole Stott inched the 58-foot-long Canadarm2 onto the PMM's grapple fixture. They then used the arm to lift the 28,353 pound module from Discovery's payload bay and moved it to
Unity
, where, as its name implies, the PMM will permanently reside.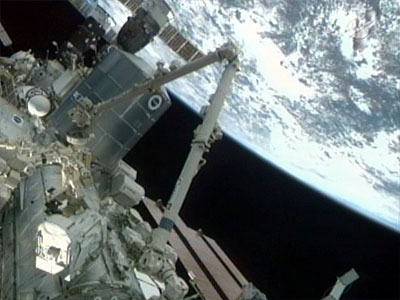 Credit: NASA TV
At 9:05 a.m., the PMM was anchored in place. Discovery's pilot Eric Boe and Expedition 26 flight engineer Cady Coleman engaged latches on the common berthing mechanism to attach PMM to Unity.
"Leonardo is looking very, very happy to be in his or her new home," said Coleman.
The PMM
Leonardo
was originally the MPLM
Leonardo
, a Multi-Purpose Logistics Module used to ferry supplies back and forth to the station. For STS-133, the PMM was modified to become a permanent ISS module.
The same size (21 feet long, 15 feet in diameter) as the European Space Agency's
Columbus
laboratory, the PMM offers the station an additional 2,472 cubic feet of pressurized volume for storage and for scientific use.
Leonardo
is the last of the modules to be attached to the U.S. operating segment (USOS) of the International Space Station.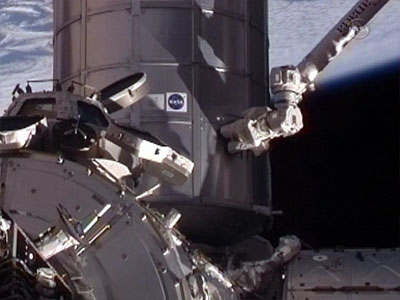 Credit: NASA TV
To transform
Leonardo
from a logistics carrier used for a decade onboard seven space shuttle flights into a permanent station module able to stay ten more years on orbit, it was modified with enhanced exterior shielding to protect against micrometeoroid impacts and a redesigned inside layout to allow crew access for maintenance and repair.
The Italian Space Agency, working with NASA, contracted Thales Alenia Space, which also designed and built the multi-purpose logistic modules, to make the modifications to
Leonardo
.
The PMM arrives on the station fully-stocked with one experiment rack, six resupply stowage platforms, five resupply and two integrated stowage platforms. Also packed onboard, Robonaut 2, the first human-like robot to be launched into space.