President Barack Obama made a long-distance call to the crews onboard the International Space Station on Thursday, to share how proud he was of their achievements and to check on the status of their newest, robotic crewmate.
"I wanted to call and just say how personally proud I am of you and all that you are accomplishing," the President told station commander Scott Kelly. "We are always inspired by the images of you guys at work as you put some of the final pieces in place to make ISS fully operational. You are setting such a great example with your dedication, your courage, your commitment to exploration."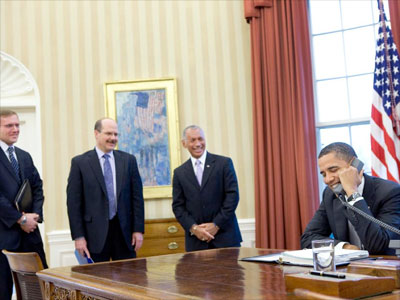 President Obama calls the crews in space while NASA Administrator Charlie
Bolden and OSTP's Ted Wackler and Damon Wells listen. Credit: White House
The President also recognized this being shuttle Discovery's final flight.
"It has traveled more distance in space and spent more time in orbit than any of its peers in the shuttle fleet. So it's appropriate it is performing this critical and iconic mission and adding to the legacy by working on this ISS assembly to full operations," said Obama.
"On behalf of the crew it is a real privilege for us to get to fly Discovery on her final mission," replied STS-133 commander Steven Lindsey." We were trying to calculate now that we are going to land on Wednesday, we think that when we'll land, the Discovery will have flown in space for 365 days, so for a whole year, which is pretty incredible for a vehicle. She's been into space 39 times and that's a pretty incredible record. She won't be forgotten for a long, long time we hope."
"That's a remarkable, remarkable record," said the President.
Obama later turned his attention to the newest station crew member, who was launched by Discovery and who will remain on the ISS.
"This R2 robot... I don't know if you guys are putting R2 to work but he's got a lot of attention. That helps inspire young people when it comes to science and technologies. Are you guys making him do chores up there? Washing the dishes or something, or does he have more exciting jobs?"
"Well sir, we actually just pulled him out of our Permanent Multipurpose Module that we just delivered and installed two days ago. I think we pulled him out yesterday and he's off camera, right there, right next to the camera. He's still in packing foam so we hope to get him out shortly. It's going to be fun to see how he works," explained Lindsey.
"He's still in packing foam?" teased the President. "That's a shame, man. Come on guys, unpack the guy! He flew all that way and you guys aren't unpacking him?"
"You know the poor guy's been locked in that foam for about four months now and every once in a while, we hear some scratching sounds from inside. And maybe 'Let me out! Let me out!' but we're not sure," Lindsey joked.
"Well, let him stretch his legs pretty soon," advised the President.

Credit: NASA TV