September 2, 2017
— A record-setting U.S. astronaut and two of her fellow crewmates returned from the International Space Station on Saturday (Sept. 2), safely landing aboard a Russian spacecraft on the steppe of Kazakhstan.

Peggy Whitson, who now has more time in space than any other American or woman worldwide, landed on Earth with cosmonaut Fyodor Yurchikhin and astronaut Jack Fischer on Soyuz MS-04. The trio descended under a parachute to a touch down at 8:21 p.m. CDT (0121 GMT or 7:21 a.m. Kazakh time Sep. 3).

For Fischer and Yurchikhin, the landing marked the end of their 136-day mission, having launched together on Soyuz MS-04 on April 20.

Whitson arrived on the space station with an earlier Soyuz crew, such that her stay was 288 days. It was the second longest single flight by a U.S. astronaut, only surpassed by Scott Kelly, who spent 340 days on the orbiting laboratory from March 2015 to March 2016.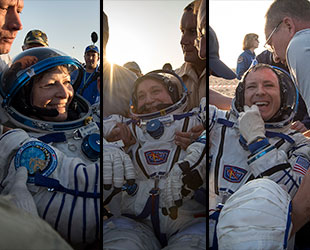 Peggy Whitson, Fyodor Yurchikhin and Jack Fischer just after their extraction from Soyuz MS-04 on Sept. 2, 2017.
(NASA/Bill Ingalls)
"I would say that it didn't feel any longer than my previous two flights of six months in duration," Whitson wrote in an email to the Associated Press that was released by NASA on Friday. "I would say the slowest time has been the last week or so. I think it has to do with switching in your mind where you want/need to be. Once the switch is thrown to go home, time seems to move a lot slower."

Whitson, who has now completed her third spaceflight, has a career total of 665 days, 22 hours and 22 minutes off the planet, 131 more days than Jeff Williams, the next nearest U.S. astronaut, and 344 more than the next woman of any nationality, NASA astronaut Sunita Williams.

While on this latest mission, Whitson also became the first woman to command the space station a second time (after becoming the complex's first female commander in 2007); the oldest woman in space at the age of 57; and the most experienced woman to walk in space, having performed 10 extravehicular activities (EVA) totaling more than 60 hours and 21 minutes.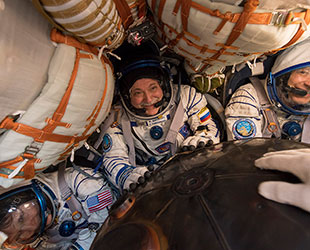 Peggy Whitson, Fyodor Yurchikhin and Jack Fischer inside Soyuz MS-04 after landing on Earth on Sept. 2, 2017.
(NASA/Bill Ingalls)
"I have noted in more than a few interviews that I am not overly comfortable with the praise about the records," said Whitson in her email to the AP. "I honestly do think that it is critical that we are continuously breaking records, because that represents us moving forward in exploration."

"I feel lucky to have been in a position to take advantage of the opportunities that I have had," she added, "and yet I do acknowledge that my dedication and work ethic helped put me in those positions."

Whitson's most recent 288 days in orbit had her serving on the space station's 50th, 51st, and 52nd expedition crews. Expedition 52 reached its an official end at 4:58 p.m. CDT (2158 GMT) Saturday, when Soyuz MS-04 undocked from the outpost with Whitson, Fischer and Yurchikhin aboard.

Randy Bresnik of NASA, cosmonaut Sergey Ryazanskiy of Roscosmos and astronaut Paolo Nespoli of the European Space Agency (ESA), who launched on July 28, remain on board the space station as the Expedition 53 crew. NASA astronauts Mark Vande Hei and Joe Acaba, and Alexander Misurkin of Roscosmos, are scheduled to launch on Soyuz MS-06 on Sep. 12 from Russia's Baikonur Cosmodrome in Kazakhstan.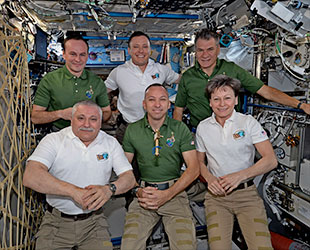 Fyodor Yurchikhin, Jack Fischer and Peggy Whitson (in white) with Sergey Ryazanskiy, Randy Bresnik and Paolo Nespoli on board the International Space Station on Sept. 1, 2017.
(NASA)
Whitson, Fischer and Yurchikhin, during their time together in space, helped to conduct hundreds of investigations into biology, biotechnology, physical and Earth science, as well as oversaw the arrival of four cargo spacecraft, including an Orbital ATK Cygnus, two SpaceX Dragon capsules and a Russian Progress vehicle.

Whitson and Fischer performed two spacewalks, totaling 6 hours and 59 minutes, including the 200th EVA in support of station assembly and maintenance. Yurchikhin made his ninth career spacewalk, logging more than 7 hours and 34 minutes deploying satellites and inspecting the exterior of the Russian segment.

"I will miss the ability to 'go for a walk' in a spaceship built for one," commented Whitson.

This was Fischer's first time in space and Yurchikhin's fifth. Yurchikhin now has a total of 673 days in orbit, ranking him seventh among all astronauts and cosmonauts, one place above Whitson by just eight days.

(Now retired, Russian cosmonaut Gennady Padalka holds the record for the most cumulative time in space, with 878 days, 12 hours and 30 minutes on five missions.)

Fischer was the 550th person in history to orbit the Earth.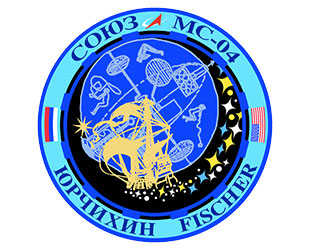 Soyuz MS-04 crew patch.
(Roscosmos/Spacepatches.nl)
After brief medical checkouts at the landing site, Whitson, Fischer and Yurchikhin will be flown to to the Kazakh town of Karaganda for a traditional welcoming ceremony. From there, Yurchikhin will return to Star City outside of Moscow.

As a result of Hurricane Harvey, which impacted Houston, home to the Johnson Space Center, Whitson and Fischer will first be flown by ESA to Cologne, Germany, where they will be met by a NASA G-5 aircraft to depart for Houston on Sunday night.

Soyuz MS-04 was the 50th Soyuz to fly to the International Space Station. It traveled a total of 57.5 million miles (92.5 million kilometers) over the course of 2,176 orbits of Earth.