March 5, 2016
— Scott Kelly took in a breath and smelled something he didn't recognize.

"It smells like a fragrance, like a plant was blooming in that area," the NASA astronaut said, recalling his first moments being back on the Earth after nearly a year in space.

"The air was refreshing because it was cool — and it was different than the air I experienced for the last 340 days," he said. "[But] that was the smell of burning Soyuz. It is the charred smell of the Soyuz. It has kind of a sweet smell to it."

Kelly's mission, the first year-long expedition on board the International Space Station, was devoted to collecting data to support longer future flights out into the solar system.

On Tuesday (March 1), Kelly landed on the barren steppe of Kazakhstan on board the Russian Soyuz TMA-18M with cosmonauts Sergey Volkov and Mikhail Kornienko. Three days later, he sat down with reporters at NASA's Johnson Space Center in Houston to recount his historic flight.


"The first thing I tried to throw on a table I missed," said Kelly, describing his adjustment to gravity. "I tried to shoot some basketballs yesterday and I didn't get any of them in the net. Not that I am a good basketball player in general anyway."

"I don't seem to have a tendency though, to want to drop things," he added. "On my first flight that was seven days, I had that tendency to let something go [to float], but never again."

Kelly said that adjusting to space has always been easier for him than adjusting back to life on Earth.

"I don't think I ever felt completely normal up there. There is always some subtlety to how you are feeling, even after you have been up there for 340 days," he explained. "But I think coming back to gravity is harder than leaving gravity."

Now a veteran of four space missions, each of increasing length, Kelly said that his body's reaction to almost a year off the planet has been harsher this time. There is always a certain amount of soreness and fatigue, he explained.

"Initially, this time, coming out of the capsule, I felt better than I did last time. But at some point, those two lines have crossed and my level of muscle soreness and fatigue is a lot higher than it was last time. It almost makes me think that there is a linear function to it," Kelly described.

"I also have an issue with my skin — because it had not touched anything for so long — like any significant contact, it's very, very sensitive. It is almost like a burning feeling on wherever I sit or lie or walk."

After landing from the space station and undergoing initial medical tests in Kazakhstan, Kelly flew back to Houston by way of Norway and Canada. Since arriving home, he has been subjected to more tests, including "functional fitness" tests designed to measure his ability to do different tasks.

On Friday, prior to the press conference, Kelly was taken to the University of Texas Medical Branch Health Specialty Care Center at Victory Lakes to undergo MRI scans and a Japanese research experiment.

"So, it has been pretty busy," he said.

Kelly also took part in his first family meal around a table (the first food he ate after landing was a banana, which he realized halfway through was ironic given that he had been filmed wearing a gorilla suit while on the space station as a gag arranged by his twin brother Mark) and jumped in his pool (fulfilling his desire to be surrounded by water after a year without access to a shower in space).

"I think there will be a point here pretty soon where I might start feeling that kind of culture shock from having so few choices on the space station as to what you're going to do each day and what is available for you to [now] just about anything," he said.

Kelly said that he was most surprised by just how long 340 days turned out to be.

"It seemed like I had lived there forever. It seemed longer than I thought it would be," he explained.

"[On a six month flight], when you get there, you can kind of see the end. You think, 'Okay, I launched in October, I'm coming back in March, I can envision getting there,'" Kelly said. "But when you launch in March and you are thinking about coming back the next March, it is not something that you can really comprehend."

"I think the perfect duration of a spaceflight is on the order of two and a half to three months, and when you get to two and a half to three months you think, 'I've really been here for a long time," and know that you have nine months still to go? That is kind of hard to get your head around."

Kelly's 340 days set two new records, including the longest mission by an American. They are not records however, he wants to retain.

"These records are meant to be broken," he said. "There is this guy, Jeff Williams, [who] is going to launch here in the next couple of weeks. He is going to break my number of days record — I'm not sure by how much, but total number of days in space for an American, he'll break it — which is great."

"I don't know when someone will have more than 340 days [on a single space mission] next, but hopefully it won't be too long. Pushing the envelope is what makes our society progress," Kelly said.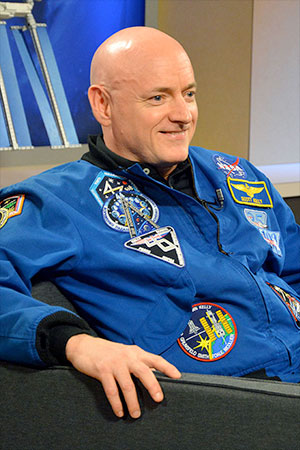 Scott Kelly takes part in a press conference at the Johnson Space Center in Houston on March 4, 2016, days after he returned from a nearly yearlong mission aboard the space station. (collectSPACE)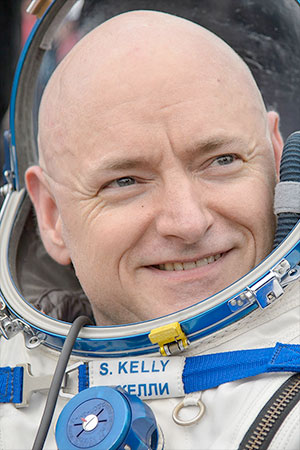 Scott Kelly rests in a chair outside of the Soyuz TMA-18M capsule just minutes after he landed in Kazakhstan. (NASA/Bill Ingalls)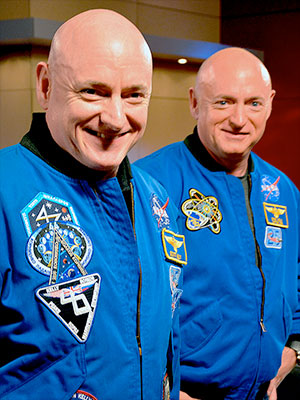 Scott Kelly with his twin brother Mark, a former NASA astronaut, at NASA's Johnson Space Center on March 4, 2016. (collectSPACE)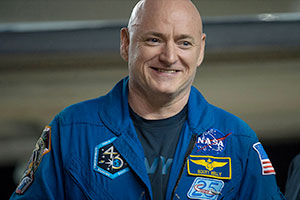 Scott Kelly, as seen on Thursday, March 3, 2016, after his return to Ellington Field in Houston. (NASA/Joel Kowsky)