March 27, 2015
— An American astronaut and a Russian cosmonaut have embarked on a historic yearlong mission into space to support future human journeys to Mars.

NASA astronaut Scott Kelly and Roscosmos cosmonaut Mikhail Kornienko left the Earth for the International Space Station on Friday (March 27), launching at 2:42 p.m. CDT (1942 GMT; 1:42 a.m. local time March 28) from Russia's Baikonur Cosmodrome in Kazakhstan. Commanding their Soyuz TMA-16M spacecraft was Roscosmos cosmonaut Gennady Padalka, who will stay onboard the space station for the more typical six months, but will set a new record for cumulative time in space in the process.

Lifting off atop a Soyuz-FG rocket from the same launch pad where the first human in space, Yuri Gagarin, left the Earth on April 12, 1961, the Soyuz TMA-16M crew entered a four-orbit, 6-hour trajectory to rendezvous and dock with the space station's Poisk module at 8:33 p.m. CDT (0133 GMT).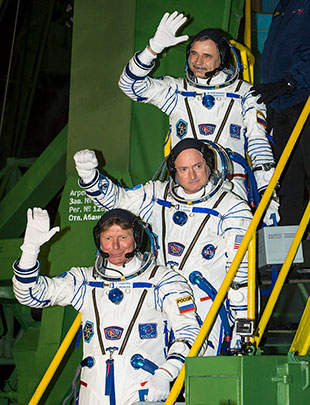 The Soyuz TMA-16M crew, Mikhail Kornienko (at top), Scott Kelly and Gennady Padalka wave before boarding their spacecraft at the Baikonur Cosmodrome on March 27, 2015.
(NASA/Bill Ingalls)
At the orbiting outpost, Kelly, Kornienko and Padalka are joining the Expedition 43 crew, including commander Terry Virts of NASA, Roscosmos cosmonaut Anton Shkaplerov, and European Space Agency (ESA) astronaut Samantha Cristoforetti, who have been in space since November.

Kelly, 51, and Kornienko, 54, will spend the next 342 days aboard the space station to gain a better understanding of how the human body reacts to microgravity and the harsh environment of space. Data from their expedition will be used to determine whether there are means to reduce the risks on future longer-duration missions to an asteroid and eventually Mars.

"The main objective is to lay a foundation for future deep space exploration [to] solar system destinations like Mars and the moon," Kornienko said at a preflight press briefing on Thursday. "We need to test the capabilities of a human being [on] such long duration flight."

The station crew will support several hundred experiments in biology, biotechnology and physical science. Data and samples will also be collected throughout the year from a series of studies involving Kelly and his twin brother Mark, a retired NASA astronaut and husband of former Arizona congresswoman Gabby Giffords. The studies will compare data from the genetically-identical brothers to identify any subtle changes caused by spaceflight.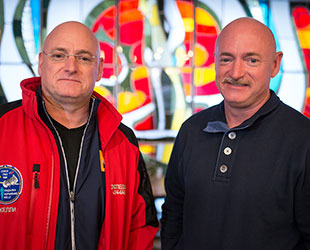 NASA astronaut Scott Kelly (at left) and his identical twin brother Mark pose for a photograph at the Cosmonaut Hotel in Baikonur, Kazakhstan on March 26, 2015.
(NASA/Bill Ingalls)
During their stay in space, Kelly and Kornienko will serve on four crews, from Expedition 43 through Expedition 46. Kelly will become commander of the space station during the second half of his yearlong mission.

Padalka, 56, will spend six months aboard the orbital lab, returning to Earth in September on Soyuz TMA-16M with visiting crewmates Andreas Mogensen of ESA and Sarah Brightman, the British soprano who is funding her own trip to space. During this, his fifth spaceflight, Padalka will be the first four-time station commander and record holder for most cumulative time spent off the planet with just under 900 days in space.

This is Kelly's fourth spaceflight and Kornienko's second. Kelly logged 180 days during two space shuttle missions in 1999 and 2007 and a prior stay on the space station in 2011. Kornienko previously lived on the space station for 176 days in 2010.

Kelly will set two American endurance records during this mission, surpassing Michael Lopez-Alegria's 215 days on a single mission, set in 2007, and astronaut Mike Fincke's cumulative 382 days, accrued over three spaceflights.


This commemorative patch represents the first yearlong mission onboard the International Space Station. (AB Emblem)
Four Soviet-era cosmonauts have earlier spent a full year or more in space, all on Russia's former Mir space station. Vladimir Titov and Musa Manarov worked in space for 365 days from 1987 to 1988. Valery Polyakov, who retains the record for the most days on a single flight, spent 438 days from 1994 to 1995.

Most recently, Sergei Avdeyev spent 380 days aboard Mir between 1998 and 1999.

Kelly's and Kornienko's expedition is the latest step in the International Space Station's role as a platform to prepare humanity for exploration into deeper space.

"The big difference with this flight is that it is the first time we're doing it with an international partnership," Kelly said. "Furthermore, while [Mikhail] and I are only one data point in this goal to have people live and work in space for long periods with the hopes of someday going perhaps to Mars, you have got to start somewhere and I think this is a great start. I'm proud to be a part of it."