Dec. 18, 2014
- For Scott Kelly and Mikhail Kornienko, the upcoming new year brings a special reason to be excited.

For unlike everyone else on this planet, Kelly, as a NASA astronaut, and Kornienko, a cosmonaut, will begin 2015 by launching on the first yearlong mission on the International Space Station.

"What makes this exciting, for me, this one-year flight is about the science and everything we're going to learn from expanding the envelope on the space station greater than we've currently done," Kelly said on Thursday (Dec. 18), speaking at a press conference previewing the yearlong mission at the United Nations Educational, Scientific and Cultural Organization (UNESCO) in Paris. "We're going to go to Mars some day [and] the International Space Station is really a great platform to learn much more about having people live and work in space for longer durations."

"This one year flight is one of the many stepping stones towards leaving low Earth orbit," he said.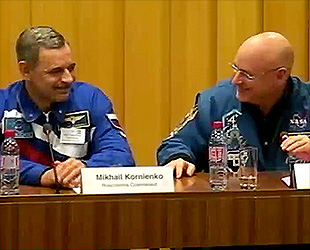 Russian cosmonaut Mikhail Kornienko (left) and NASA astronaut Scott Kelly take part in a press conference at the United Nations Educational, Scientific and Cultural Organization in Paris.
(NASA)
Scheduled to lift off on board a Russian Soyuz spacecraft on March 27, Kelly and Kornienko will work on the space station through March 2016. Their stay will span the length of four of the orbiting lab's expeditions, with a dozen crew members arriving and departing in the interim.

"We do science every day on the space station, probably 150 different types of investigations that are going on right now and have been going on since it started flying in the year 2000," Kelly said. "For this flight, NASA has selected 19 collaborative investigations to evaluate the effects of long duration spaceflight on humans, Roscosmos selected 14 investigations and some of those investigations are joint [studies] that both Mikhail and I will be participating in together."

Resolving to spend a year in space

"As Scott said, this is a platform for further exploration to Mars, to the moon," Kornienko said. "It is our opportunity to push deeper into space and this is a stepping stone to that."

Beyond the science goals though, the yearlong mission is also something of a personal challenge for its crew. Both Kelly and Kornienko have already logged to date about six months in space — Kelly on two short-duration shuttle flights followed by an expedition on the space station, and Kornienko during one long duration stay on the outpost.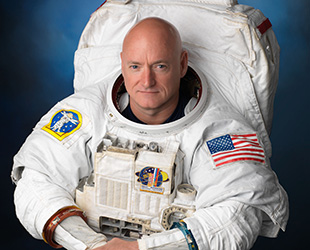 NASA astronaut Scott Kelly is set to become the first American to spend a continuous year in space.
(NASA/Robert Markowitz)
"When this idea first came up of having a yearlong flight, it was about one year after I had gotten back from my last flight and at first, I will be honest, I wasn't that interested," Kelly said. "But after giving it further thought and mulling it over for a while, I realized that if I was going to fly again on a six month flight, it would be similar to the last time."

"I'm the type of person who likes challenges," Kelly said. "I thought about the challenge, just because it is going to be twice as long, and it became appealing to me."

The difference in duration aside, Kelly's personal goals for this mission are very much like his past flights.

"For me personally, this flight is not any different than any of my three previous flights," Kelly stated, describing what his New Year's resolutions are for this yearlong flight. "My personal goals have been no one gets hurt, we don't break anything and we leave as friends."

"That was the case on my first flight," he said, replying to the question by collectSPACE. "That was an 8 day flight, then my next flight was 13 days, and then 159. They are getting longer. I think if I fly again, it goes asymptotic and I never come home."

Following in their floating footsteps

Kelly will become the first American astronaut to spend a continuous year in space and the mission marks a first for the International Space Station, but overall, four Russian cosmonauts previously completed a full revolution around the sun while off living off the planet.


This commemorative patch represents the historic, first yearlong expedition to the International Space Station.
(AB Emblem)
In December 1988, cosmonauts Vladimir Titov and Musa Manarov became the first to log 365 consecutive days in space during their mission aboard the Russian Mir station.

Valery Polyakov broke their record living aboard Mir from January 1994 until March 1995 for 438 days off the Earth. Three years later, cosmonaut Sergei Avdeyev lived on Mir for 380 days, between August 1998 and August 1999.

"The last long-term space mission was on the Mir station and it brought major data for investigations and research about how humans will feel during long-duration flights into space," Kornienko said. "I hope our mission [provides] an opportunity for others who will follow in our footsteps."

Kelly and Kornienko both have had the chance to talk with some of the fliers who preceded them to one year in orbit.

"I spoke to some of the cosmonauts, and the advice they shared was to pace yourself," Kelly said.