November 26, 2012
– Two veteran space station crew members, one from the United States and the other from Russia, will spend a year orbiting the Earth to improve our understanding about how to send astronauts out into the solar system.

NASA astronaut Scott Kelly and Roscosmos cosmonaut Mikhail Kornienko will launch together on a Russian Soyuz spacecraft from the Baikonur Cosmodrome in Kazakhstan in the spring of 2015 and will land in Kazakhstan in spring 2016. The mission is the first yearlong expedition on the International Space Station (ISS), which usually rotates its crew members every six months.

The goal of the yearlong mission is to better understand how the human body reacts and adapts to being exposed to the harsh environment of space.

During the 12 years of continuous human presence on the station, scientists and researchers have gained valuable, and often surprising, data on the effects microgravity has on bone density, muscle mass, strength, vision and other aspects of human physiology. This year off the planet will offer the chance for greater analysis of these effects and trends, according to NASA.

Data from the 12-month expedition will help inform current assessments of crew performance and health and will be used to determine better and validate countermeasures to reduce the risks associated with future missions as plans are laid for missions around the moon, an asteroid and to Mars.

"Congratulations to Scott and Mikhail on their selection for this important mission," William Gerstenmaier, associate administrator for human exploration and operations, said in a NASA statement on Monday (Nov. 26). "The one-year increment will expand the bounds of how we live and work in space and will increase our knowledge regarding the effects of microgravity on humans as we prepare for future missions beyond low-Earth orbit."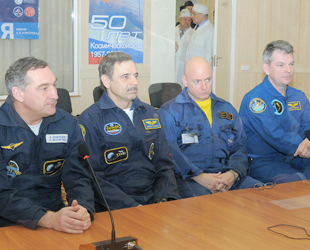 Mikhail Kornienko and Scott Kelly, together at center, take part in a meeting at the Baikonur Cosmodrome in 2010.
(RSC Energia)
To prepare for the expedition, Kelly and Kornienko are set to begin a two-year training program in the United States, Russia and other ISS partner nations beginning early next year. This isn't the first time the two space travelers have trained together; Kelly was a backup crew member for the station's Expedition 23/24 crews, for which Kornienko was serving as a flight engineer.

"Selection of the candidate for the one year mission was thorough and difficult," said Vladimir Popovkin, head of the Russian federal space agency Roscosmos. "We have chosen the most responsible, skilled and enthusiastic crew members to expand space exploration, and we have full confidence in them."

Kelly, a captain in the U.S. Navy, is from West Orange, N.J.. He has degrees from the State University of New York Maritime College and the University of Tennessee, Knoxville. He served as a pilot on space shuttle mission STS-103 in 1999, commander on STS-118 in 2007, flight engineer for ISS Expedition 25 in 2010 and commanded the space station during Expedition 26 in 2011. To date, Kelly has logged more than 180 days in space.

Kelly joined NASA's astronaut corps in 1996. His identical twin brother Mark Kelly also served as a Navy captain and NASA astronaut before retiring from spaceflight and the military in 2011.

Kornienko, a former paratrooper officer and graduate from Moscow Aviation Institute, is from the Syzran, Kuibyshev region of Russia. He's been involved in the space industry since 1986 when he began working at RSC Energia as a spacewalk handbook specialist. Kornienko flew as a flight engineer on the station's Expedition 23/24 crews in 2010 and has logged more than 176 days in space.

Kornienko was selected as a cosmonaut in 1998 and first trained as an ISS Expedition 8 backup crew member prior to flying in space.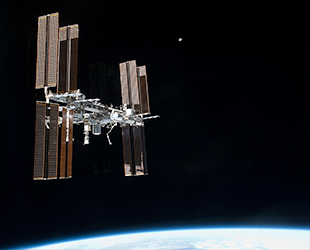 The moon is seen above the International Space Station (ISS) in this photo taken from the space shuttle in July 2011.
(NASA)
NASA and Russia first announced plans for the one-year stay on the space station earlier this year. Rumors of the extended mission were circling prior to the announcement, with the suggestion that veteran NASA astronaut Peggy Whitson would represent the U.S. space agency. Whitson stepped down from her role as Chief Astronaut earlier this year to rejoin NASA's active spaceflying ranks.

While this will be the first yearlong expedition aboard the International Space Station, Kelly and Kornienko will not be the first space travelers to spend a year orbiting the Earth. In December 1988, cosmonauts Vladimir Titov and Musa Manarov became the first to log 365 consecutive days in space during their stay on the Russian Mir station.

Cosmonaut Valery Polyakov broke their record living on board the Mir from January 1994 until March 1995 for 438 days off the planet. Three years later, cosmonaut Sergei Avdeyev lived on Mir for 380 days, between August 1998 and August 1999.