April 8, 2008
— Veteran cosmonaut Alexander Volkov was in Kazakhstan on Tuesday, at the site where he left the Earth three times to live on a space station. Though his return to the Baikonur Cosmodrome was for a launch and the mission's crew roster included a 'Volkov', his role today was as a spectator and proud father.

His son, Sergei Volkov, was making his own first launch to space.

The first second-generation space explorer, the younger Volkov, 35, commanded the Soyuz TMA-12 spacecraft that was launched at 6:16 a.m. CDT from the same pad used by his father for his three missions between 1985 and 1991. Now in space, Sergei Volkov is set to become the next commander of the International Space Station, relieving Peggy Whitson, the outpost's first female leader.

Volkov, who launched with fellow Expedition 17 crewmate Oleg Kononenko and So-yeon Yi, the first Korean citizen to fly in space, did not have the same opportunity as his father did Tuesday to watch his family member depart the planet. Up until recently, relatives were not allowed at the Russian launch base.

"I was able [to watch] just the news," shared Volkov with collectSPACE about his memories at age 12 of watching his father's first flight. "As a son, of course, I was worried how this launch was going to be," he said, adding that he was also happy that his father had reached his goal.

Twenty years later, the elder Volkov took his son aside to share his personal advice for his son's trip. "It happened that he started giving me advice maybe two weeks ago," Volkov recounted during a January interview. "I visited him and he said, 'You know, I have to tell you something.' He shared with me some information about what he didn't expect during his first flight and what actually happened."

Space siblings and spouses

The Volkovs are the first parent and child pair to both fly in space, but they aren't the first blood relatives to share that distinction.

Brothers Mark and Scott Kelly are more than just the first immediate family members to both be astronauts but also the first identical twins to do so.

Selected by NASA in 1996 as pilots, both have made two space shuttle flights. Mark will command his third when he launches on a mission to the space station targeted to begin at the end of May (where he'll meet up with Sergei Volkov on orbit).

Beyond blood relatives, the first husband and wife to fly in space, though on separate missions and before they were betrothed to each other, were fifth in space Andriyan Nikolayev and Valentina Tereshkova, the first woman to orbit the Earth. They were married in November 1963, a year after Nikolayev made his first mission and 5 months after Tereshkova returned from space. They gave birth to a daughter before divorcing in 1982.

The first married couple to launch to space together was U.S. astronauts Mark Lee and Jan Davis, who met while training for STS-47, his second and her first mission. As the two were already in training when they decided to be married, NASA made an exception to its normal policies that would preclude such a pairing. They were married in 1990, launched in 1992 and separated in 1999.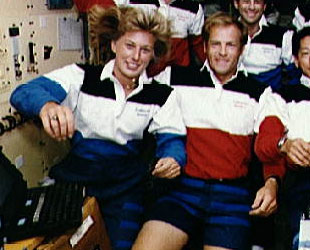 To have and to hold: Astronaut couple Jan Davis and Mark Lee together in orbit aboard space shuttle Endeavour.
(NASA)
Other former married couples include Steve Hawley and Sally Ride, the first U.S. female in space, and Ron Sega and Bonnie Dunbar. Space shuttle veterans Robert "Hoot" Gibson and Rhea Seddon remain a couple, as are Steve Nagel and Linda Godwin, Peter "Jeff" Wisoff and Tammy Jernigan, and Andy Thomas and Shannon Walker.

Former European Space Agency astronauts Jean-Pierre Haigneré and Claudie André-Deshays are married, as are Russians Valeri Ryumin and Yelena Kondakova.

NASA astronaut Bob Behnken carried wedding rings with him on the most recent shuttle mission, which he and his fiancee Megan McArthur will wear when they are married. McArthur is scheduled to launch on her first mission, the last to repair the Hubble Space Telescope, later this year.

Orbiting offspring

Rather than wedding rings, Volkov considered packing a different type of jewelry to represent his connection with his father.

"He presented me his watches that he wore during his spaceflight. Maybe I will fly them as they are certified for space," he told collectSPACE.

By happenstance, Volkov will meet the second, second generation space-explorer and the first offspring of a U.S. astronaut late during his stay on the station. Self-funded spaceflight participant Richard Garriott, the son of Skylab and space shuttle veteran Owen Garriott, is expected to launch in October. He and Volkov will then return to Earth together.

One more son of a spaceman is awaiting his ride to orbit. Cosmonaut Roman Romanenko is following in the career path of his father, Yuri, who launched on three missions. Roman is assigned to fly to the station in the fall of 2009.