October 5, 2012
— An American astronaut and Russian cosmonaut will spend a year together in space to advance the day when humans venture out into the solar system.

NASA, together with its international partners, announced on Friday that the standard six-month stays on board the International Space Station (ISS) will be extended to one year for two crew members beginning in spring 2015. The longer duration mission is aimed at gathering the scientific data needed to send humans to destinations father away from Earth, such as Mars.

"In order for us to eventually move beyond low Earth orbit, we need to better understand how humans adapt to long- term spaceflight," Michael Suffredini, International Space Station program manager, said in a statement. "The space station serves as a vital scientific resource for teaching us those lessons, and this yearlong expedition aboard the complex will help us move closer to those journeys."

The two crew members, one representing NASA and the other Roscosmos, Russia's federal space agency, will fly on a Russian Soyuz spacecraft. They will launch in spring 2015, and their yearlong stay will span the space station's 43rd through 46th expeditions.

The station, which serves as a laboratory for technological demonstrations and scientific research, includes medical experiments to improve our understanding about how the human body reacts and adapts to extended exposure to microgravity. Data from the yearlong expedition will also help inform existing assumptions about crew performance and health, and will help reduce the risks associated with future exploration, according to NASA.

"It is the perfect time to test a one-year expedition aboard the orbital laboratory," said Julie Robinson, NASA's ISS program scientist. "What we will gain from this expedition will influence the way we structure our human research plans in the future."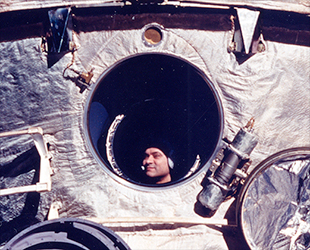 Cosmonaut Valery Polkayov looks out the Russian space station Mir's window during his record setting 438 day mission.
(NASA)
Over the course of almost 12 years of permanent human presence aboard the station, scientists and researchers have gained valuable, and often surprising, data on the effects of weightlessness on bone density, muscle mass, strength, vision and other aspects of human physiology. This yearlong stay will allow for greater analysis of these effects and trends.

The extended expedition will also serve as a testbed for future exploration technologies, NASA says, though what those are is still to be revealed.

Also still to be announced are who the crew members will be, on what specific Soyuz flight they will launch and land, and how their stay will effect the schedules for the space station's other four six-month stay crew members. Since stepping down as NASA's chief astronaut in July, Peggy Whitson has been rumored as a potential candidate for the U.S. assignment.

The logistics involved in staging the yearlong mission are expected to open as many as two additional seats to fly to the orbiting complex, which Russia may sell to spaceflight participants, or so-called "space tourists."

Space Adventures, the U.S. company that has facilitated the flights for all seven individuals who self-funded visits to the space station between 2001 and 2009, has a press conference scheduled for Oct. 10 in Moscow to announce a "groundbreaking" spaceflight development with recording artist Sarah Brightman.

While this will be the first yearlong expedition aboard the International Space Station, the two crew members will not be the first space travelers to spend a year orbiting the Earth. In December 1988, cosmonauts Vladimir Titov and Musa Manarov became the first to log 365 consecutive days in space during their stay on the Russian Mir station.

Cosmonaut Valery Polyakov broke their record living on board the Mir from January 1994 until March 1995 for 438 days off the planet. Three years later, cosmonaut Sergei Avdeyev lived on Mir for 380 days, between August 1998 and August 1999.