Photo Gallery: A decade in the lives of the International Space Station
November 2, 2010

— Ten years ago today at 4:23 a.m. CST, the hatch leading into the Zvezda service module was opened and the first three crew members to take up residency on the International Space Station (ISS) came onboard. Since then, the orbiting laboratory has been continuously occupied: 196 individuals have visited the ISS from more than 15 nations while the outpost has orbited the Earth 57,361 times, traveling some 1.5 billion miles.

The greatest testament to the station crew members' work has been the physical assembly of the facility, which has grown from just two modules to fourteen with a pressurized volume equal to that of a Boeing 747. Inside, more than 600 research and technology development experiments have been conducted on the station.

Browsing through the photographs that the station's residents have taken over the past decade, there are signs — sometimes literally — that beyond the engineering and scientific accomplishments, the crews have also succeeded at incorporating part of themselves into the facility that they have called home.

"We do see these small things that we were unable to take home with us — for whatever reason — or they are left here as sort of a token or a mascot for those that come after," said ISS Expedition 25 commander Doug Wheelock from aboard the station in response to a question posed by collectSPACE about the personal items left behind over the past decade. "The crew that left us, left us a nice note in the Cupola. I think it is more thoughts and small mementos than anything."

"Some of the things are left intentionally, some you run across are unintentional," added soon-to-be Expedition 26 commander Scott Kelly, who found and held up a small figurine left behind by a prior crew as Wheelock spoke. "Sometimes [they are] useful, sometimes not. [Expedition 24 flight engineer] Tracy Caldwell left me her spoon, which is very useful."



Graphic, photos credit: NASA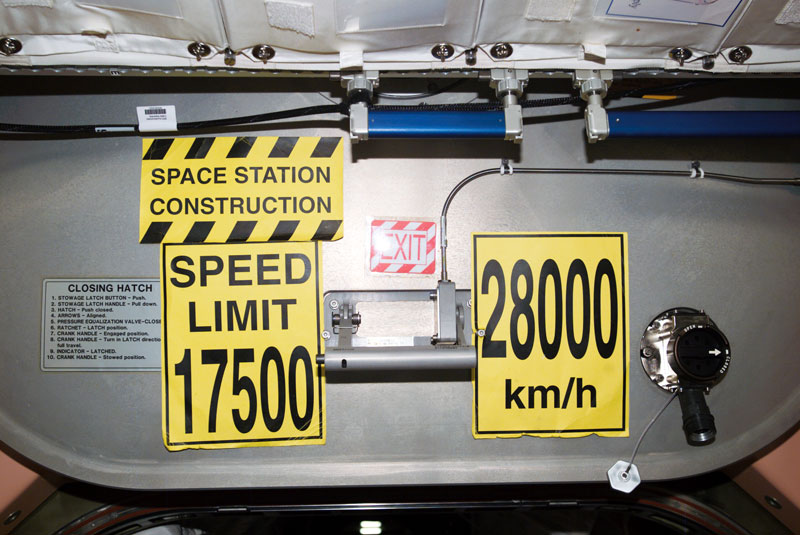 Above:
A close-up view of "speed limit" parody signs on a space station hatchway as photographed in 2006 by an Expedition 12 crew member. The speeds cited — in both English and metric measurements — are equivalent to the station's velocity, keeping it in orbit.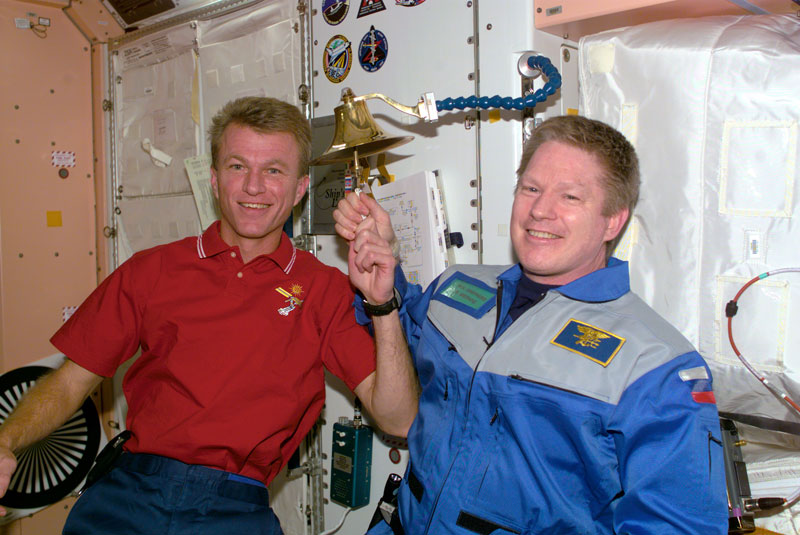 Above:
The ship's bell — being rung here in 2000 by astronaut Brent Jett and the station's first commander Bill Shepherd. Borrowing from a Navy tradition, the bell is rung when crew members arrive and depart from the orbiting laboratory.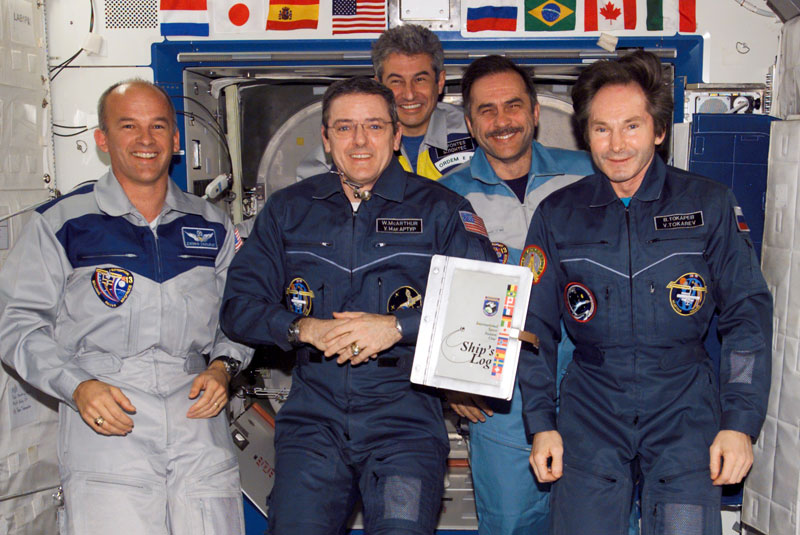 Above and below:
Another Naval tradition, the keeping of a ship's log, was also begun by first station commander Bill Shepherd soon after he arrived onboard. Still kept by commander's today, these photos show its handover between Expedition 12 and 13 crew members (above), STS-121 commander Steven Lindsey writing his entry in 2006 and an example entry.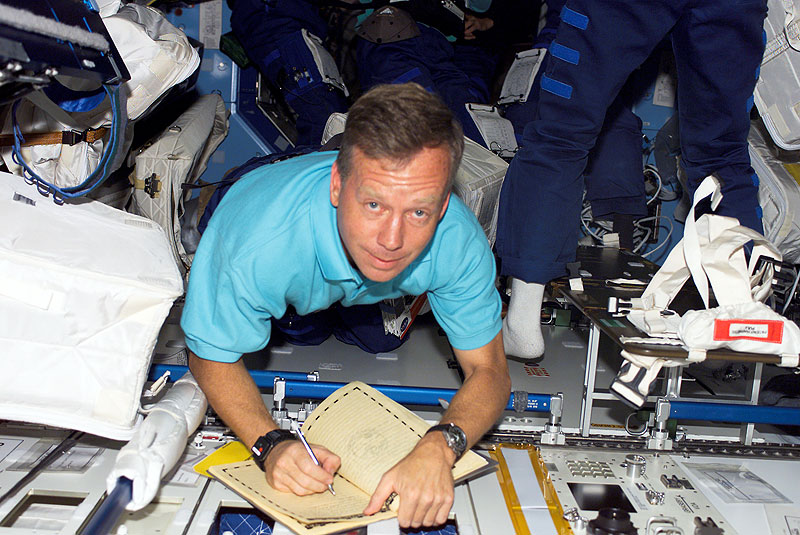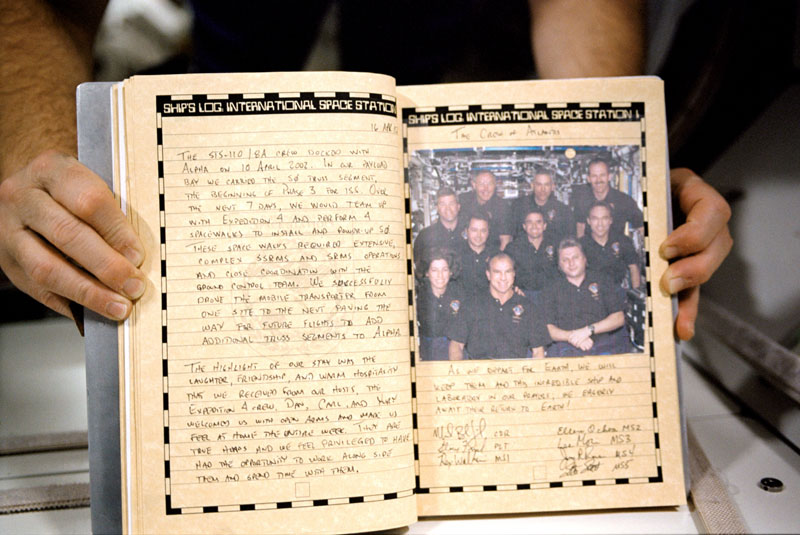 Below:
Visiting and expedition crew members have left their mark on the station in the form of their insignias, applied to panels and hatches throughout the outpost. Separate panels mark space shuttle missions, expeditions and the current crew.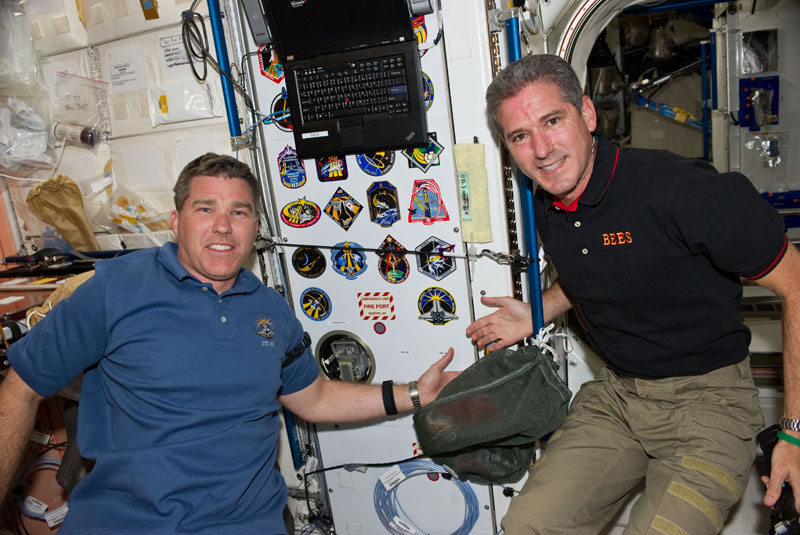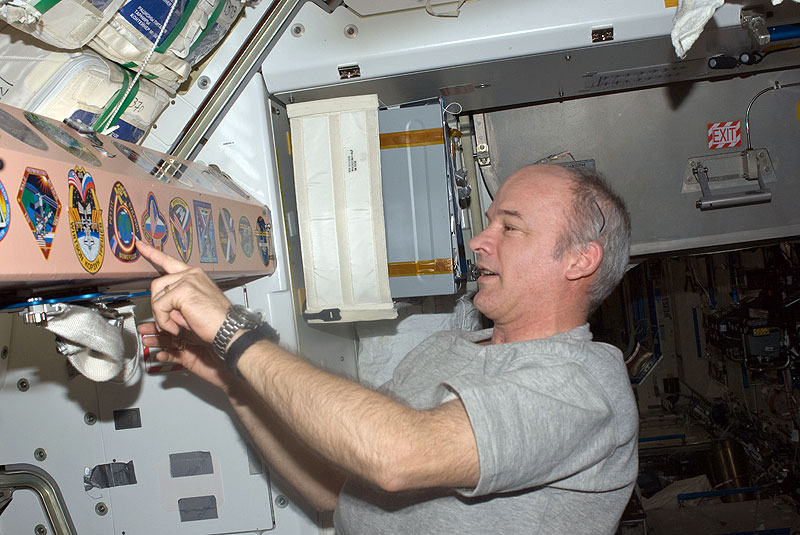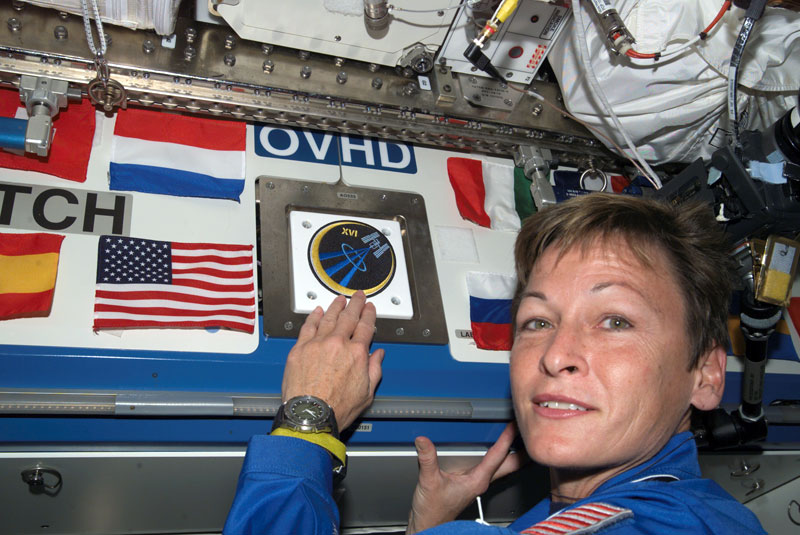 Below:
Both Russian and U.S. station crew members share photographs of their former and late colleagues. A photo of cosmonaut Yuri Gagarin, the first person in space, was installed in the Russian Zvezda service module in 2001.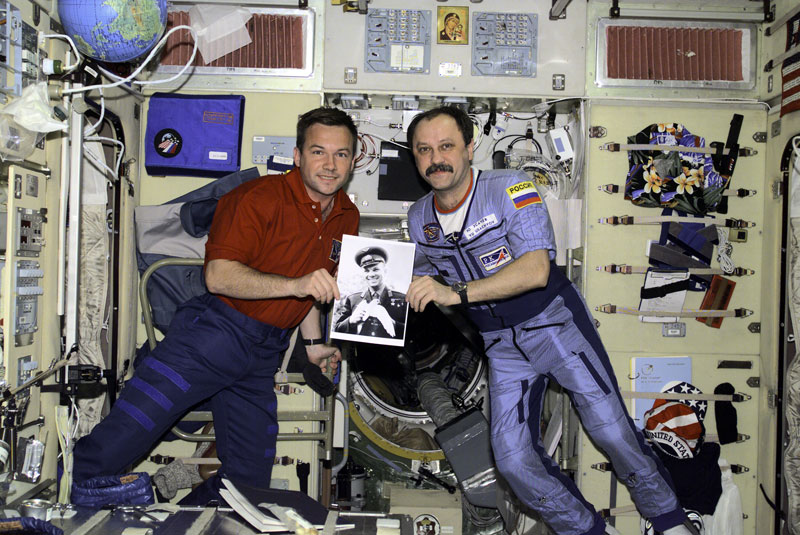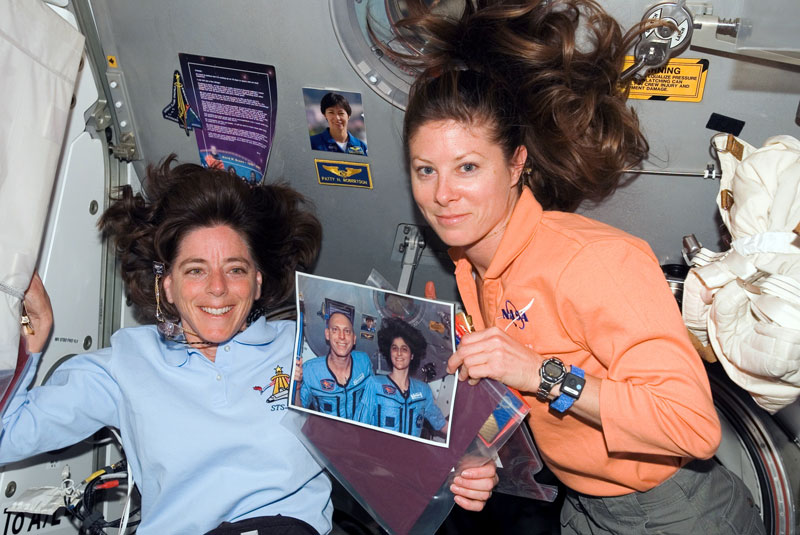 Above:
An airlock hatch doubles as a memorial for fallen U.S. astronauts as shown by STS-118 crewmates Barbara Morgan and Tracy Caldwell Dyson — both behind them and in the photo they hold of former station residents Clay Anderson and Sunita Williams.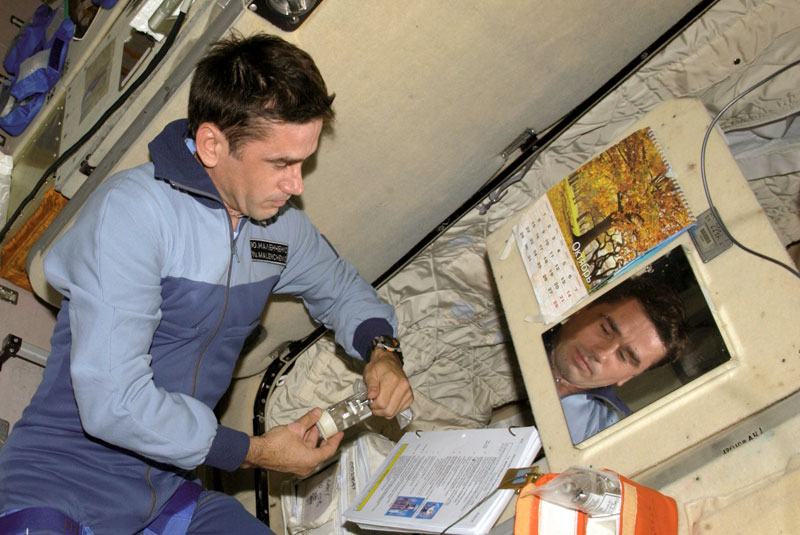 Above:
Cosmonaut Yuri Malenchenko, at work in 2007, is photographed near a sleep station where a mirror captures his reflection and a calendar marks the days he has spent in orbit.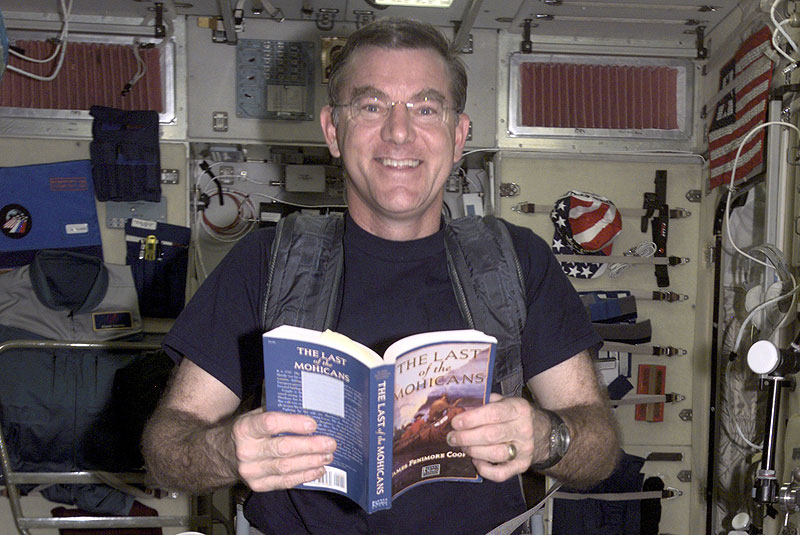 Above:
Over the course of a decade, the station has accumulated a library of books and DVDs. Here, Expedition 2 flight engineer James Voss reads the book "The Last of the Mohicans" while exercising.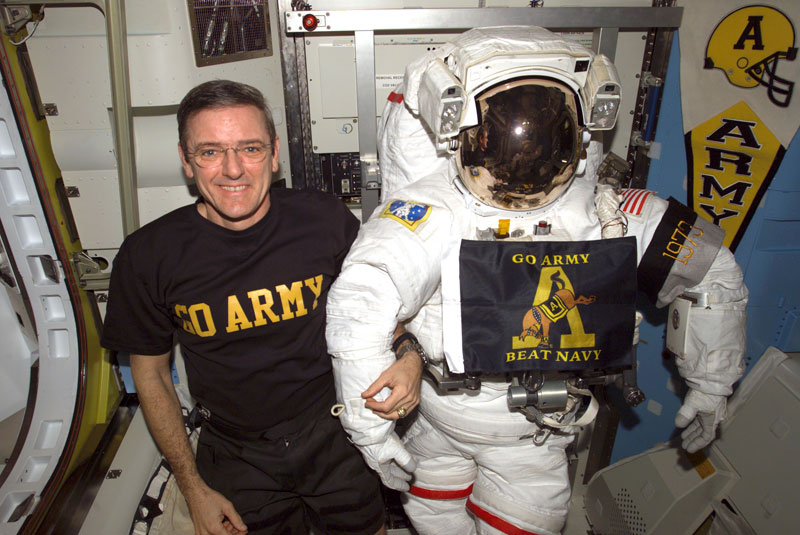 Above and below:
Favorite universities, professional sports teams and military services are championed by their astronaut-fans by a variety of banners and pennants that have rotated through the space station over the past 10 years.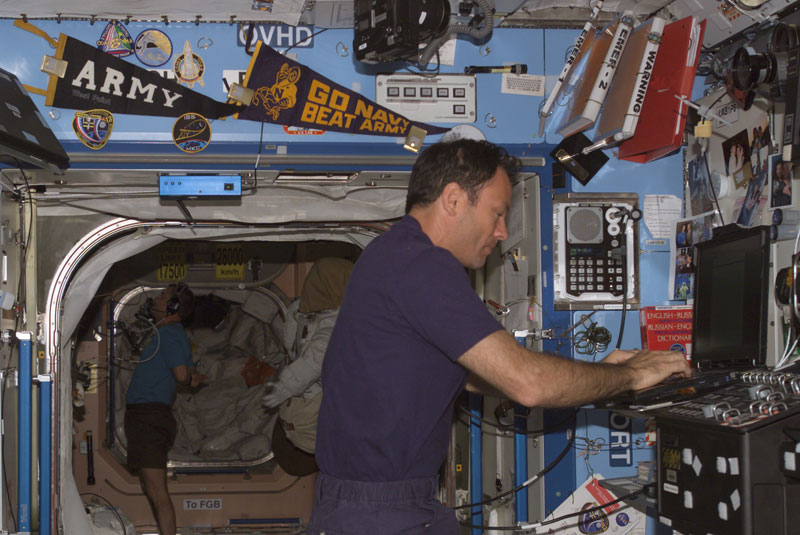 Below:
Astronauts and cosmonauts take part in their favorite sports and games. Expedition 15 flight engineers Clay Anderson (below, left) and Oleg Kotov (below, right) toss around a football and basketball. Expedition 17 flight engineer Greg Chamitoff ponders his next move as he plays a game of chess.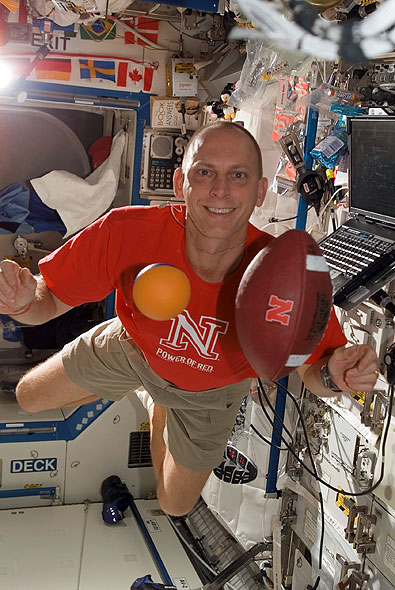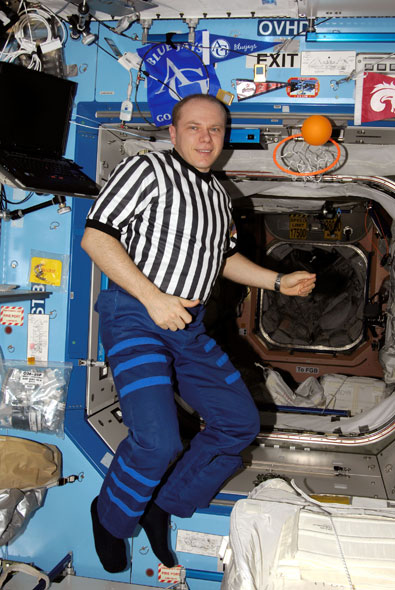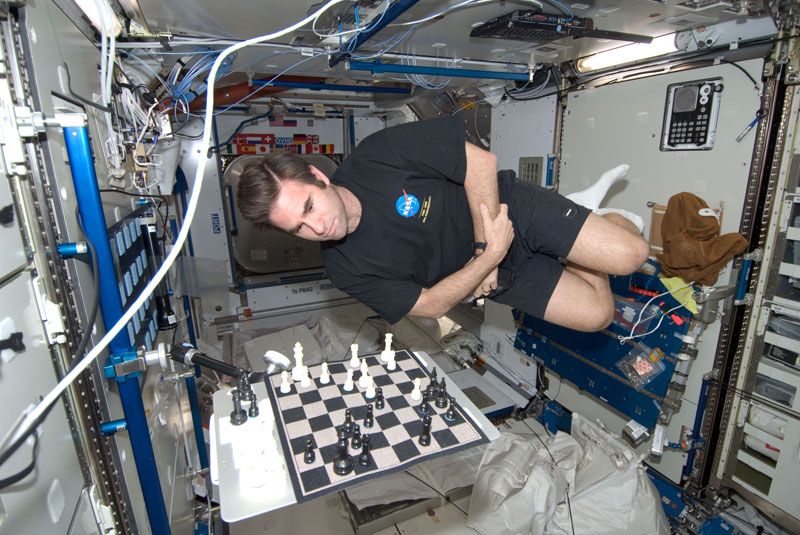 Below:
Hidden among a bank of computers used to control the station's robotic arm is a small figurine of "Gort," the fictional humanoid robot from the 1951 film "The Day the Earth Stood Still."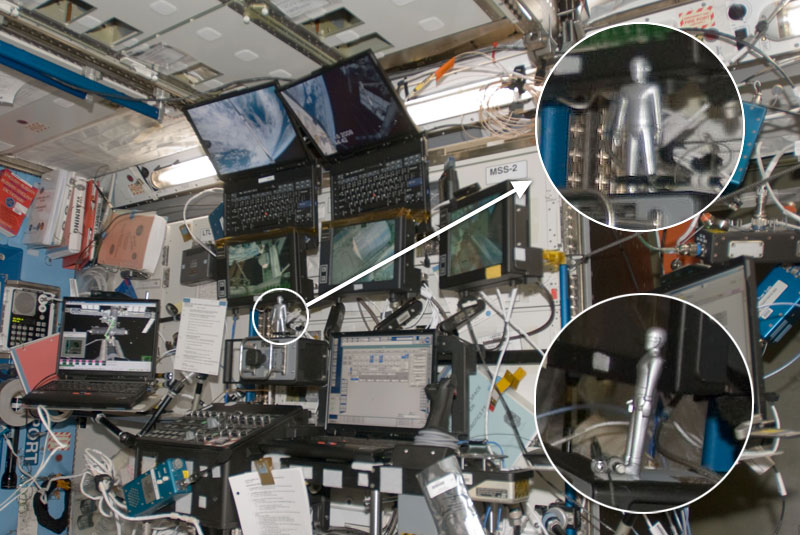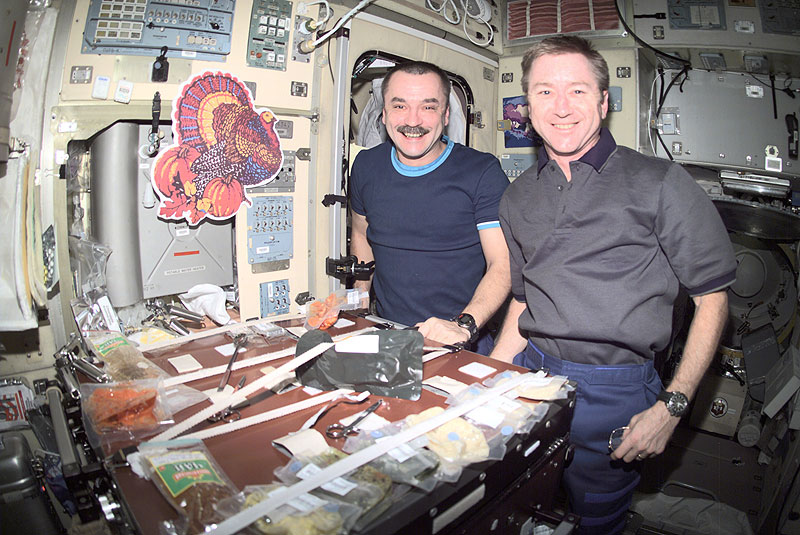 Above and below:
Ten years of continuous occupancy means 10 years of holidays and birthdays in space. Crew members have a collection of decorations to mark these special days, including Thanksgiving and Christmas.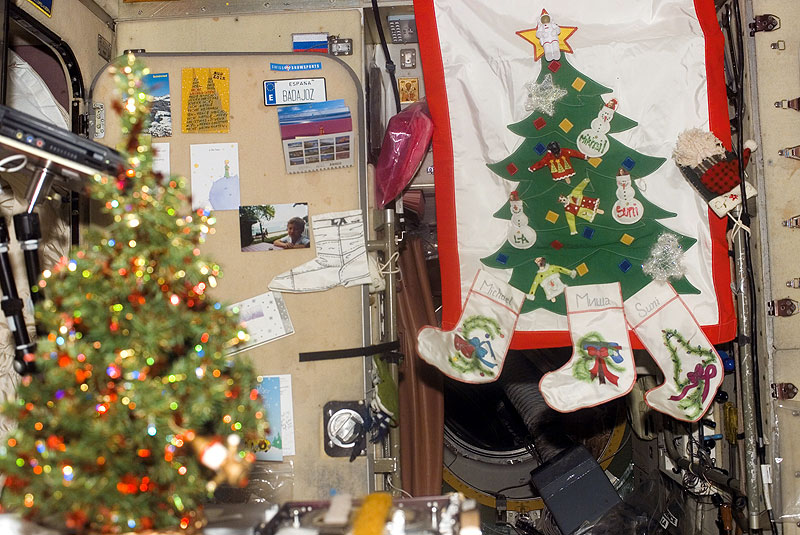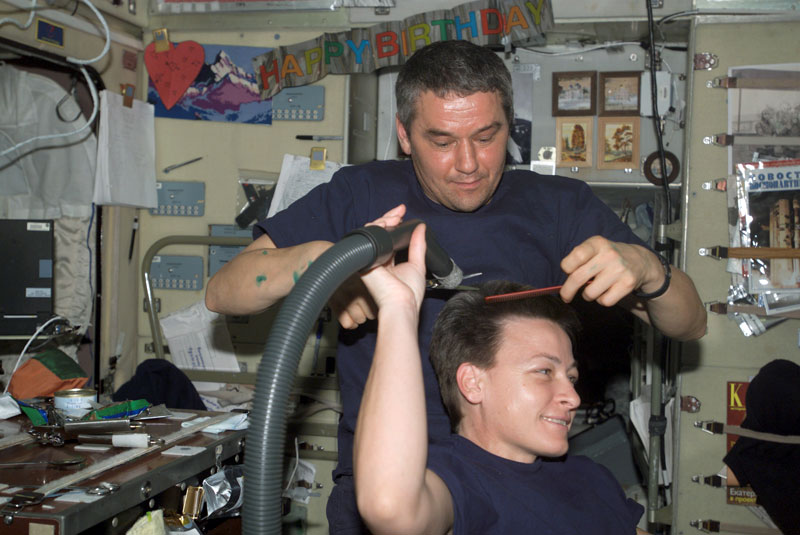 Above:
A "Happy Birthday" banner floats in the background as cosmonaut Valery Korzun cuts astronaut Peggy Whitson's hair.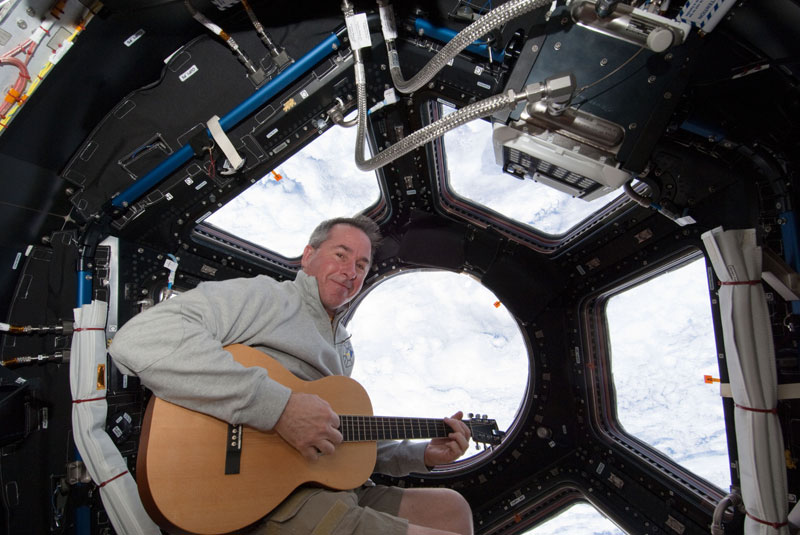 Above:
Astronaut Stephen Robinson plays a Canadian-made Larivee guitar in the International Space Station's seven-windowed Cupola.