March 1, 2016
– An astronaut and a cosmonaut who spent nearly one year on the International Space Station are now back on Earth.

Scott Kelly of NASA and Mikhail Kornienko of Roscosmos touched down on the snow-covered steppe of Kazakhstan on Russia's Soyuz TMA-18M spacecraft. Their landing, at 10:26 p.m. CST on Tuesday (March 1; 0426 GMT or 10:26 a.m. local time March 2), marked the historic completion of their 340-day expedition.

Sergey Volkov, who had been on the space station for the six months since Sept. 2, landed with Kelly and Kornienko southeast of the Kazakh town of Dzhezkazgan.

The three crewmates' return to Earth was met by Russian recovery forces, who assisted Kelly, Kornienko and Volkov out of their Soyuz descent capsule. Roscosmos and NASA medical teams were on hand to assess the astronaut's and cosmonauts' condition and begin collecting post-flight data from the yearlong crew members.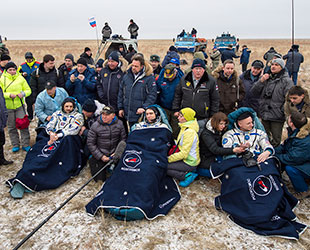 Soyuz TMA-18M crewmates Mikhail Kornienko (left), Sergey Volkov and Scott Kelly are seen after landing on Earth.
(NASA/Bill Ingalls)
"Right after we get out of the Soyuz they will put us in the chairs that people often see sitting nearby the spacecraft," Kelly described in a press conference before departing the station. "From there, we go into this medical tent [and are] given a little bit of time to adjust."

"Then we go through about an hour of what is called this 'field test' that is various different types of experiments," he said. "Some are physical – kind of like an obstacle course, where you run around obstacles, stand up from the sitting position, jump and stand – that looks at our ability to adjust to those different positions."

Stepping stone to Mars

Kelly and Kornienko launched to the station on March 27, 2015 aboard the Soyuz TMA-16M spacecraft. During their yearlong stay they served with four crews, Expeditions 43, 44, 45 and 46.

Their departure from the station, undocking from the Poisk module at 7:02 p.m. CST (0102 GMT), marked the end of Expedition 46. Kelly, who had commanded Expeditions 45 and 46, handed over control of the outpost on Monday to NASA astronaut Tim Kopra, who with Yuri Malenchenko of Roscosmos and European Space Agency (ESA) astronaut Tim Peake are now beginning Expedition 47.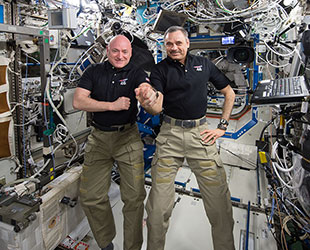 One-year mission crewmembers Scott Kelly and Mikhail Kornienko spent 340 days on the International Space Station.
(NASA)
Kelly's and Kornienko's March-to-March mission was flown to collect medical data in support of future, longer missions out into the solar system, including sending crews to Mars. Both Kelly and Kornienko participated in physiological and psychological studies, which will continue on the ground.

"I'd like for the legacy of this flight to be that we can decide to do hard things that will take us farther away from Earth, and this is one of them," remarked Kelly. "I am hopeful and I think we will learn a lot about longer duration spaceflight."

"I'd like to think this is another of many stepping stones to us landing on Mars sometime in our future," he added.

An eventful year

During their time on the space station, Kelly and Kornienko served with 13 astronauts and cosmonauts and conducted some 400 research investigations, including eating the first lettuce grown in space and cultivating flowers.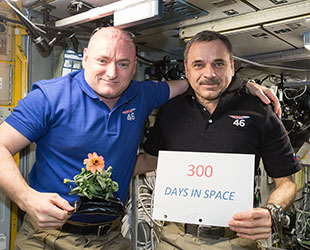 Scott Kelly and Mikhail Kornienko celebrated the 300th day of their yearlong space station expedition on Jan. 21, 2016.
(NASA)
"Misha [Mikhail] and I have been up here for a really, really long time and recently we've been joking with each other that we will saying something like, 'We did it!' or 'We made it!'" Kelly said during the change of command ceremony on Monday. "But we recognize it is more about teamwork and all the people that it takes to put these missions together to be successful than it is about us."

Kelly also collaborated with one other NASA astronaut, his brother Mark on the ground, as they both collected medical samples to support a first-of-its-kind study of twins.

Kelly and Kornienko also saw and assisted with the arrival and departure of nine visiting vehicles.

During their stay, three Russian Soyuz spacecraft brought crew members to and from the orbital complex. In addition, six cargo freighters delivered supplies to the space station, including three Russian Progress vehicles, a Japanese H-II Transfer Vehicle, a U.S. commercial Orbital ATK Cygnus spacecraft and a commercial SpaceX Dragon. (Two more launches, one Progress and one Dragon, failed while Kelly and Kornienko were aboard the station.)

Both yearlong crew members also conducted spacewalks. Kornienko ventured outside once to inspect the exterior of the station's Russian segment and retrieve an experiment, logging five hours and 31 minutes on EVA (extra-vehicular activity).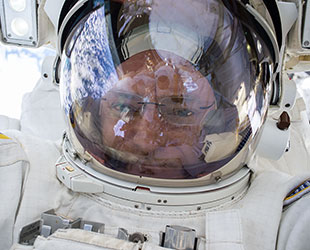 Scott Kelly took a selfie during a Dec. 21, 2015 spacewalk.
(NASA)
Kelly performed three spacewalks, installing a cover on the Alpha Magnetic Spectrometer, a particle physics detector; restoring the space station's coolant system to its original configuration; and releasing the mobile transporter rail cart after it had become stuck. In total, he tallied 18 hours and 20 minutes on EVA.

Over the course of his 340 days, Kelly also shared online more than 1,000 photos – 773 on Instagram alone – of the Earth below and of his and his crewmates activities on the space station.

For the history books

With their return to the Earth, Kelly, Kornienko and Volkov have each added 340 days, 8 hours and 43 minutes to the total time they have been in space.

For Kornienko, who previously logged 176 days on a prior space station stay, that brings his career tally to more than 516 days, ranking him 18th on the worldwide list of space explorers by the time they spent off the planet.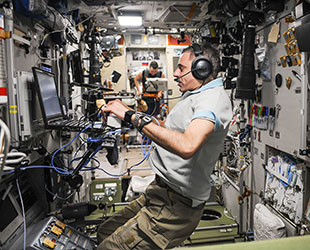 Mikhail Kornienko in the space station's Russian segment.
(NASA)
Kelly comes in one spot above him at no. 17, adding to his 180 days accumulated on two space shuttle missions and a previous space station expedition for a total of more than 520 days. That makes Kelly the record holder for the most time in space by a NASA astronaut and the single longest mission by an American astronaut.

Volkov, returning from his third space mission, has logged a total of 548 days in space, ranking him tenth on the list.

Twenty-five days short of a full year, Kelly and Kornienko's mission was the longest in the 16 years the International Space Station has been crewed, but falls behind four other orbital expeditions.

The first humans to complete a trip around the sun while in space were Vladimir Titov and Musa Manarov, who logged just shy of a full year and one day — 365 days, 22 hours and 38 minutes — as crewmates on board Russia's former space station Mir from December 1987 to December 1988.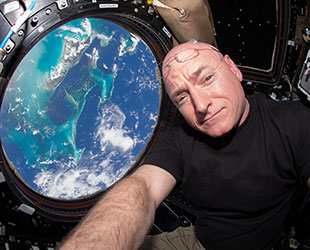 Scott in the multi-windowed Cupola on the space station.
(NASA)
They were surpassed eight years later by Valery Polyakov. Living on Mir from January 1994 to March 1995, Polyakov set the record that still stands for the single longest space mission: 437 days, 17 hours, and 58 minutes.

Three years later, cosmonaut Sergei Avdeyev lived on Mir for 379 days, 14 hours and 52 minutes, from August 1998 to August 1999.

Back on Earth

After their preliminary medical checks and field test, Kelly, Kornienko and Volkov will be flown to Dzhezkazgan.

From there, Kornienko and Volkov will depart for Star City, outside of Moscow, while Kelly boards a NASA aircraft for the flight back to Houston.


Patch representing Scott Kelly's and Mikhail Kornienko's yearlong mission on board the International Space Station.
(AB Emblem)
Expected to touch down at Ellington Airport about 24 hours after his return from space, Kelly will be welcomed by the Second Lady of the United States Jill Biden, the Assistant to the President for Science and Technology John Holdren and NASA Administrator Charles Bolden.

On Friday afternoon (March 4), both Scott and Mark Kelly, along with NASA space station scientists, will participate in a press conference from NASA's Johnson Space Center in Houston to discuss the mission.