November 2, 2015
— Fifteen years after crew members first moved aboard, the astronauts and cosmonauts on the International Space Station on Monday (Nov. 2) reflected on the past and spoke about the future of the outpost.

Describing their home above the Earth as a "bridge" and a "testbed" for future trips to Mars, the Expedition 45 crew, led by NASA astronaut Scott Kelly, fielded questions from reporters on the ground about the milestone anniversary.

"We do a lot of experiments up here, but I think the most important experiment is the station [itself] as an orbiting vehicle that keeps humans alive in space for long periods of time," said Kelly, who with cosmonaut Mikhail "Misha" Kornienko is more than 200 days in to an almost year-long mission on orbit. "We work with the ground ... to maintain this environment using a level of discipline and procedures and operations."

"All of that is something we are going to need to explore deeper into space for longer periods of time," he said.


On Nov. 2, 2000, NASA astronaut Bill Shepherd, together with cosmonauts Sergei Krikalev and Yuri Gidzenko, took up residency on board the burgeoning station as the crew of Expedition 1. In the 5,477 days that have followed, 220 individuals from 17 nations have lived on the complex for periods ranging from a week to six months and longer.

"Over the time that Kimiya [Yui], Oleg [Kononenko] and I am up here, we will see 240 experiments and I think Scott and Misha during their one year in space will see over 400 experiments," said NASA's Kjell Lindgren, referencing his Japanese and Russian crewmates who he launched with in July. "A lot of those [science experiments] are critical to our understanding of how human physiology adapts to this microgravity environment and the things that we need to do to protect human health for a long trip to Mars."

The space station was first established in 1998, two years before expedition crews began living and working onboard, with the docking of Russia's Zarya functional cargo block to the U.S. Unity node. Declared "assembly complete" in 2011, the station now has more livable room than a typical six-bedroom house.

According to Kelly, the outpost has held up well over the past decade and a half.

"The last time I was here was about five years ago and it doesn't seem to me like I am doing any more maintenance on the station than we did then, and that was basically a third of the lifetime ago for human occupation of the space station," Kelly said. "I thought when I got aboard this time that the material condition of the space station was very good, but obviously, as things age, over time we are going to have more maintenance requirements."

"The good news is that we planned for that, we have a lot of spares aboard [and] spare parts outside. We have plans for changing those things and keeping this space station flying a long time into the future," Kelly explained.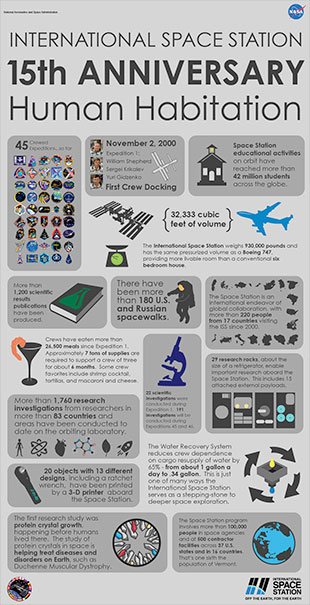 NASA space station infographic. Click to enlarge.
(NASA)
The U.S. has proposed operating the space station until at least 2024, and engineering studies have said it could last until 2028, if not longer.

In addition to its role as a laboratory and a platform to test new exploration technologies, the space station has also served as the "perfect example" of what is possible when countries cooperate with each other, Kononenko said.

"The main achievement, in my opinion, is that people on the ground fail to hear each other, see each other — here in space, this is impossible," he commented. "Everyone is important and the success of the program, and sometimes even life, depends on what each and everyone of us does. So this is the perfect example of how cooperation can be achieved."

Kelly noted that that same sentiment is reflected in what the outpost is now called, as opposed to adopting a name as had been the suggested 15 years ago.

"The name 'International Space Station' really represents what it is, so in some ways maybe it is a better name than something like 'Alpha,' [like what] we thought about calling it back then."