November 17, 2016
— A record-setting American woman, a veteran Russian cosmonaut and France's 10th astronaut are on their way to the International Space Station, where they will live and work for the next six months.

NASA's Peggy Whitson, Oleg Novitskiy of Roscosmos and European Space Agency astronaut Thomas Pesquet lifted off aboard Russia's Soyuz MS-03 spacecraft on Thursday (Nov. 17), beginning their two-day trip to the space station.

Their Soyuz FG rocket launched from Site 1/5, also known as "Gagarin's Start," at Russia's Baikonur Cosmodrome in Kazakhstan at 3:20 p.m. EST (2020 GMT; 2:20 a.m. Nov. 18 local time).

Scheduled to arrive at the orbiting laboratory on Saturday evening (Nov. 19), Whitson, Novitskiy and Pesquet will be welcomed by Expedition 50 commander Shane Kimbrough of NASA and flight engineers Sergey Ryzhikov and Andrei Borisenko of Roscosmos, who arrived at the space station in October.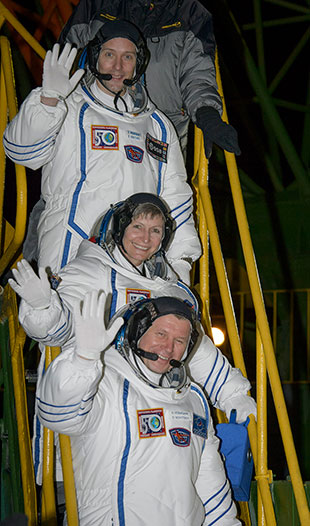 The Soyuz MS-03 crew of Oleg Novitskiy with Roscosmos, NASA's Peggy Whitson and Thomas Pesquet of ESA wave before boarding their spacecraft for launch, Nov. 17.
(NASA/Bill Ingalls)
The six crew members will staff the space station through February, helping to conduct hundreds of investigations in biology, biotechnology, physical science and Earth science until Kimbrough, Ryzhikov and Borisenko depart for Earth on Soyuz MS-02.

With the start of Expedition 51, Whitson will become the first woman to twice lead the orbiting outpost in its 16-year history. She first served as commander of Expedition 16 in 2008.

Two more crew mates, Alexander Misurkin of Roscosmos and Mark Vande Hei of NASA, will join Expedition 51 from March to May. Whitson, Novitskiy and Pesquet are slated to return to Earth on May 15.

Whitson's flight on Soyuz MS-03 to the space station and back will extend her existing record as the woman with the most time in space. Before launching Thursday, Whitson had logged 377 days on two prior trips to the station. With the additional 179 days during Expedition 50/51, she will also set the new record for the most time in space by an American, surpassing astronaut Jeff Williams' 534 days set in September.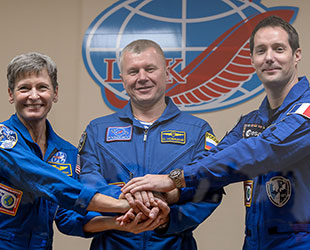 The Soyuz MS-03 crew is seen in quarantine behind glass during a crew press conference, Nov. 16.
(NASA/Bill Ingalls)
"For me, personally, I don't think it's that important, but it is important that we keep breaking the records, that we keep pushing further and doing more," Whitson commented in a pre-flight interview with collectSPACE.

When she touches down in May, Whitson will rank as the world's eighth most experienced space flier, with 556 days off the planet. (Leading the ranks is cosmonaut Gennady Padalka, who set his record 878 days in September 2015.)

Whitson has already set one more record by just launching into space: she's become the oldest woman to orbit Earth. Set to celebrate her 57th birthday aboard the space station on Feb. 9, Whitson has surpassed Barbara Morgan, who was 55 when she launched on shuttle Endeavour's STS-118 mission in 2007. (The oldest person to fly in space is John Glenn, who at 77 flew on shuttle Discovery in 1998.)

As commander of Soyuz MS-03, Novitskiy, 45, is making his second flight into space. He earlier logged 144 days as an Expedition 33/34 flight engineer in 2013. His call sign aboard both Soyuz MS-06M and MS-03 is "Kazbek."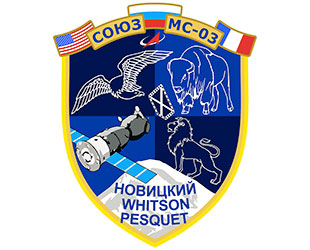 Soyuz MS-03 crew patch.
(Roscosmos/Spacepatches.nl)
"I have served in the Caucasus for a very long time and Kazbek, it is the second tallest mountain in the Caucasian range," said Novitskiy in a pre-launch press conference.

Pesquet, 38 is on his first spaceflight, a mission that ESA named "Proxima," continuing a French tradition of referring to stars and constellations. Pesquet is the last member of the 2009 ESA astronauts, nicknamed the "Shenanigans," to fly into space.

"I'm obviously 100 percent French," Pesquet remarked in a pre-flight interview with collectSPACE. "I have my roots in France, I live [there] and I will never negate any of this, but at the same time I feel very European because I travel the world, I have friends in lots of different European countries and we have a lot in common."

Soyuz MS-03 is the 49th Soyuz to fly to the International Space Station and the 132nd to launch since the first flight of Russia's Soyuz-class of spacecraft in 1967.