September 6, 2016
– NASA astronaut Jeff Williams safely landed back on Earth on Tuesday night (Sept. 6), setting a new, potentially long-lasting record for the most time spent in space by an American.

Williams, along with Oleg Skripochka and Alexey Ovchinin of Roscosmos, departed the International Space Station at 5:51 p.m. EDT (2151 GMT) and touched down three hours later on the steppe of Kazakhstan aboard Russia's Soyuz TMA-20M spacecraft.

At the point of their landing, at 9:13 p.m. EDT (0113 GMT or 7:13 a.m. local time, Sept. 7), Williams added 172 days to his four-spaceflight career, bringing his total time off the planet to 534 days, 2 hours and 48 minutes. The previous record holder, Scott Kelly, logged a three-flight total of 520 days, 10 hours and 30 minutes in March.

Landing about 90 miles (146 km) southeast of the Kazakh town of Dzhezkazgan, Williams, Skripochka and Ovchinin were met by Russian recovery team members, who helped the astronaut and two cosmonauts out of their capsule and into chairs to begin their readjustment to gravity.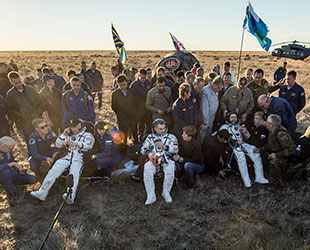 Jeff Williams, Alexey Ovchinin and Oleg Skripochka are seen after landing on Soyuz TMA-20M on Sept. 6, 2016.
(NASA/Bill Ingalls)
The crew's trip home marked the official end of the space station's Expedition 48 and the start of Expedition 49.

"We've enjoyed a great stay up here over the last almost six months," stated Williams during a change of command ceremony on Monday (Sep. 5). "We especially enjoyed our stay with the entire crew of Expedition 48."

"I appreciate, Jeff, your efforts as the station's commander. You really did much to ensure success of the expedition," said Anatoly Ivanishin, commander of Expedition 49.

In addition to Ivanishin, remaining on the orbital laboratory are astronauts Kate Rubins of NASA and Takuya Onishi of JAXA (Japan Aerospace Exploration Agency). Three more Expedition 49 crewmates are scheduled to launch on Sept. 23. Cosmonauts Andrey Borisenko and Sergey Ryzhikov, together with NASA astronaut Shane Kimbrough will arrive on board Soyuz MS-02, the second of Russia's new line of upgraded spacecraft.

Williams, Skripochka and Ovchinin arrived at the station on March 18. During their 172 days in orbit, the astronaut and two cosmonauts conducted hundreds of experiments and technology demonstrations, highlighted by the deployment of the first human-rated expandable habitat, the BEAM or Bigelow Expandable Activity Module.

They also helped with the arrival of several resupply ships, including SpaceX's Dragon capsule, Orbital ATK's Cygnus resupply freighter and Russian Progress capsules.

"This is a very significant time, in my opinion, in the life of the space station," remarked Williams. "Going into the full utilization mode — being that orbiting laboratory that we've always said it was going to be — and just broadening what is going on here on station in ways that I hoped for, and for a period of time, I have to confess, I wondered if we were going to see it to fruition."

"Now I am confident we are going to see the exploitation of the International Space Station and take full advantage of the opportunities that it gives for all humankind on Earth."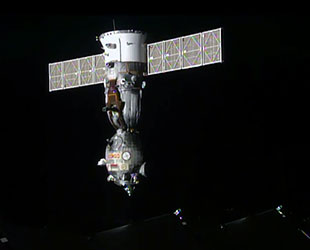 Soyuz TMA-20M undocks from the International Space Station, as captured by an exterior mounted HD video camera.
(NASA TV)
During his stay, Williams also performed two spacewalks, totaling almost 13 hours. Joined by Rubins for both extra-vehicular activities (EVA), Williams helped to install the first international docking adapter to support Boeing's CST-100 Starliner and SpaceX's Dragon commercial crew vehicles, as well as retracted a radiator that serves as a part of the station's cooling system.

This was Williams' fourth flight to the station and third long-duration stay. His first mission on the space shuttle Atlantis in 2000 preceded the space station's first expedition crew taking up residency.

"The International Space Station now spans, it occurred to me this week, generations," Williams said Monday. "We're in the second generation of crew and flight controllers and engineers and all the disciplines [that] it takes to make this work."

"And the outlook is good. We're looking forward to another generation, perhaps," Williams observed. "There is nothing in the history of spaceflight that comes close to that — the generational effort, especially in the international setting."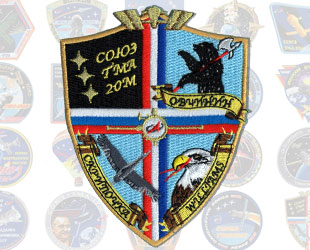 The Soyuz TMA-20M mission patch. Click on the image to see all of the Soyuz TMA-M emblems from 2010 to 2016.
(collectSPACE)
Williams now ranks 14th for time spent in space among all space explorers worldwide. That list is topped by Gennady Padalka, who has spent more than 878 days in Earth orbit on five spaceflights.

The only other NASA astronaut approaching Williams' U.S. record, Peggy Whitson, was expected to surpass his 534 days during her next expedition beginning in November. A recent change in landing dates however, will mean she will return to Earth in April 2017 three days shy of the title.

For Skripochka and Ovchinin, the landing marked the end of their second and first flights, respectively.

Williams, Skripochka and Ovchinin traveled a total of 72.8 million miles (117.2 million kilometers) during 2,752 orbits.

The Soyuz TMA-20M crew will now part ways. Skripochka and Ovchinin will return home to Star City, Russia, located near Moscow. Williams will fly on a NASA jet to Houston.