July 6, 2016
— When Kate Rubins was born in 1978, only one woman had flown in space.

Now, 38 years later, Rubins is on the verge of becoming the 60th woman to leave the planet. Scheduled to launch on a Russian spacecraft at 9:36 p.m. EDT tonight (July 6; 0136 GMT July 7), Rubins will spend the next four months conducting science on the International Space Station.

"There's never been a time when I was a kid that I couldn't remember wanting to be an astronaut. It was always the standard 'little kid' answer when I was four, five, six, eight, 12 years old. I wanted to be an astronaut, a biologist and a geologist," said Rubins.

A microbiologist with a doctorate in cancer biology, Rubins will be the first researcher to sequence DNA in space. She was selected to become a NASA astronaut in 2009.

On the space station, she will serve as a flight engineer for the Expedition 48 and 49 crews. Rubins will be the 224th person to enter the orbital laboratory, and the 34th woman aboard.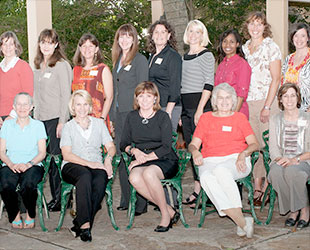 Kate Rubins (standing fourth from right in crop above; sixth in full frame), poses with other female astronauts at a gathering in tribute to Sally Ride. For the full photo and caption, see here.
(NASA)
She was four years old when the third woman — and the first American female astronaut — lifted off for space.

"I think everybody who was born and grew up around my era could say Sally Ride was one of their heroes," Rubins said in a pre-flight interview with the International Women Air and Space Museum in Cleveland. "I think that is pretty universal, whether you are a little girl or a little boy."

In the time between Ride's historic first flight in 1983 and Rubins heading to space, women from France, India, Italy, South Korea, Canada, China, Japan and United Kingdom have flown in space. Russia, which sent the first woman to fly in space, cosmonaut Valentina Tereshkova in 1963, has launched just three other Russian women to date.

Rubins' backup for her Soyuz MS-01 mission is astronaut Peggy Whitson, who in 2002 became the 38th woman in space. Now a veteran of two long-duration stays on board the station, Whitson will break the record for the most time spent in space by any American, male or female, during a third visit to the orbiting outpost beginning this November.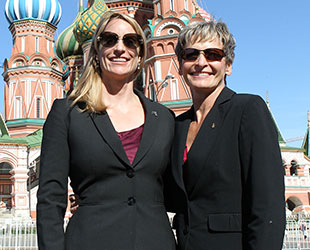 Kate Rubins and Peggy Whitson pose for a photo with St. Basil's Cathedral in Moscow as a backdrop.
(NASA/Stephanie Stoll)
"We have been sharing a lot of stories lately to try to make sure she has everything I know," said Whitson of Rubins in a NASA interview. "[It] isn't necessarily the whole story, but I am trying to give her as much insight and information as I can."

"The one I thing I know for sure is that she is going to love it on board [the] station and she is going to love doing all the science," Whitson said.

The 60th person, man or woman, to fly into space was the 12th man on the moon, Harrison Schmitt (or his Apollo 17 crewmate Ron Evans, depending the count). When Rubins and her two crewmates, cosmonaut Anatoli Ivanishin and JAXA astronaut Takuya Onishi, launch, there will be a total of 546 humans who have entered orbit, all but 60 of them men.

Not that Rubins is counting.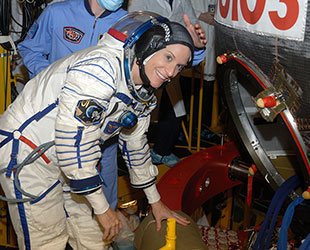 Kate Rubins climbs on board the Soyuz MS-01 spacecraft for a "fit check" dress rehearsal activity.
(NASA/Alexander Vysotsky)
"I do not keep track if a female is doing this or a male is doing that, and my colleagues really don't [either]," Rubins told collectSPACE.com. "I think that's really a testament to where we are right now."

"There were amazing female pioneers but the way we train and fly at NASA and with the international partners, there isn't a delta [difference] between our training. So it is not something that is on your radar screen," she said.

"I think it is important for kids who are going into science and engineering to have role models. You want them to have somebody that they can say, 'This is where I want to be, this is where I want to get to,'" Rubins stated. "[But] I think that is a good thing that this is where we are — that it is absolutely routine that you have an international crew – and that you have males and females and that's a given. I think that is a good place to be."