advertisements

Godspeed, Sally: Fellow astronauts, female fliers remember Sally Ride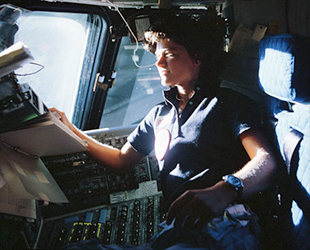 Sally Ride, America's first woman in space, looks out the forward windows of the space shuttle Challenger, June 1983.
(NASA)
July 24, 2012
– The news that Sally Ride died on Monday (July 23) inspired many of her fellow astronauts to express their condolences and share their thoughts and memories of America's first woman in space.

Their comments, collected here, begin with several by the female astronauts whose own spaceflight records followed Ride's historic flight in June 1983.


Kathryn Sullivan
,
first American female spacewalker and Ride's crewmate on STS-41G in 1984 (via Facebook):


"Sally Ride and I were classmates, crewmates, collaborators and friends. She was a trailblazer in every sense of the word. Her many contributions to science and space exploration are well documented, but I think her contributions as an educator and motivating figure are even greater. Her spirit will live on in the countless people she inspired to reach for the stars academically, personally and professionally. Godspeed, Sally."
---
Eileen Collins
,
first U.S. female pilot and first woman to command a space shuttle mission (via a statement issued to media):


"She was such a wonderful role model and source of inspiration to me. People around the world still recognize her name as the first American woman in space, and she took that title seriously even after departing NASA. She mentored me several times during my astronaut career, leaving me with many cherished memories. She never sought media attention for herself, but rather focused on doing her normally outstanding job.

"Her 'Sally Ride Science' programs have reached thousands of middle school girls, giving them the confidence to stay focused on math and science, even when the mass media message was otherwise. She also played a notable role in both the Challenger and Columbia accident investigations. Sally left us too soon. God Speed Sally, you will be greatly missed."
---
Mae Jemison
,
first African-American woman in space (via Twitter):


"Very saddened by death of Sally Ride. Her indelible mark on history only starts with her as first U.S. woman in space.

"As luck and fate would have it. I inherited Sally Ride's desk at NASA. I hope that I can leave as positive an impact on the world as she."
---
Pamela Melroy
,
space shuttle commander (via an e-mail to SPACE.com):


"I knew I wanted to be an astronaut from watching the Apollo astronauts land on the moon, but Sally cemented the belief inside me that I could do it.

"I met Sally for the first time on her speaking tour after her first flight, shortly after I had graduated from Wellesley College. She was fascinating, smart, humble, very nice — and completely inspirational. She paved the way for women to work in space and made it so much easier for other women to follow where she led.

"She will be terribly missed, but her legacy lives on in her education programs which continue to inspire girls."
---
Peggy Whitson
,
the first female commander on board the International Space Station (ISS) and Chief Astronaut (via a NASA statement):


"The selection of the 1978 Astronaut Class that included Sally and several other women, had a huge impact on my dream to become an astronaut. The success of those woman, with Sally paving the way, made my dream seem one step closer to becoming a reality."
---
Nicole Stott
,
shuttle mission specialist and space station flight engineer (via Twitter):


"Today we lost a wonderful role model and inspiration — Sally Ride. She will be missed."
---
Samantha Cristoforetti
,
European astronaut set to fly her first mission in 2014 (via Twitter):


"I never met her, but I feel like I just lost a friend."
---
Robert Crippen
,
first space shuttle pilot and commander of both of Sally Ride's missions (via an interview with the Florida Today newspaper):


"Sally broke through lots of glass ceilings being the first U.S. woman to fly in space. She was a great crew member that could do anything asked of her.

"More importantly, she could inspire young women that they could be anything they aspired to. Furthermore, she continued to excite young women to study science, math and engineering after she left NASA."
---
Marc Garneau
,
the first Canadian astronaut in space and Ride's crewmate on STS-41G (via Twitter):


"A sad day, I just learned of the death of Sally Ride with whom I flew aboard Challenger in 1984.

"An extraordinary person."
---
Steven Hawley
,
shuttle mission specialist and married to Ride from 1982 through 1987 (via a NASA statement):


"Sally was a very private person who found herself a very public persona. It was a role in which she was never fully comfortable. I was privileged to be a part of her life and be in a position to support her as she became the first American woman to fly in space.

"While she never enjoyed being a celebrity, she recognized that it gave her the opportunity to encourage children, particularly young girls, to reach their full potential.

"Sally Ride, the astronaut and the person, allowed many young girls across the world to believe they could achieve anything if they studied and worked hard. I think she would be pleased with that legacy."
---
Buzz Aldrin
,
the second man to step on foot on the moon (via Twitter):


"So sorry to hear of the loss of my friend and fellow astronaut Sally Ride. You will always be an inspiration for women and space."
---
Al Worden
,
Apollo astronaut, record holder for spacewalk farthest from Earth (via Facebook):


"Sally Ride will forever be America's first woman in space. Her legacy, however, is much more. She inspired tens of thousands of young people to reach for the stars and follow their own, individual dreams. She'll be greatly missed, but her legacy will live on in those young people for decades to come."
---
Charles Bolden
,
space shuttle commander and NASA's Administrator (via a NASA statement):


"Sally Ride broke barriers with grace and professionalism — and literally changed the face of America's space program. The nation has lost one of its finest leaders, teachers and explorers.

"Our thoughts and prayers are with Sally's family and the many she inspired. She will be missed, but her star will always shine brightly."
---
Bill Nelson
,
first member of the United States House of Representatives to fly in space and Senator (via Twitter):


"When Sally Ride launched, the whole nation lifted her up on a chorus of "Ride, Sally, Ride." She will be missed."
---
Chris Hadfield
,
first Canadian to spacewalk (via Twitter):


"Sally, you inspired me and millions of others. A life well-lived, cut short. Rest in Peace."
---
Jose Hernandez
,
shuttle mission specialist and candidate for Congress (via Twitter):


"Saddened to hear about astronaut Sally Ride's passing. A true American hero and a great loss to our country. She was an amazing woman!"
---
Gregory H. Johnson
,
pilot of the final flight of the space shuttle Endeavour (via Twitter):


"Astronaut Sally Ride was a pathfinder, a leader, and an icon we all looked up to in the corps."
---
Leland Melvin
,
shuttle astronaut and NASA's Associate Administrator for Education (via Twitter):


"Thanks Sally for what you have done to inspire students to pursue science, technology, engineering and math (STEM) and for being a pioneering role model. Please carry on her legacy!"

© 2022 collectSPACE.com All rights reserved.