March 30, 2017
— A record-setting NASA astronaut has added two more worldwide credits to her name, becoming the most experienced woman to walk in space.

Peggy Whitson joined her NASA crewmate, Expedition 50 commander Shane Kimbrough, on a spacewalk outside of the International Space Station to run cable connections to a relocated docking port and continue preparations for the future arrival of commercial crew spacecraft.

Already the oldest woman to perform a spacewalk at age 57, Whitson began the extravehicular activity (EVA) at 6:29 a.m. CDT (1129 GMT), kicking off her record eighth outing. Whitson tied the female record of seven spacewalks set by NASA astronaut Sunita Williams in 2012 during an EVA on Jan. 6.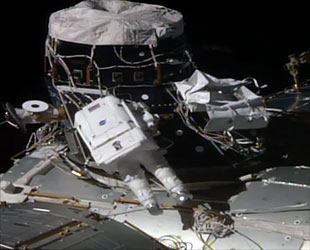 NASA astronaut Peggy Whitson seen working to run heater cables to Pressurized Mating Adapter-3 at the International Space Station during her record eighth spacewalk on March 30, 2017.
(NASA TV)
Four hours and 23 minutes into Thursday's spacewalk, at 10:51 a.m. CDT (0351 GMT), Whitson surpassed Williams' career EVA time of 50 hours and 40 minutes.

"Congratulations to Peggy Whitson for making [the] space station and exploration of the cosmos a possibility," NASA commentator Gary Jordan said.

By the time Whitson and Kimbrough re-entered the airlock to end their spacewalk, the two had logged 7 hours and 4 minutes outside the space station, setting Whitson's newly established record at 53 hours and 22 minutes.

The spacewalk ended at 1:33 p.m. CDT (1833 GMT).

Thursday's EVA followed an earlier spacewalk performed by Kimbrough and Thomas Pesquet of ESA (the European Space Agency) on Friday that readied Pressurized Mating Adapter-3 (PMA-3) for its robotic move from the left side of the Tranquility node to the top of the Harmony module two days later. Once outfitted with a new docking ring later this year or early next, PMA-3 will be utilized by Boeing's CST-100 Starliner and SpaceX's Dragon spacecraft when they bring astronauts to and from the station beginning as soon as mid-2018.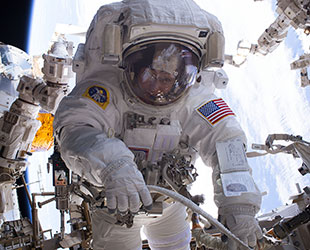 NASA astronaut Peggy Whitson, as seen during a spacewalk at the International Space Station on Jan. 6, 2017. On March 30, Whitson became the most experienced woman to walk in space.
(NASA)
Whitson on Thursday ran heater cables to PMA-3 and then worked with Kimbrough to add micrometeoroid shields on the port left exposed on Tranquility and around the docking adapter on Harmony. One of the axial shields intended for the open port on Tranquility came loose from its tether and floated away, but the two spacewalkers were able to use a cover removed from the end of PMA-3 as a replacement.

Kimbrough also replaced a controller on the station's truss with an upgraded computer, and both he and Whitson had time to achieve a "get-ahead" task, cleaning debris from a common berthing mechanism on the Harmony node.

The spacewalk marked the 199th EVA in support of space station assembly and maintenance since the outpost was established in 2000. Whitson and Pesquet are expected to perform the 200th spacewalk in late April after the delayed launch and arrival of an Orbital ATK cargo craft, which has parts needed for that outing's work on board.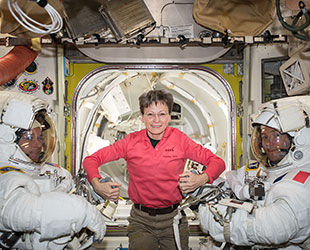 Peggy Whitson with her two fellow spacewalkers, NASA astronaut Shane Kimbrough (at left) and Thomas Pesquet of ESA.
(NASA)
Thursday's spacewalk was Kimbrough's sixth. The record for the most spacewalks by any astronaut, male or female, was set by cosmonaut Anatoly Solovyev with his 16th EVA in 1998 at the former Mir space station (his total time, also a world record, stands at 82 hours and 21 minutes).

In addition to her spacewalk records, Whitson is also the oldest woman to fly in space out of the 60 who have flown to date. She will become the first female astronaut to twice command the International Space Station when she starts leading the Expedition 51 crew on April 9 and she will set a new U.S. record for the most time in space, more than 534 days, on April 24.