May 12, 2017
— Two NASA astronauts working outside of the International Space Station performed a shortened but still successful spacewalk on Friday (May 12), marking the 200th extravehicular activity in the nearly 20 year history of the orbiting outpost.

Expedition 51 crewmates Peggy Whitson and Jack Fischer completed the extravehicular activity (EVA) which replaced an avionics box that routes power to experiments, added a data path to a cosmic ray detector and installed a shield on a docking port.

"It is amazing to do the 200th EVA aboard the International Space Station," said Whitson after re-entering the airlock.


The spacewalk began at 8:08 a.m. CDT (1308 GMT) and ended four hours and 13 minutes later at 12:21 p.m. CDT (1721 GMT).

The excursion marked Fischer's first foray into the vacuum of space.

"A fondue pot, an ginormous fondue pot bubbling over with piping hot awesomesauce," quipped Fischer, just minutes into his first spacewalk, describing his view.

Whitson, who going into Friday's EVA held the records for the most spacewalks by a U.S. astronaut and by a woman worldwide, made her ninth EVA.

Originally planned as a six-and-a-half hour spacewalk, the EVA was abbreviated as a result of an issue with an airlock umbilical during the multi-hour preparations for the outing. A service and cooling umbilical (SCU) leading to Fischer's spacesuit inside the Quest airlock developed a water leak. As such, Fischer and Whitson were left trading off the use of the remaining SCU, as the other used spacesuit battery power.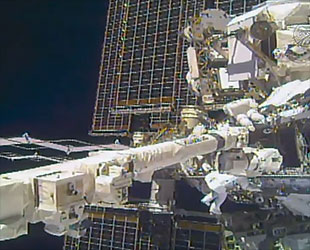 Peggy Whitson (top) and Jack Fischer work to replace an avionics box on the International Space Station starboard truss.
(NASA TV)
With the astronauts' battery reserves somewhat depleted, managers at NASA's Mission Control in Houston made the decision to shorten the EVA and focus on the replacement of an ExPRESS Carrier Avionics (ExPCA) box that routes electricity and data connections to experiments inside the station and spare equipment stowed outside of the orbiting laboratory.

The replacement unit, now installed on the space station's starboard 3 truss, was delivered to the outpost by Orbital ATK's "S.S. John Glenn" Cygnus cargo spacecraft in April.

Having made quick work of the replacement, Whitson and Fischer were given the go ahead to also install a data path terminator on the Alpha Magnetic Spectrometer, a cosmic ray detector; cinch insulation on one end of the robotic arm on Japan's Kibo module; and add a protective shield to the Pressurized Mating Adapter-3 (PMA-3), a docking port that was recently moved to support commercial crew vehicles.

Whitson and Fischer's other tasks, including rigging a new high-definition camera and a pair of wireless antennas will be rescheduled for a future spacewalk.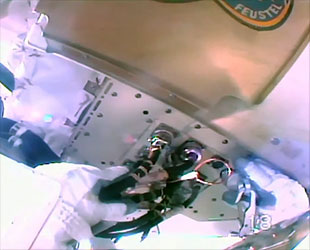 In a view from her helmet camera, Peggy Whitson works to install a terminator cap on the Alpha Magnetic Spectrometer.
(NASA TV)
Before the 200th spacewalk was cut short, Whitson was expected to surpass the total career EVA time of at least one other astronaut, Jerry Ross, who went out on the first spacewalk to support the assembly of the space station on Dec. 7, 1998, during the space shuttle Endeavour's STS-88 mission.

"It is only because of the legends like Peggy, Jerry Ross and Jim Newman and the guys who started this, that have made this possible. They've created this amazing floating laboratory in the sky that we call home and did one heck of job. It is humbling to be a part of their legacy," said Fischer.

Whitson ended Friday's spacewalk with a total career time of 57 hours and 35 minutes, just 20 minutes shy of Ross, who ranks fourth on the list of spacewalkers by EVA time.

By coincidence, Friday's excursion was Whitson's second time making a milestone spacewalk in the station's history. On Dec. 18, 2007, she and Dan Tani performed the 100th EVA in service to the outpost.

In total, 123 astronauts and cosmonauts have performed the 200 spacewalks at the space station, logging a total of 1,247 hours and 55 minutes, or just five minutes shy of 52 days of spacewalks.