July 28, 2017
– The grandson of a Soviet rocket scientist, the grandson of Amelia Earhart's authorized photographer and an Italian engineer who will be the oldest professional astronaut to reside aboard the International Space Station launched into Earth orbit on Friday (July 28) on a planned five month mission.

Sergey Ryazanskiy of Russia's federal space corporation Roscosmos, Randy Bresnik of NASA and Italian astronaut Paolo Nespoli of the European Space Agency (ESA), lifted off aboard Russia's Soyuz MS-05 spacecraft atop a Soyuz FG rocket from the Baikonur Cosmodrome in Kazakhstan at 11:41 a.m. EDT (1641 GMT or 9:41 p.m. local Baikonur time). Launched on an expedited six-orbit rendezvous, the three crewmates will dock the Soyuz at the space station's Rassvet module at 6 p.m. EDT (2300 GMT).

Update: Soyuz MS-05 docked to the space station at 5:54 p.m. EDT (2154 GMT).

Once they come aboard the orbital laboratory, Ryazanskiy, Bresnik and Nespoli will become part of the Expedition 52 crew, joining cosmonaut Fyodor Yurchnikhin and astronaut Jack Fischer, who arrived at the space station in April, and astronaut Peggy Whitson, who arrived in November 2016.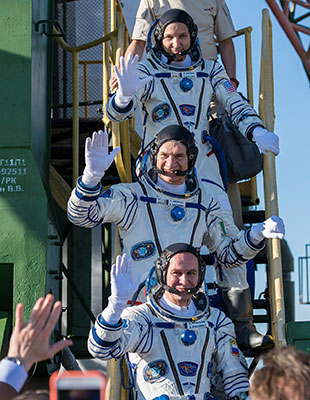 The Soyuz MS-05 crew of Sergey Ryazanskiy with Roscosmos and astronauts Randolph Bresnik and Paolo Nespoli of NASA and ESA, respectively, are seen prior to boarding the Soyuz on July 28, 2017 at the Baikonur Cosmodrome.
(NASA/Joel Kowsky)
Nespoli was originally assigned to launch with Fischer and Yurchikhin, but a decision by Roscosmos to limit its space station contingent to two cosmonauts until its multipurpose lab module (MLM, or Nauka) is ready to launch resulted in schedule and seat changes.

Likewise, Whitson was originally slated to land in June, but her record-setting mission was extended and she will now return to Earth with Fischer and Yurchikhin in September.

"We are launching into a crew that has been up there by themselves for 57 days," said Bresnik at a pre-flight press briefing on Thursday (July 27). "They've got their grove on; they are working very well. They've a very good technique and tempo that they're operating under and we're going up there and joining them."

"We are there to add to what they are doing, not to change anything that they are doing. So we've got a time when we are going to jump in and join the team," he said.

After Yurchikhin, Fischer and Whitson leave on Soyuz MS-04, Bresnik will become the commander of the Expedition 53 crew, which will include cosmonaut Alexander Misurkin and astronauts Mark Vande Hei and Joe Acaba, launching on Soyuz MS-06 in September.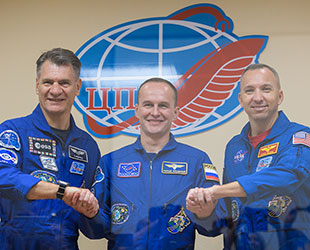 The Soyuz MS-05 crew is seen in quarantine behind glass during a crew press conference on July 27, 2017.
(NASA/Joel Kowsky)
"The big thing is that we're going to have four USOS [U.S. operating segment] crew members and with 330 possible experiments, of which 85 are new to the station, there is a ton of science for us to do," explained Bresnik.

"With that extra crew member, we are going to have a lot more opportunities to not only do science, but also repairs on the space station. We have got EVAs [spacewalks] that are planned," he said. "And so we think the productivity of this huge laboratory up in space that's there for humankind will really go up quite a bit having the four crew members."

Ryazanskiy, Bresnik and Nespoli, who will live in orbit until mid-December, have each been to the station before.

Ryazanskiy, 42, previously served on the Expedition 37/38 crews, spending 166 days aboard the orbiting outpost from September 2013 to March 2014. A cosmonaut since 2003, he is the grandson of Mikhail Ryazanskiy, a chief designer who oversaw the creation of the radio control systems for Soviet spacecraft and rockets. (Mikhail Ryazanskiy died in 1987 at the age of 78.)

Bresnik, 49, visited the station on an 11-day space shuttle mission, STS-129, in 2009, bringing spare components to be stored on the lab's exterior. His grandfather, Albert, was recruited by aviatrix Amelia Earhart in 1932 to be her only authorized photographer.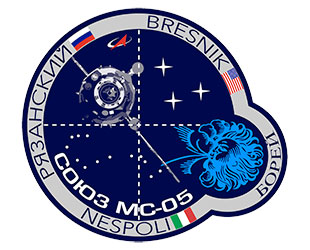 Soyuz MS-05 crew patch.
(Roscosmos/Spacepatches.nl)
Nespoli, 60, first visited the space station as an STS-120 mission specialist in 2007 before spending 159 days as an Expedition 26/27 flight engineer in 2011. His current flight's science mission has been dubbed "Vita," or "life" in Italian, and includes a logo designed by Italian artist Michelangelo Pistoletto.

"He designed a symbol that represents the third paradise," Nespoli said. "This paradise has two extremes, which work together to protect the center. And what we put into it was science on one side and education on the other, and in the middle they put the Earth."

"I will take pictures in space and through an application on smart phones people will be able to take pictures and join them and we will produce a giant mosaic that should focus the attention on education, Earth and our understanding of space and life," he described.

Nespoli was born in 1957, six months before the launch of the first satellite, Sputnik, from the same launch pad where Soyuz MS-05 lifted off Friday. The Soyuz FG rocket lofting Nespoli, Ryazanskiy and Bresnik into orbit was decorated with a logo marking the 60th anniversary year of Sputnik.

Soyuz MS-05 is the 51st Soyuz to fly to the International Space Station since 2000 and 134th since the first flight of Russia's Soyuz-class of spacecraft in 1967.