March 10, 2014
— Two Russian cosmonauts and a U.S. astronaut returned to a frigid homecoming Monday (March 10), landing on the windswept and snow covered steppe of Kazakhstan after 166 days aboard the International Space Station.

Oleg Kotov and Sergey Ryazanskiy of the Russian federal space agency Roscosmos and Michael Hopkins of NASA touched down onboard Soyuz TMA-10M southeast of the Kazkh town Dzhezkazgan at 10:24 p.m. CDT (0324 GMT; 9:24 a.m. local time March 11). The three launched to the station onboard the same capsule from Russia's Baikonur Cosmodrome in Kazakhstan on Sept. 25, 2013.

The trio's return was almost delayed a day, as heavy fog and wintry weather conditions forced Russia's search and recovery teams to delay deploying their fleet of helicopters and all-terrain vehicles to the staging site for the landing. As the weather improved, the decision was made Monday afternoon to proceed with the crew's homecoming.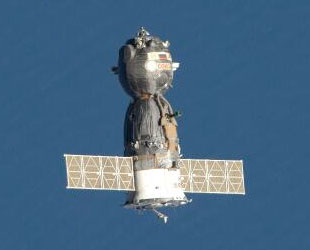 Soyuz TMA-10M, seen in Earth orbit from aboard the International Space Station, after it undocked on March 10, 2014.
(NASA)
Final preparations for Kotov's, Ryazanskiy's and Hopkins' trip back to Earth began as they closed the hatches that separated their spacecraft from the space station at 3:58 p.m. CDT (2058 GMT). The day before, Kotov turned over command of the station to Japan Aerospace Exploration Agency (JAXA) astronaut Koichi Wakata, who with Mikhail Tyurin and Rick Mastracchio remain on board the orbiting laboratory as the Expedition 39 crew.

The station's 38th expedition came to a close as Soyuz TMA-10M undocked from the Poisk mini-research module at 7:02 p.m. CDT (0002 GMT). After backing away almost 8 miles (13 km) from the outpost, the Soyuz crew fired the spacecraft's thrusters to begin their de-orbit.

Jettisoning the Soyuz's orbital and propulsion segments, the TMA-10M descent module re-entered the atmosphere, streaking through the sky until deploying its parachutes for the final 15 minutes of flight. Still falling at a brisk rate, the Soyuz automatically fired two sets of three small engines to further brake just before touching down.

Despite the snow, recovery forces were quickly on-hand to extract the three crewmates from their Soyuz. After a brief medical check, the crew was to be loaded onto helicopters and flown to the nearby Karaganda. From there, Kotov and Ryazanskiy were to fly back to Star City outside Moscow to begin their rehabilitation, while Hopkins was to board a NASA plane for the flight back to Houston.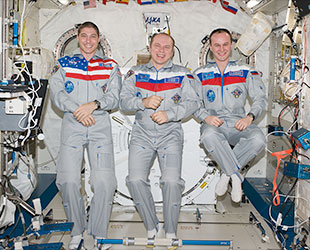 Mike Hopkins, Oleg Kotov and Sergey Ryazanskiy pose together aboard the International Space Station, Feb. 22, 2014.
(NASA)
The landing marked an end to Kotov's third space mission and third long-duration stay on the station. He now has a total of 526 days, 6 hours, and 3 minutes in orbit, ranking him 13th among the world's space explorers for time spent off the planet.

This was both Ryazanskiy's and Hopkins' first spaceflight. Together, the three TMA-10M crewmates circled the Earth 2,656 times in 166 days, 6 hours and 26 minutes.

Kotov and Ryazanskiy performed three spacewalks during Expedition 37/38, including carrying an unlit Olympic torch for a historic relay and installing a pair of commercial high-definition cameras.

Hopkins, spacewalking with Mastracchio, ventured outside twice to replace a faulty pump module, restoring the space station's critical coolant system and returning the complex to full power.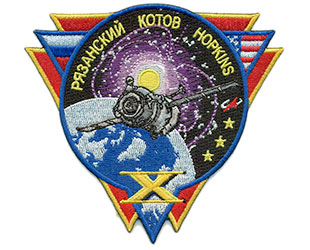 Soyuz TMA-10M crew mission patch. (Roscosmos/Spacefacts.nl)
"It was a really good increment," Kotov said on Sunday as he relinquished command, "which started with the Olympic torch activity. We had a few EVAs [spacewalks], Russian and U.S., and we also did a lot of science. We performed R&R [repair and replace] activities all around the station to keep our space home in a good condition and good shape for other expeditions."

Kotov, Ryazanskiy and Hopkins will be succeeded on the space station by the Soyuz TMA-12M crew of Alexander Skvortsov, Oleg Artemyev and Steve Swanson. The three are scheduled to launch on March 25.