September 25, 2013
— A veteran Russian space station commander, the grandson of a Soviet rocket scientist and the first among NASA's 2009 class of astronauts to fly in space set off for the International Space Station (ISS) on Wednesday (Sept. 25), where they will see the arrival of the Olympic torch and the first of a new type of American private cargo spaceship.

Cosmonauts Oleg Kotov and Sergey Ryazanskiy, together with NASA astronaut Michael Hopkins, launched on board the Soyuz TMA-10M spacecraft for a same day arrival at the orbiting outpost. Riding atop a Soyuz-FG booster, the three lifted off from Roscosmos' Baikonur Cosmodrome in Kazakhstan at 3:58 p.m. CDT (2058 GMT; 2:58 a.m. local time Sept. 26).

Flying a four-orbit rendezvous, the TMA-10M crew docked with the station's Poisk mini-research module at 9:45 p.m. CDT (0245 GMT Sept. 26).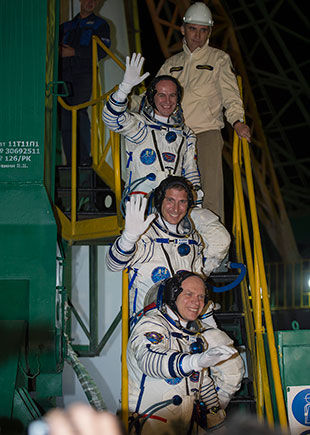 Soyuz TMA-10M crewmembers (from bottom) Oleg Kotov, Michael Hopkins and Sergey Ryazanskiy before liftoff.
(NASA/Carla Cioffi)
ISS Expedition 37 commander Fyodor Yurchikhin with the Russian federal space agency and flight engineers Karen Nyberg of NASA and Luca Parmitano with the European Space Agency (ESA), who together have been aboard the station since May 28, welcomed their new crew mates as the hatches are opened at 11:34 p.m. CDT (0434 GMT).

Together, the six crew members will continue the station's 37th expedition through Nov. 11, when Yurchikhin, Nyberg and Parmitano will return to Earth. Kotov will then assume command of the station, leading the Expedition 38 crew, including Russian cosmonaut Mikhail Tyurin, NASA's Rick Mastracchio and Koichi Wakata with the Japan Aerospace Exploration Agency (JAXA), who are due to arrive onboard Soyuz TMA-11M on Nov. 7.

Kotov, Ryazanskiy and Hopkins are slated to stay aboard the station through March 12. During their five and a half months on the orbiting laboratory, they will conduct more than 200 experiments, take part in three spacewalks, and oversee the arrival of as many as five cargo supply ships.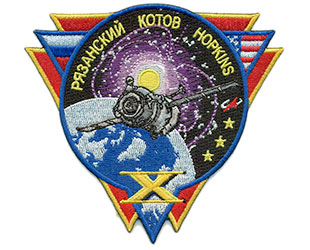 Soyuz TMA-10M crew mission patch.
(Roscosmos/Spacefacts.nl)
The first of those deliveries is expected to take place just days after their docking, with the postponed berthing of a new type of U.S. private cargo craft. Orbital Sciences' first Cygnus freighter was originally scheduled to arrive at the station before the Soyuz TMA-10M's crew's launch, but a data glitch resulted in the rendezvous being delayed until after their arrival.

If schedules hold, the Expedition 37/38 crew will receive another Orbital Cygnus spacecraft in December, followed by a SpaceX Dragon capsule in January, as well as a pair of Russian Progress vehicles in November and February. The crew will also oversee the departure of ESA's fourth Automated Transfer Vehicle (ATV4), the "Albert Einstein," which docked to the station in June.

The Olympic torch will be delivered by Soyuz TMA-11M in November. Kotov and Ryazanskiy will then bring the unlit torch outside the space station on the first of their three spacewalks together, for a photo opportunity and tribute to the 2014 Winter Games, which are set to get underway in February in Sochi, Russia.

"We would like to showcase our Olympic torch in space," Kotov said Tuesday during a pre-launch press conference. "I think a lot of people, actually millions of people, will be able to see it live on TV. They'll see the station [and] how we work during our spacewalks."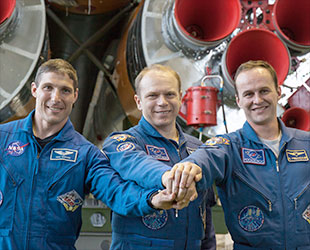 Michael Hopkins (left), Oleg Kotov and Sergey Ryazanskiy clasp hands in front of the first stage engines of their Soyuz rocket on Sept. 20 at the Baikonur Cosmodrome.
(NASA/Victor Zelentsov)
ISS Expedition 38 will be the second time Kotov has led the station. Now on his third spaceflight, Kotov previously commanded the outpost's 23rd expedition in 2010.

Both Ryazanskiy and Hopkins are rookie space fliers.

"[Ryazanskiy] is continuing what his grandfather did," said Vladimir Sychev, the deputy director of Russia's Institute of Biomedical Problems, where Ryazanskiy worked before becoming a cosmonaut in 2003. "His grandfather was the chief designer in the team of Sergei Korolev."

Ryazanskiy's grandfather, Mikhail, supervised the creation of radio control systems for the Soviet Union's spacecraft and rockets. He closely worked with Korolev, who led the development of the world's first satellite, Sputnik, and sent the first man into space, Yuri Gagarin. Mikhail Ryazanskiy died in 1987 at age 78.

Hopkins is the first member of his NASA astronaut class, the 2009 "Chumps," to fly into space. A fitness buff, he'll lead NASA's "Train Like Mike" outreach program, sharing updates about his exercise while aboard the outpost.

"It's great to have someone else who's on his first mission to share this with," Hopkins said, referring to his crewmate Ryazanskiy.

Kotov, Ryazanskiy and Hopkins will celebrate birthdays in space, as well as the 15th anniversary of the launch of the International Space Station's first component, the Russian Zarya functional cargo block (FGB), which entered orbit on Nov. 20, 1998.