September 18, 2013
— A thunderous roar rolled over the Virginia seaboard on Wednesday (Sept. 18) as the first of a new type of commercial cargo spacecraft set off on its maiden flight to the International Space Station (ISS). The unmanned space freighter is now on a month-long mission to demonstrate to NASA it can be used to deliver supplies to the orbiting outpost.

Orbital Sciences Corp. launched its first Cygnus resupply spaceship on the company's second Antares rocket to fly. The 10:58 a.m. EDT (1458 GMT) liftoff was the first time a U.S. space station-bound mission began from somewhere other than Florida's space coast.

"Today marks a milestone in our new era of exploration as we expand the capability for making cargo launches to the International Space Station from American shores," NASA Administrator Charles Bolden said in a statement.

Slowly climbing spaceward from the Mid-Atlantic Regional Spaceport's Pad-0A at NASA's Wallops Flight Facility on Wallops Island, Va., the Antares two-stage vehicle soared atop two rocket engines that were originally assembled for the former Soviet Union's ill-fated N-1 moon booster.

Now in orbit and separate from its solid motor upper stage, the barrel-shaped Cygnus unfolded its solar arrays and set off on a several day journey to rendezvous with the space station. The trip from Virginia's seaside to 150 miles (243 kilometers) above the Earth took about ten minutes.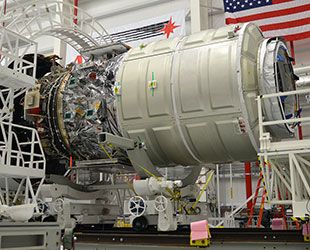 Orbital Sciences' Orb-D1 Cygnus spacecraft and service module, as seen being mated to its Antares launch vehicle.
(Orbital)
"Antares is the largest rocket we've ever developed and this [is] the first payload that we have ever launched that will rendezvous directly and autonomously with another of this size," Frank Culbertson, Orbital's vice president and a former space shuttle commander, told collectSPACE. "It's been a long road to get to this point."

Spaceship G. David Low

For the next several days, the Cygnus will make a series of thruster burns to raise its orbit and maneuver to bring it within 2.5 miles (4 kilometers) of the International Space Station. Its "tally-ho" will begin a historic milestone for the Dulles, Va.-based Orbital Sciences.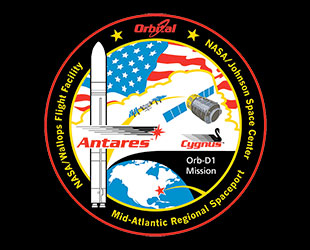 Orbital's Orb-D1 COTS demonstration mission insignia.
(Orbital)
"This is the first time we've actually launched a dedicated spacecraft carrying cargo for human consumption," stated Culbertson. "So this is a big deal for us."

The Cygnus' arrival at the space station on Sunday (Sept. 22) will also pay tribute to a fallen astronaut.

Orbital named its first Cygnus for G. David Low, a veteran space shuttle astronaut who was leading the company's commercial cargo delivery services when he died in 2008.

Flight managers working from Orbital's new Dulles mission control, will command the G. David Low through a series of maneuvers to demonstrate to NASA the craft is safe to approach the station. These "final exam" movements will test the spacecraft's laser-enhanced guidance system, as well as the vehicle's ability to halt and retreat in the case of an emergency.

When the craft is finally within an "arm's reach" — 40 feet (12 meters) of the space station — astronauts will use the orbiting laboratory's Canadarm2 robotic arm to capture the Cygnus and attach it to the Harmony node.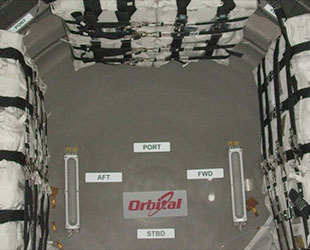 Cargo loaded into Orbital's Orb-D1 Cygnus spacecraft.
(Orbital)
Once berthed, the space station's crew members will open the hatch to the Cygnus and begin unpacking its contents — about 1,600 pounds (725 kilograms) of food, clothing and other supplies and equipment — before filling it again with no longer needed equipment and other refuse.

It is planned for Cygnus to remain at the space station for approximately a month (its departure is slated for Oct. 22). The G. David Low will then be guided into a destructive re-entry over the South Pacific Ocean.

Completing COTS

This mission, referred to as "Orb-D1," is the final mission under NASA's Commercial Orbital Transportation System (COTS) program, which the agency initiated seven years ago to spur development of U.S private cargo spacecraft and launchers.

In addition to Orbital's Cygnus and Antares, NASA entered a similar partial-funding arrangement with the Hawthorne, Calif.-based Space Exploration Technologies (SpaceX) to develop and fly the company's Dragon capsule and Falcon 9 rocket.

SpaceX completed two COTS demo flights; the second of its Dragon spacecraft successfully reached the station in 2012 (to date, SpaceX has flown twice more to the ISS on NASA-contracted supply flights).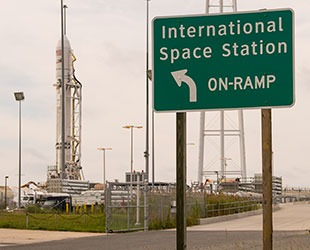 Sign posted outside the Mid-Atlantic Regional Spaceport Pad 0A at NASA's Wallops Flight Facility in Virginia.
(NASA/Bill Ingalls)
Orbital flew its first COTS demo mission in April, flying its first Antares rocket on the company's "A-ONE" test flight. The rocket was topped with a dummy Cygnus to simulate the mass of the cargo craft.

With the successful completion of this Orb-D1 demo flight, Orbital is slated to begin delivering up to 44,000 pounds (20,000 kilograms) of supplies over eight Cygnus missions under a $1.9 billion Commercial Resupply Services (CRS) contract with NASA through 2016.