The astronauts onboard space shuttle Atlantis were working Tuesday to prepare their spacecraft for its final planned return to Earth the next day.
The STS-132 crew woke at 11:20 p.m. CDT on Monday to "
Empire State of Mind
" performed by Jay Z and Alicia Keys for mission specialist and New Jersey-native Garrett Reisman.
"I'd like to say a special good morning to all my friends and family back in the New York and New Jersey area. And I can't wait to be back home, going and getting a slice, and hanging out in the big city," radioed Reisman.
Commander Ken Ham, pilot Tony Antonelli and mission specialist Mike Good will perform a test of Atlantis' flight control system and a "hot fire" of the reaction control system in preparation for landing on Wednesday.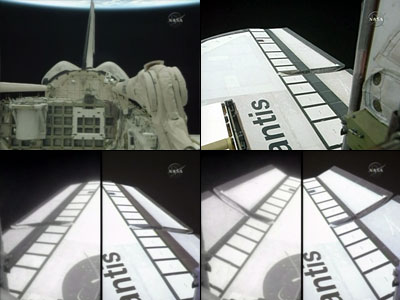 Credit: NASA TV
Reisman and fellow mission specialists Steve Bowen and Piers Sellers will work on final packing and stowage activities in the morning and be joined by their crewmates to continue that work throughout the day.
Atlantis crew will gather on the shuttle's flight deck at 7:10 a.m. to talk to Comedy Central's The Colbert Report, ABC Radio Network and WEWS TV from Cleveland, Ohio.
Each of the astronauts also has exercise sessions planned and they will all participate in a briefing to review the deorbit plans.
Their first landing opportunity is scheduled for 7:48 a.m. CDT Wednesday into Kennedy Space Center. If needed, a second attempt is available one orbit later at 9:23 a.m.
The early weather forecast calls for conditions "typical of spring," with a chance of low clouds and showers in the vicinity of the Florida landing strip. Should the weather not cooperate, Atlantis has supplies enough to stay in space through Saturday.