Atlantis' crew began Flight Day 9 by moving the Integrated Cargo Carrier, temporarily stowed on Friday on the International Space Station's mobile base system, into the shuttle's payload bay. They then joined together to answer questions submitted by NASA Explorer Schools before wrapping up the final transfer of items between the station and shuttle.
The crews woke to Matt Redman's "
Lord We Have Seen the Rising Sun
" at 12:20 a.m. CDT played for Michael "Bueno" Good, who completed his fourth career spacewalk on Friday.
"It was great to be outside again with Garrett [Reisman] on an EVA yesterday. We had a great time," remarked Good. "We're just having a great time up here."
Reisman and Piers Sellers operated the station's robotic arm to return the Integrated Cargo Carrier to Atlantis' payload bay. The pallet brought up six new batteries that Reisman, Good and Steve Bowen installed during two spacewalks on Wednesday and Friday. The old batteries were placed on the carrier for return to Earth.
At 4:50 a.m. CDT, the Integrated Cargo Carrier was stowed in the space shuttle, completing space station robotic operations for the remainder of Atlantis' mission.
"For everyone on the ground, thanks a lot for your support for this last big arm operation by STS-132," radioed Sellers.

"Also we'd like to thank everybody who made it possible for us to do this from the Cupola. I know a lot of people put in a lot of work to make it possible for us to be here today," added Reisman. "It made a big difference to us."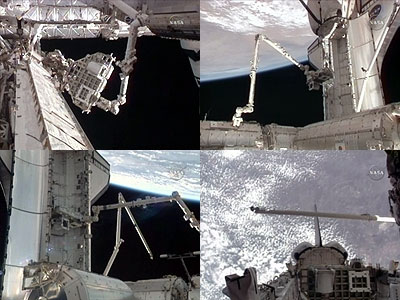 Credit: NASA TV
At 6:40 a.m. the STS-132 crew together with station flight engineer Tracy Caldwell Dyson answered questions submitted by video from elementary and middle school students from 12 NASA Explorer Schools. The NASA Explorer Schools project fosters a three-year partnership between NASA and schools in diverse communities to increase awareness of science, technology and mathematics education.
Beginning at 10 a.m., the shuttle astronauts will have a few hours of off duty time before going to sleep at 3:50 p.m. CDT.