Space shuttle Atlantis lifted off Friday afternoon on what is planned to be its final mission, lofting six astronauts and a new Russian module for the International Space Station (ISS).
"On behalf of all the manufacturing, processing, flight and launch teams that have worked on Atlantis since March of 1980, I'd like to wish you all good luck, godspeed and have a little fun up there," launch director Mike Leinbach radioed STS-132 mission commander Ken Ham minutes before Atlantis launched at 2:20:09:050 p.m. EDT from NASA's Kennedy Space Center Pad 39A in Florida.
"Like you said, there are thousands of folks out there that have taken care of this bird a long time," replied Ham from onboard Atlantis. "We're going to take her on her 32nd flight and if you don't mind, we'll take her out of the barn and make a few more laps around the planet."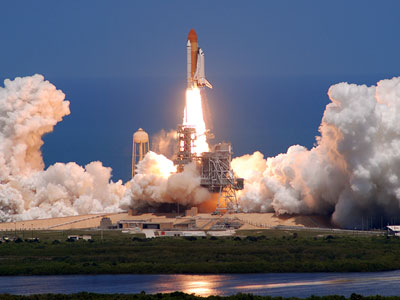 STS-132 soars for final launch. Click for photo gallery. Credit: collectSPACE
Atlantis encountered two minor issues leading up to its successful final launch. A small stress fracture spotted on an umbilical strut during the orbiter's final inspection was said to be not unusual by Mike Moses, chair of NASA's pre-launch mission management team. Moses also addressed a ball bearing found days earlier in the shuttle's payload bay. The bearing was determined to likely be from a camera system, and was ultimately ruled out as a concern.
Atlantis soared spaceward with the Russian-built Mini Research Module-1 (MRM-1) inside its payload bay. Also known as "Rassvet" (Russian for "dawn"), it will provide additional storage space and a new docking port for Soyuz and Progress spacecraft. The laboratory will be attached to the bottom port of the station's
Zarya
module.

Credit: NASA
Commander Ham is joined on Atlantis by pilot Dominic "Tony" Antonelli and mission specialists Garrett Reisman, Michael Good, Steve Bowen, and Piers Sellers, all veteran space fliers. Good and Sellers rode Atlantis into orbit on their first space missions in 2009 and 2002, respectively.
The shuttle crew is scheduled to dock to the station at 9:27 a.m. CDT on Sunday, May 16. Three spacewalks, to be performed in pairs by Bowen, Good and Reisman, will focus on storing spare components outside the station, including six batteries, a communications antenna, and parts for the Canadian-built robot, Dextre.
After completing the 12-day STS-132 mission, the shuttle's first landing opportunity at Kennedy is scheduled for 7:44 a.m. CDT on Wednesday, May 26. STS-132 is the 132nd space shuttle flight, the 32nd flight for Atlantis, and the 34th shuttle mission dedicated to station assembly and maintenance.