At 5:52 a.m. CDT, following leak checks, ISS Expedition 23 commander Oleg Kotov and flight engineer Alexander Skvortsov opened the hatch to the Mini Research Module-1 (MRM-1)
Rassvet
to install an air filter and duct work to facilitiate airflow, and remove the docking mechanism that was used to berth the module earlier in the mission.
"Everything looks normal, everything is great," commented Kotov after the hatch was opened.
The 11,000-pound module was attached to the nadir, or Earth-facing port of the
Zarya
service module on the International Space Station Tuesday, where it will increase the capabilities of the ISS by providing workstations for payloads and experiments.
Rassvet
also provides a new docking port for Russian spacecraft.
Full entry into
Rassvet
and transfer of the 3,086 pounds of NASA cargo it holds will occur after Atlantis departs.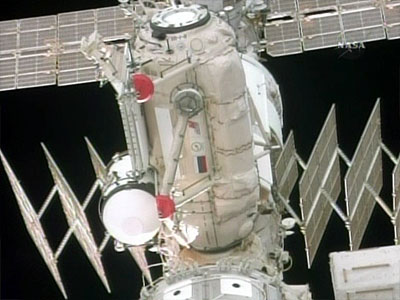 Rassvet Mini-Research Module-1. Credit: NASA TV
The astronauts woke to Elvis Costello's "
Welcome to the Working Week
" at 12:59 a.m. CDT, dedicated to yesterday's lead spacewalker, Stephen Bowen.
The STS-132 crew will have a few hours of off duty time in the afternoon, but otherwise, the day will largely focus on preparations for the mission's third and final spacewalk.
Garrett Reisman, Mike Good and Bowen will gather and prepare the tools needed for the excurision and configure the
Quest
airlock. Commander Ken Ham, pilot Tony Antonelli, and mission specialist Piers Sellers will join them to review the procedures before Reisman and Good settle in to spend the night "camping out" in the airlock.
Ham, Antonelli, Sellers and ISS flight engineer Tracy Caldwell Dyson will talk with the Associated Press, Fox News Radio, and CBS News at 7:25 a.m. CDT.