The STS-132 crew performed a final inspection of Atlantis' heat shield on Monday in preparation for returning home later this week.
Commander Ken Ham, pilot Tony Antonelli, and mission specialists Piers Sellers and Garrett Reisman used the shuttle robotic arm and the 50-foot orbiter extension boom with its primary sensor package to scan Atlantis' reinforced carbon-carbon surfaces on its nose and wing leading edges to ensure the shuttle was not damaged by micrometeroids during its docked time at the International Space Station.
The crew members began the routine "late inspection" about three hours earlier than planned and finished at 7:17 a.m. CDT.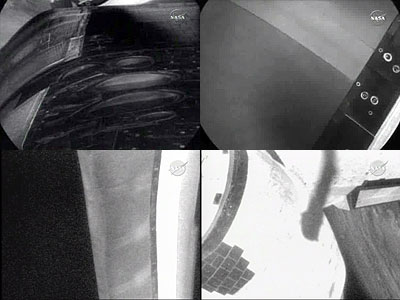 Credit: NASA TV
Atlantis' crew woke at 11:50 p.m. CDT Sunday to the theme to "
Wallace and Gromit
," played for mission specialist Stephen Bowen.
"Thank you for that great music," radioed Bowen. "Another great day in space."
Bowen and fellow spacewalker Mike Good began their day by cleaning up the spacesuits they and Reisman wore and stowing them for landing.
With the inspection complete and the data collected downlinked for flight controllers to analyze, the crew will have some off-duty time interspersed by exercise sessions to help them prepare for their return to gravity.
Their first landing opportunity is targeted for 7:48 a.m. CDT Wednesday, weather permitting.