With a new day came a new 'dawn' as the astronauts aboard Atlantis and the International Space Station added a new module to the complex.
At 7:20 a.m. CDT, the Russian Mini-Research Module-1 (MRM-1) module named
Rassvet,
or "dawn" in Russian, arrived at its permanent home on the nadir, or Earth-facing, port of the
Zarya
service module.
The mating marked the first time that the brunt-force Russian automated docking system has been used in conjunction with the ISS robotic arm.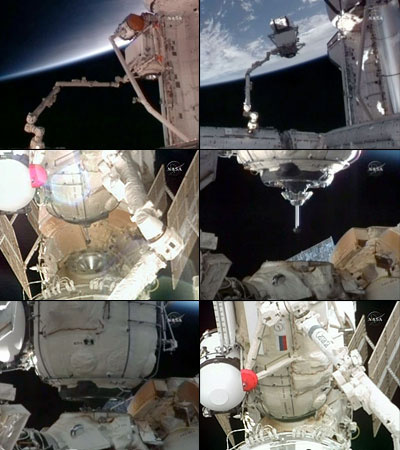 Credit: NASA TV
STS-132 commander Ken Ham and pilot Tony Antonelli used the shuttle robotic arm to unberth the module from Atlantis' payload bay at 4:49 a.m. and handed it off to the station's robotic arm at 5:14 a.m. CDT.
Garrett Reisman and Piers Sellers, working in the station's seven-window Cupola, then maneuvered the Canadarm2 arm to deliver the module to its new position.
"Contact. It looked like a pretty good docking," announced Sellers as Rassvet was berthed. "Straight down the middle and got capture and contact."
Sellers reported to Mission Control that confirmation signals he expected to see light on his laptop never lit.
"The reason you didn't get 'contact 1' is because Garrett did too good of a job flying," radioed capcom Steve Swanson. "He went right down the middle and got a hole in one."

"He knows that and he's loving it," replied Sellers.
Expedition 23 commander Oleg Kotov monitored the automated docking sequence and final attachment to the station from the Russian segment.

Credit: NASA TV
The nearly 20-foot long
Rassvet
will provide additional storage space and a new docking port for Russian spacecraft. With it docked, space station assembly is now 93 percent complete by mass and 98 percent complete by volume. The station's mass is now 816,349 pounds.
Stored inside the
Rassvet
for delivery to the ISS is one and a half tons of food, clothing and supplies. On its exterior are temporarily attached items that will be moved during future ISS spacewalks. An airlock on
Rassvet
will be attached to the Russian Multi-purpose Laboratory Module (MLM) after its launch atop a Russian Proton rocket in 2012.
A European robotic arm elbow joint is also stowed on
Rassvet's
exterior along with a portable work post (PWP) to assist with the arm's activation, checkout and operation.
The crew members began their day at 1:50 a.m. CDT to the tunes of The Village People. "
Macho Man
" was played for Reisman.
"Makes us all feel like dancing," said Reisman, "and we are feeling like macho men."