J.L
Member

Posts: 493
From: Bloomington, Illinois, USA
Registered: May 2005

posted 08-24-2013 03:55 PM




---
Does anyone know where this sign would have been located on the Cape? Photo was taken in February of 1969 and the caption suggests it was near the Cape Air Force Museum.

Another reminder of how the astronauts (ancient and current) are what made the Cape and Kennedy Space Center famous. We need to get back on "the trail" so to speak.
Ken Havekotte
Member

Posts: 2044
From: Merritt Island, Florida, Brevard
Registered: Mar 2001

posted 08-25-2013 12:04 PM




---
Let me check on it to with the museum and Air Force officials here, however, perhaps it may be just past the Cape Canaveral Air Force Station's Gate 1 on now Phillips Parkway right before the road makes a left hand turn before South Patrol Road. That would only be about a mile away from the Air Force Space Museum that is apparently indicated on the photo caption, correct?

The term "Astronaut Trail Road" is not new to me, however, I've always thought it included Phillips Parkway on base, SR-401, the northern part of A1A in Cape/Port Canaveral, and Cocoa Beach north of SR-520.
Beyond3rdRock
New Member

Posts: 3
From: Fort Pierce, FL
Registered: Jun 2011

posted 11-19-2014 09:42 PM




---
Almost three decades ago, I received as a gift from a relative that worked for the Florida Department of Transportation: an original Astronaut Trail sign. It is 24" x 24" and unfortunately, never did ask this relative before they passed away where it was posted along the trail.

The white smudges below the rocket's "trail" on the sign look like they were a defect in manufacturing as the area is just as smooth as the rest of the sign. I don't know much about the sign, however.

I would be very interested in acquiring any information available on it. Here are a couple links regarding the Astronaut Trail: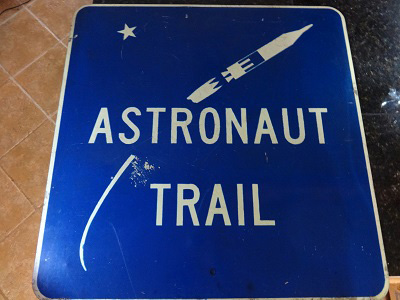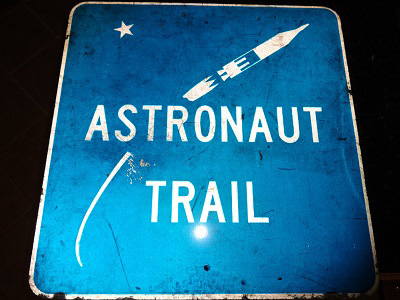 (I had previously listed the sign for sale but my son saw it and wants to keep it; I didn't even think he'd be interested. Anyways, I've decided to give it to him.)
Editor's note: Threads merged.