Space and stars sought in Beverly Hills

November 3, 2000 — Beverly Hills is often cited as the shopping destination for Hollywood actors and actresses. But this past weekend, the posh California city played host to those seeking artifacts from the exploration of the real stars.

Continuing a bi-annual tradition that began in 1993, space memorabilia collectors gathered at the 90210 offices of Superior Galleries to stake their claim on suits, satellites and other remnants from man's quest for space. During the two-day auction, approximately 150 attendees hailing from all areas of the world (as well as phone and proxy bidders) competed to claim over 2,400 lots in 23 different categories of space history.


---
Click here for a complete list of prices realized.
---

Nearly every collecting interest was represented, from autographs to philatelic items, flown equipment to antique toys. Hammer prices varied, from a few dollars to tens of thousands.

A few of the more notable highlights included:

A notebook, used by astronaut Gordon "Gordo" Cooper, closed at $4,887.50 (including a 15-percent buyer's commission). The three-ring binder contained handwritten notes and photocopied handouts used during his training for Cooper's 22-orbit Mercury flight.


A framed, silk United States flag accompanied by a sterling silver medallion, both of which were flown by astronaut Edward White reached $14,375. The 6-by-4-inch flag and 25 millimeter coin were carried into open space during Gemini 4's historic spacewalk (White was the first American to leave the confines of his spacecraft).


Two artifacts from the Apollo 11 first lunar landing mission performed exceptionally. A cover (or envelope) carried to the Moon and autographed by Neil Armstrong, Michael Collins and Buzz Aldrin fetched a final price of $23,000, while a silk flag (similar to the one described above) carried by Aldrin, sold for $31,625.


A miniature replica of the first lunar rover's license plate that rode along with Apollo 15 astronaut David Scott on the Moon was obtained for $18,400. (Scott's Collier Trophy, the highest award an astronaut can win, sold for $17,250.)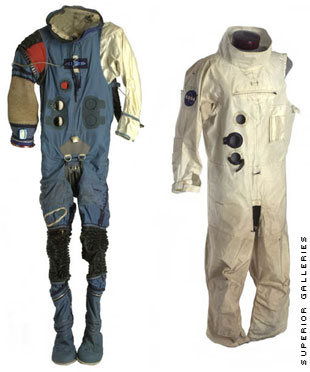 Astronaut John Young's Apollo training (or backup) Moon suit represented two lots. The internal pressure suit sold for $14,950, while the more familiar white outer layer reached only $3,220. Both layers were missing the left arm, removed during testing by the suit's manufacturer. Interestingly, the two did not sell to the same bidder.
Interest in artifacts from the space shuttle has always paled in comparison to the earlier programs — with one notable exception. Memorabilia connected with the 1986 Challenger disaster is highly sought after by collectors, as evident by the crew's autographs selling for $9,775.

The highest bid was $86,250 for an original painting by moonwalker-turned-artist Alan Bean. Selected for the cover of this auction's catalog, the self-portrait "That's How It Felt to Walk on the Moon" was Bean's answer to the question he is most often asked.

Prior to the sale, Superior's Michael Orenstein stated this was the firm's largest auction in over two years. The next auction, already scheduled for May 2001, promises to be just as large.
back to News



© 2023 collectSPACE.com All rights reserved.
Questions? E-mail contact@collectspace.com