Spacecraft: the ultimate space memorabilia

November 3, 2000 — At 5,000 pounds and seven feet tall, the FOTON satellite may be the largest item offered by Superior Galleries of Beverly Hills in their seven-year history of hosting bi-annual space memorabilia auctions.

The flown-in-space Russian satellite, a highlight of their October 28-29, 2000 auction, was so large it could not be on display at the California gallery along with the other 2,400 lots offered. When the hammer fell, the price was equally large at $69,000, but the winning bidder still faces the cost of transporting the spacecraft to its new home.

If you missed the auction but fancy the idea of owning your own space capsule you may still have a chance. While U.S. spacecraft are transferred from NASA to the Smithsonian after retirement, cash-starved Russia has begun to see benefits to selling its used space hardware, including complete capsules.

One such craft, the Vostok 3KA-2 paved the way for the first piloted spaceflight. With similar dimensions to the FOTON (the latter was based on the Vostok's design), the 3KA-2 carried the Russian dog "Zvezdochka" and his mannequin friend "Ivan Ivanovich " into orbit as the final test prior to cosmonaut Yuri Gagarin's flight only 20 days later in April 1961.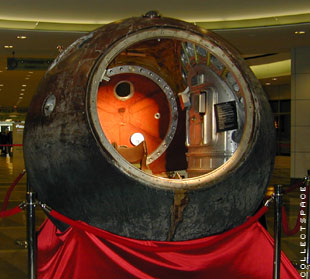 The craft, which was first offered for auction in 1996 by Sotheby's, will be featured on a new reality TV show airing on the Fox network on December 7. According to the Ultimate Auction website, the 3KA-2 is expected to sell for $5,000,000 to $7,500,000.

The Vostok was only capable of launching one person (and optional dog) to orbit. If your needs require space for two to three than the Soyuz TM-26 descent capsule may be your better choice.

Offered for direct sale by TheSpaceStore.com through a partnership with Space Media Inc. and RSC Energia, this particular Soyuz flew to Mir on August 5, 1997, bringing cosmonauts Anatoly Soloviev and Pavel Vinogradov to repair the then collision-damaged Russian space station.

The craft logged a total of 198 days in space, returning to Earth on February 19, 1998. Being marketed as a "pretty cool play house in your backyard" the set price for the capsule is $2.2 million and includes a trip to an upcoming Russian space launch as well as a VIP tour of Star City.
back to News



© 2023 collectSPACE.com All rights reserved.
Questions? E-mail contact@collectspace.com