A truly large space auction

October 6, 2000 — At 5,000 pounds and 7 feet tall, a FOTON satellite may be the largest item auctioned by Superior Galleries in their seven year history of hosting bi-annual space memorabilia sales.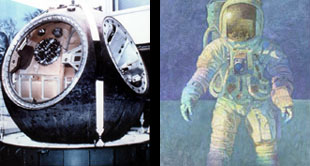 The flown Russian craft, a highlight of the upcoming October 28-29 auction, is in fact so large it will not be on display at the Beverly Hills gallery along with the other 2,400 lots offered. Instead, it will remain where it resides currently, on loan at the Santa Monica Museum of Flying until a successful bidder arranges for its new home.

Inclusion of the massive FOTON seems appropriate for this particular auction however — this sale being the largest for Superior in two years. Highlights span all categories of collecting from astronomy to aviation, early rockets to the manned programs, and the space shuttle to the Russian space stations.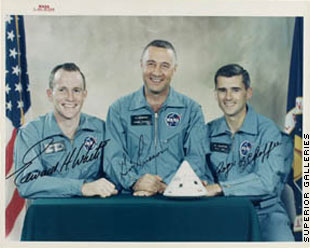 Autograph collectors may take special notice of Apollo 1 crew signed pieces, including a publicity photograph (lot 447, $7,500/10,000) and baseball (lot 449, $1,500/2,500), in addition to a nearly complete collection of crew-signed photos from virtually all shuttle flights including STS-51L (lot 1220, $7,500/8,500).

For those focusing on philatelics, highlights include two flown covers, both carried to the Moon: one on Apollo 11 (lot 555, $35,000/45,000) and a cover from Apollo 15 (lot 807, $15,000/20,000).

The auction truly stands out however, for the artifact or hardware collector. In addition to the FOTON:

a "chimp couch window cover" from one of the pioneer monkey flights (lot 79, $1500/2500);


a Mercury capsule "shingle" from the exterior of the spacecraft believed to have been flown (lot 138, $3,500/5,000);


an Apollo Command Module attitude hand controller, which controls the direction and yaw of the capsule (lot 308, $7,500/10,000);


an Apollo Command Module "T" shaped translational hand controller, which controls the up, down and left, right directional thrust (Lot 309, $7,500/10,000);


Roger Chaffee's Timex wristwatch, which he wore in training and possibly the fire (lot 450, $15,000/25,000);


John Young's A6L pressure suit, used in training (lot 923, $15,000/$20,000) and spacesuit cover layer (lot 924, $1,000/1,500);


a "Baklan" (Cormorant) prototype spacesuit, which was a forefunner of the modern Sokol spacesuit used today by the Russians (lot 1745, $25,000/35,000);


a complete Soyuz capsule drinking and waste water system, offered in sections (lots 1749-53, $3,000/4,250); and


an Omega "Speedmaster Professional" wristwatch and watchband, flown on Soyuz TM-21 and worn on the outside of cosmonaut Gennady Strekalov's spacesuit in open space during six different spacewalks (lot 2093A, ecv $25,000/35,000);
Other auction highlights include four original Alan Bean paintings and a selection of World War I and II militaria.

Superior Galleries has said auction catalogs will be mailed to subscribers over the next few days. Additional copies are available for $20.00 US ($40.00 US for orders outside the United States). In addition, lot descriptions and photos will be posted on their website on October 9.
back to News



© 2023 collectSPACE.com All rights reserved.
Questions? E-mail contact@collectspace.com